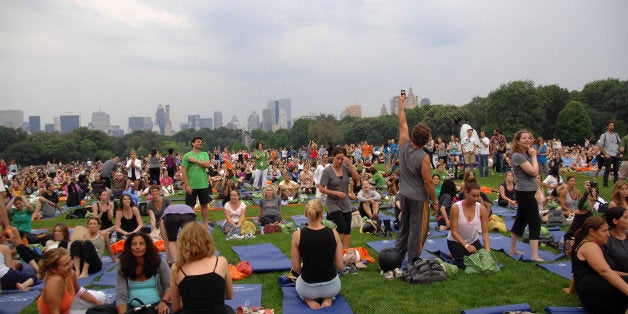 LISTEN TO 'WHAT'S THE REAL REASON TO DO YOGA' HERE:
Welcome to this week's ALL TOGETHER, the podcast dedicated to exploring how religious ideas and spiritual practice inform and shape our personal lives, our communities and our world. The show is hosted by Rev. Paul Brandeis Raushenbush, the Executive Editor of HuffPost Religion.
Today's show asks the question: What's The Real Reason To Do Yoga?
Everyone knows that yoga is everywhere. Studios are popping up on every street corner and there are yoga classes available in every gym. For many, the image of the yoga movement includes intimidatingly fit and limber young people with tight yoga pants doing poses that, for many, feels way out of reach.
Yoga has even become a political issue. Washington D.C. has levied what is being called a 'yoga tax' and included yoga studios in the broader fitness category and subjected them to the same tax as health clubs.
But there is obviously more to yoga than meets the eye. Raushenbush interviews three master teachers on the deeper, spiritual principles behind yoga including Elena Brower, author if Art of Attention; Nischala Joy Devi, author of The Secret Power of Yoga, and Eddie Stern the founder of Ashtanga Yoga in New York City .
Plus, religion headlines from HuffPost and Raushenbush's picks for this weeks saints and sinners.
LISTEN TO 'WHAT'S THE REAL REASON TO DO YOGA' HERE:
LISTEN TO EARLIER ALL TOGETHER SEGMENTS BELOW
WHAT ARE WE TALKING ABOUT WHEN WE TALK ABOUT MEDITATION?
RAPTURE RHAPSODY: IS LEFT BEHIND REALLY A CHRISTIAN MOVIE?
GREEN SPIRIT vs CLIMATE CHANGE

CONFRONTING FUNDAMENTALISM
Calling all HuffPost superfans!
Sign up for membership to become a founding member and help shape HuffPost's next chapter