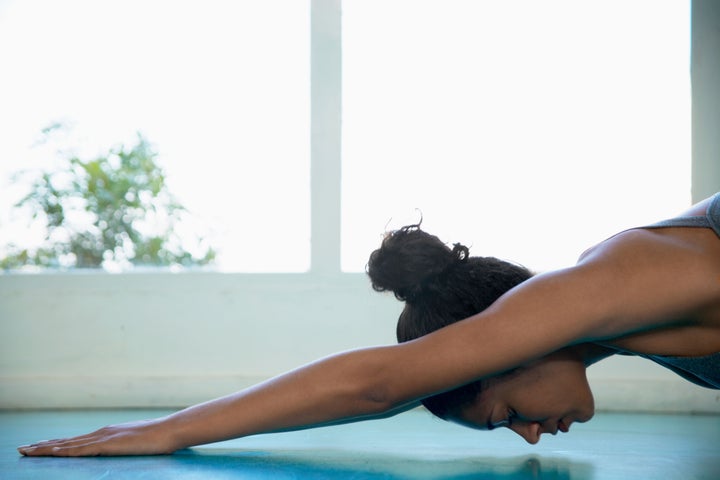 A new study adds more weight to what yogis have long believed: Yoga can help combat chronic low back pain.
In the study, published Monday in the Archives of Internal Medicine, researchers compared the outcomes of 92 participants who took weekly yoga classes with 91 who took weekly stretching classes and 45 who received a so-called "self-care" book that offered guidance on exercise and lifestyle modifications.
They found that the yoga classes were more effective than the book when it came to helping participants manage chronic back pain. However, yoga was not any more effective in providing relief than the regular stretching classes.
"Persons with chronic low back pain who attended a series of yoga or stretching [classes] had equivalent and clinically important improvements in their back-related dysfunction and symptoms that lasted for at least 14 weeks after the end of the study," said Karen Sherman, Ph.D., senior scientific investigator for the Seattle-based Group Health Research Institute and one of the study's authors. She described back-related dysfunction as difficulty in completing general, day-to-day activities.
In the study -- which was funded by a cooperative agreement with the National Institute of Health's National Center for Complementary and Alternative Medicine -- participants who practiced yoga took 12 weekly classes that relied on the principles of viniyoga.
"Yoga comes in many styles -- analogous to ice cream flavors, I suspect -- so we wanted to pick something to test that was likely to be safe and easy for beginners to practice both in classes and at home," Sherman said.
Each class lasted between 45 and 50 minutes and included five to 11 relatively simple postures, as well as deep guided relaxation and breathing exercises.
"Several other studies -- all smaller than ours -- have found that Iyengar yoga and general Hatha yoga are helpful for persons with back pain," Sherman added. "My guess is that any therapeutically-oriented style of yoga could be helpful to people with chronic back pain."
The researchers write, however, that because their study found stretching and yoga led to similar improvements, the primary benefits of yoga were attributable to the stretching and strengthening of participants' muscles, rather than any mental or spiritual effects.
Dr. Loren Fishman, a HuffPost blogger and specialist in physical and rehabilitative medicine and director of Manhattan Physical Medicine and Rehabilitation, praised the study as an "important pre-requisite" for future research looking more closely at the role different types of yoga might have in improving more specific and even more debilitating back problems, and what role the psychological component of the practice might play.
In the meantime, he said it adds scientific weight to what is understood about the potential benefits of yoga.
"I think that people can come away from this saying that whatever else yoga may do, it definitely provides stretching," he said. "The value of yoga has been shown again."
But Sherman cautioned that people must speak with their health care provider before embarking on any new program and should interview potential instructors, as well as consider a small class for personal attention. She said that those who prefer stretching to yoga should keep in mind that participants in this study did a lot of it -- about 52 minutes per class, supplemented with 20 minutes of stretching on non-class days.
Indeed, one of the biggest benefits of yoga from a public health perspective may simply be its ubiquity. According to US News, estimates in 2010 suggest some 14 million people in the U.S. practiced it.
"I think finding classes that include this much stretching will be tough," Sherman said, "But not necessarily impossible."

Related