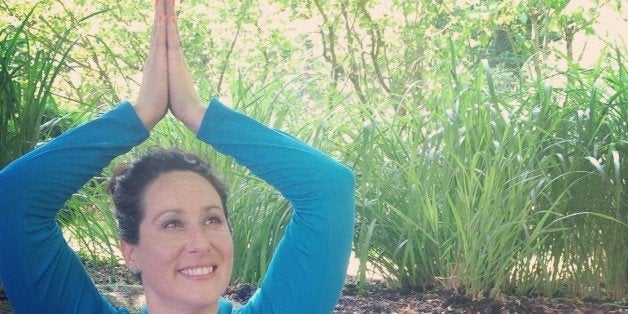 One morning last month, Rebecca Santillo walked out of the television studio where she worked for the very last time.
It's not that she wasn't good at her job at WTNH in New Haven, Conn., where she'd been a news producer for seven years. She had long been successful at manning the overnight shift, pulling together segments on routine news and big stories like the Newtown, Conn., shooting at Sandy Hook Elementary School last year. And it wasn't the money, which was enough for Santillo and her husband, a self-employed construction worker, to cover bills for their three-bedroom house in Wallingford, Conn. and keep some for savings.
But Santillo, 36, was tired of "never being able to turn off the news," of having to "pretend that the fast-paced life of reporting horrible events everyday wasn't impacting me emotionally."
So on her last day, after producing the morning's traffic and weather segments, she walked out of the two-story, nondescript brick building, drove to the Wallingford Parks and Recreation department, slipped on loose cotton pants and a tank top and entered a classroom to begin her new life in front of a small crowd of eager students: that of an aspiring full-time yoga teacher.
"It's been a big shift, going from crazy busy and full-time to a slower pace and essentially part-time," Santillo says. "I'm struggling with that, but I'd never go back."
As yoga has grown from a relatively unknown spiritual activity with origins in Hinduism to a cultural phenomenon and multi-billion dollar market with 20 million practitioners in the U.S., it has become increasingly possible to make a living from teaching it.
It's hard to know exactly how many yoga teachers there are, but if the rising numbers of Americans who do yoga -- up from 4.3 million in 2001 -- is any sign, teachers, too, are having their moment. When the North American Studio Alliance, an industry group, last crunched numbers in 2005, it found 70,000 people with teaching certificates.
"As more people have gone through the process of practicing yoga, they realize those benefits, want to become more immersed and want to impart that to others," says Bill Harper, publisher of the magazine Yoga Journal. "One way is to pursue teaching."
That was the path Santillo chose. She had heard of yoga before, but she didn't seriously try it until five years ago, after seeing a studio near her office. The style was Bikram Yoga, in which rooms are heated to 105-degrees and often humidified. Participants complete 26 poses and two breathing exercises over 90 minutes.
"I saw it as a workout. It was like running or hiking. It de-stressed me and calmed me down," Santillo says of those first classes. Yoga was a respite from the daily hurdles, and a way to escape the usual monotony of work. But she never thought it could be her job.
That changed on December 17. It was the Monday after the Sandy Hook shooting and Santillo was in yoga class, trying to keep to her usual schedule despite the grief unfolding just an hour away. "It had rattled me, as it did many people, but I was trying to stay strong," she recalls. "I had covered home invasions, I had covered all sorts of crime. Every day there is a tragedy, I would remind myself."
Her teacher started the class a little differently that day. She told everyone that it was a "safe space" to cry.
"And I did. So did most of the class," says Santillo. "It was cathartic, to finally be in touch with myself."
That's when she realized yoga was more than just a workout. It become spiritual for her, a way for her to know and feel her mind, body and breathing. It enabled her to challenge herself physically and emotionally. She began to craft the exit plan from her day job.
In October, after 200 hours of training, Santillo will be certified as a yoga teacher. She started to build a client base while still employed in her former job and is now teaching for about 20 hours over six days a week, spread between classes at the recreation center and studios.
"I sometimes find myself being sort of fidgety, anxious, in a way, that I'm not always rushing to do something. But I tell myself, it's OK to just be still," she says. "This is what I want to do. Figure out what I love, and get paid doing it."
The money is about half of what Santillo once made. She's cut back on going out. She also no longer has health insurance through her employer and is looking into enrolling herself and her husband into the state's new health insurance exchange. The couple has no kids, and they long ago paid off their mortgage.
But the transition is not always smooth when it comes to finances.
Jason Crandell, a San Francisco-based yoga instructor who has taught full-time for 15 years and has regularly penned articles for yoga magazines about teaching, says making the switch is "much harder than people think."
"If you want to develop a significant amount of revenue, you will be working long hours," says Crandall, who has his own line of online classes and DVDs. "There is curriculum development, developing relationships with studios and students, there's advertising. It's like running your own independent business." Out of the 50 hours a week Crandell works on his yoga business, about 40 are spent outside of teaching.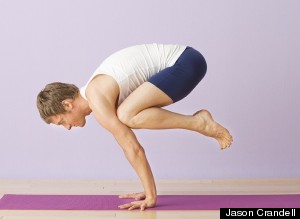 Jason Crandell, a San Francisco-based yoga instructor who has taught for 15 years, regularly advises newcomers on how to break into a career in yoga.
Crandell often tells prospective teachers to consider the numbers: most classes at fitness centers pay between $40 to $60 per class, while at studio classes, teachers get $4 to $6 per student.
"If you want to get off the corporate treadmill and you want to become a yoga teacher with a life of great balance, you can absolutely do it, but you just won't make much money, maybe up to $40,000 a year at most. But if you can handle that in order to have a more integrated life, it's wonderful," says Crandell, who started teaching yoga after graduating college with a degree in philosophy.
Another consideration, he says, is where to teach. "It's harder in places like New York City or San Francisco to get a job," Crandell says, because they already have so many teachers. But smaller cities, where yoga businesses are less established, can be easier fits for new instructors.
Huntsville, Ala., is one city where the yoga community is newer and quickly growing. That's where Ashley Russell has established herself, after several years working toward what she thought would be a lifelong career in hospital administration.
Today, she's sharing a different kind of health mantra in northern Alabama: that of the mind-body-heart connection.
"In yoga, you really have to get creative if you do it as a career. You have to listen to your heart and really connect with other people, that's number one," says Russell, 27. "The money will follow. If you are focused on the heart connection and filling other people up, you will be successful."
Russell is a self-described "health nut" whose mother was a personal trainer. Before yoga, she exercised through running, spinning and aerobics classes.
It was while living in New York City and working as a co-manager of a spa a few years ago that she first found yoga. Russell had moved to the city halfway through her undergraduate studies in health administration at Auburn University. The idea was to take a break, be further from home and think about her life's direction.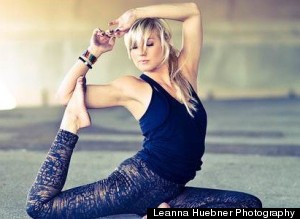 Ashley Russell studied health administration at Auburn University and had plans for a medical career before deciding to teach yoga in Huntsville, Ala.
"My first impression was that yoga was boring, slow, not fast-paced enough. I didn't know what I could get out of this, I was such a physical person," Russell remembers. "But by my third class, we were doing a single-legged pigeon pose, this deep hip opener where one leg is behind you and one is bent in the front. My hips were so tight, I realized I had been holding so much tension in my body for years."
"I remember the teacher coming to me and saying, 'It's OK, you don't have to try so hard.'"
More than a physical challenge, she says, yoga gave her an outlet to breathe. She didn't have to be in constant competition for grades, for fitness, for the next internship or the post-college job.
After returning to Alabama, she completed her degree and got certified as a teacher. Today, Russell spends between 50 and 60 hours each week on her yoga business, split among classes at several studios, and has started to host nutrition bootcamps.
"It's a lot of freedom. I don't have to sit at a desk all day, which is what I thought I would do when I was interning at the local hospital in college. I thought I'd wear a business suit every day," she says. "I had fought back and forth. Should I take a job that's stable or do what I really love?"
The conflict between having a successful, stable career and a purposeful vocation is a common topic of conversation among those making the transition.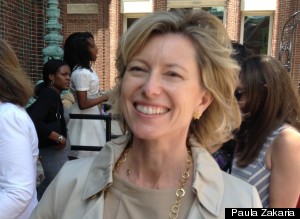 Paula Zakaria, who is writing a book on how mothers can use yoga and meditation, says yoga teaches people in traditional professional careers how be in a "place of listening," which can spur changes in what they want out of a job.
"We are so comfortable using action to still our nerves, but what really happens through yoga or meditation is that you learn to essentially use energy to become more at peace," says Paula Zakaria, a New York-based meditation teacher who also practices yoga.
"It can take you away from trying to mold the world to your wishes and puts you into being still. It stops you from trying to always speak and puts you into the a place of listening," says Zakaria, who is currently writing Be Where When? A Spiritual Memoir for Moms on Earth. The book is about how to use meditation and yoga to become more calm and loving with children and others while taking on the responsibilities of motherhood.
For Laura Kasperzak, the mother of a 7-year-old and a 3-year-old, the quest to balance family and work is part of what has kept her doing yoga. After discovering the practice 17 years ago, Kasperzak, 36, has become one of the the most popular female yogis on the Internet.
Waking up before sunset each morning to practice for up to 90 minutes in her Lincoln Park, N.J., home, she posts photos of her most impressive moves -- often with her head hanging upside down -- to her Instagram account, which has amassed nearly 400,000 followers.
During the day, Kasperzak works at a Fairfield, Conn., software company in customer support and data entry. "A lot of boring stuff, though I love the people I'm around," she says of the job she's had for 12 years. Her way of dealing with the mix of stress and tedium: "Being aware of myself, and taking myself back to that five minutes each morning I spend just discerning my intention for the day."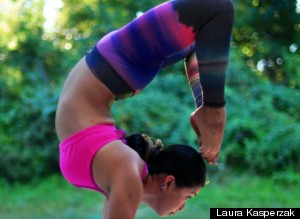 Laura Kasperzak, who does customer service and data entry for a software company, plans to leave her job within a year to teach yoga full-time.
After starting her Instagram account a year ago to record her progress, Kasperzak was shocked to find out so many people were interested in it. Photos show her balancing on her head, on one hand, on benches, on beaches, and with friends and family in yoga-posed body pyramids.
The online support, she recently realized, was the perfect built-in audience for a second career in yoga. She got certified and slowly began to teach.
Along with Masumi Goldman, her best friend since high school and another popular Instagram yogi, Kasperzak has launched TwoFitMoms.com. The two friends also lead Wednesday night yoga classes at a Muay Thai gym in Lodhi, N.J. On Sunday, they'll host their first workshop on "Overcoming Your Inversion Fears."
Kasperzak says she plans to leave her day job within a year.
"It's scary. To try to start in a new career after being comfortable in your job for so long, it's not easy. Especially because there are so many young teachers out there," she says. "I'll be nervous, but I realize I have to make myself happy. Life is too short."
Related
Before You Go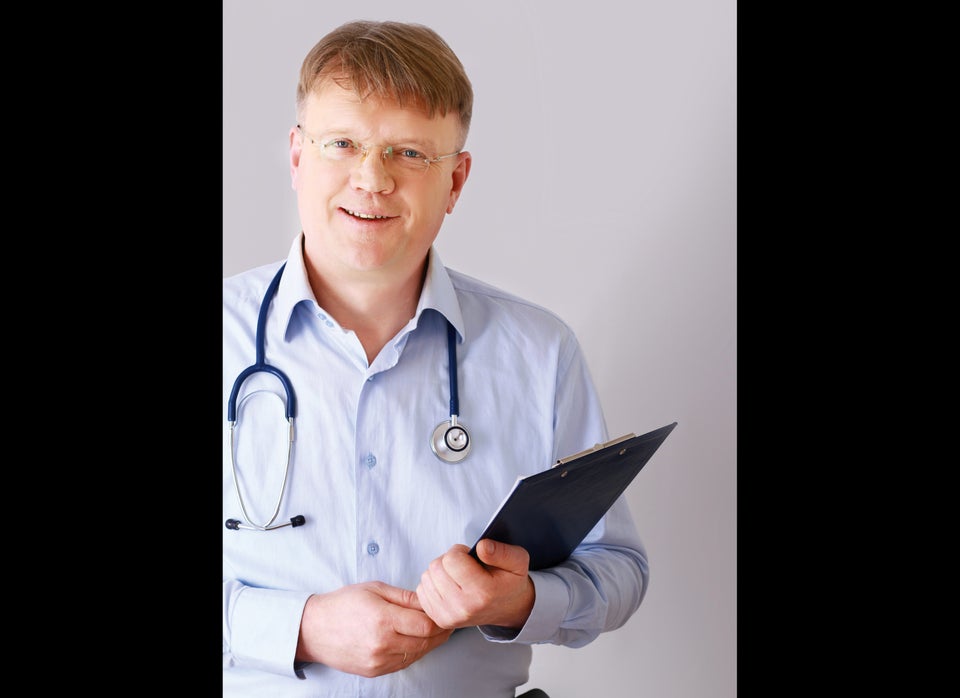 How Yoga And Meditation Help...
Popular in the Community