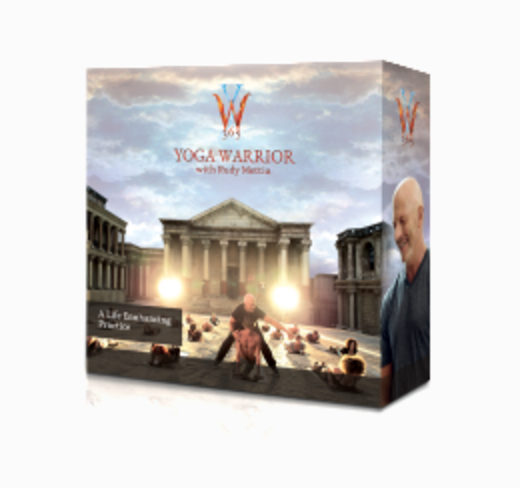 Being a Marine veteran myself I am humbled and honoured to have the opportunity to join 'The Wounded Warrior Project' in Washington, DC in helping to bring the healing power of yoga to our returning veterans. As you know many of America's young men and women have returned home from the country's 15 years of wars and conflicts with devastating physical injuries, along with emotional and mental traumas. Yoga can, and will help. Being a veteran myself I can relate to our vets and we speak the same language. So I know it's without doubt, destiny if you will, that I gladly find myself in this role, ready and willing to do whatever is needed to thank and support our military to whom which we all owe so much.
Along with my parent company Udaya Entertainment, we have produced the critically acclaimed "Yoga Warrior 365" DVD box set as a go to yoga resource for the WWP. The collection includes 12 Warrior themed classes with 37 short 5 minute tutorials videos. The practices are broken down into skill sets, Shoulders, hips, back, arms, legs, core, strength, conditioning and more. The box set gives the vet options on what he or she may want to focus on for that day and encourages modifications for any injuries that they may have suffered.
You can now join our 'Yoga Warriors' in their recovery. It is our goal to get every veteran in the country that needs one their own DVD set for their recovery. Starting today, for every YogaWarrior365 box set individuals, businesses or corporations purchase we will donate 1 to The Wounded Warrior Project in DC. Where Government may fall short with our fighting men and women, you, and organizations such as WWP succeed.
I interviewed Danna Justice head of the wellness department and wounded Warrior and here are his responses.
RM: What inspired you to work with WWP? What is the mission statement of WWP?
DJ: I became familiar with Wounded Warrior Project (WWP) in 2008 while on Active Duty at the Aeromedical Staging Facility (ASF) on Joint Base Andrews, MD. While our medical team cared for our nation's injured service members, WWP was there supporting the mission, educating warriors on available resources and delivering them much needed supplies upon their return home. WWP's face-to-face interaction with the warriors during such a difficult time brought hope to a generation of service members struggling to transition from Active Duty warrior to civilian. To see warriors benefit from WWP's world-class programming and services left a lasting impression as I transitioned from my own Active Duty service. Four years later, after finishing my degree in Kinesiology, I sought out opportunities to work with warriors once again and in October 2015 I joined the WWP Physical Health & Wellness Team. The Wounded Warrior Project mission statement is 'To Honor and Empower Wounded Warriors.
RM: What is your hopes for the future of WWP?
DJ: Our Physical Health & Wellness Team recently re-modeled our platform which will offer more high-touch programming to better serve warriors with the highest need. Our aim is to inspire and sustain healthy lifestyle change in warriors who are in need of improving their quality of life through physical fitness and nutrition. Physical Health & Wellness is just a small piece of a continuum of care that WWP offers through a holistic service approach. The hope for WWP's future is to connect, served and empower warriors and their family members by continuing to delivering first-rate programs and services.
DJ:How did you decide to collaborate with Udaya?
I've been a big fan of Rudy's yoga practice since discovering YW365 in early 2014. I learned quickly that Rudy and I had a few things in common - we're both a little rough around the edges (which the yoga certainly helps to smooth out), we both served in the military and we share a background in sports performance. When I realized warriors in remote areas of the country didn't have access to yoga, YW365 came to mind instantly. I emailed Rudy and he responded the same day. I'll never forget what he told me after explaining to him how his program could assist our warriors in regaining some of their mobility and overall health. He said "Dan, I'm here for you and WWP physically, emotionally and spiritually. Whatever I can do to help, I'm here". From the start his focus was with warriors. The same should be said about Udaya's CEO Yariv. He's never balked at the idea of offering YW365 at a discounted price and has remained steadfast in his support of WWP's mission.
RM: What drew you to yoga?
DJ: My passion growing up was basketball but because of basketball I have the ankles of a 100 year-old man. In 2008 I had reconstructive surgery on my left ankle which forced me to evolve as an athlete. My love for the water drew me to open water swimming and triathlon. The wear and tear from training brought me to yoga because of its restorative and recovery properties. Yoga, for a year or two, was solely for the physical benefits of the practice. As a junior at George Mason University I took an internship at Unity Woods Yoga Studio in Bethesda, MD. The precision and detail of a dedicated Iyengar practitioner was mesmerizing. The internship culminated with a 6-week Anatomy of Yoga seminar using the Laban Movement Analysis. I was hooked and have been developing my practice ever since.
RM:Why do you think Yoga is a good practice for our wounded warriors?
DJ: Whether warriors are suffering from physical limitations or the invisible wounds of war like PTSD or TBI, yoga has so much to offer. Often times we see warriors who have extreme boundaries in mobility. Training corrective movements for those discrepancies in range-of-motion are cornerstones in much of our programming. A lot of the time, the buy-in for yoga comes after warriors see how beneficial the practice can be for their cardiovascular and musculoskeletal health. We get comments all the time about how much they sweat during a practice or how sore they are the next day. I believe the most impactful piece for warriors doing yoga is mindfulness and meditation. It's hard to imagine what a warrior diagnosed with PTSD or a TBI goes through on a day-to-day basis. Providing them a resource that helps cultivate mindfulness is a tremendous resource for their recovery. Yoga has been around for 5000+ years and only recently have we learned about the benefits of meditation and mindfulness through scientific research and evidence based medicine. All agree that mindfulness is the way to a calm and more peaceful mind. In the past 6 months I've seen warriors use Yoga to improve their physical health, strengthen their relationships and most of all improve their mental wellbeing. YW365 has been an indispensable asset to our programming and will continue to be as we move forward.