At crowded New York City yoga classes, rooms can be filled wall-to-wall with 60 or more students -- but it's likely that fewer of those people are men than you can count on one hand.
A recent Washington Post article points out that many still view yoga as a "women's practice," although its benefits for physical health and well-being extend to both sexes. In the piece, writer Eric Niiler posed (no pun intended) the simple question: "Why are there so few men in yoga?"
Niiler argues that commonly-perpetuated "yoga myths" are what keep men sitting on the couch or on a spin bike instead of in lotus pose. "Yoga isn't a decent workout; it's too touchy-feely; you have to be flexible to do it; men's bodies just aren't built for pretzellike poses," are just a few of these myths, he explains. By Niiler's estimation, men shy away from yoga because they may be intimidated by poses that require more flexibility, and they might be turned off by various spiritual aspects of the practice, such as "Om"-chanting or naming poses in Sanskrit.
"If it's flaky and too New Agey, soft or touchy-feely, that can be a turnoff unless it's explained in a way that is understandable to a male audience," Ian Mishalove, co-owner of Flow Yoga Center in Washington, DC, told the Washington Post. (And yet meditation, another "New Age" practice, is a growing trend among business leaders, many of them male.)
In the picture Niiler paints, men's fragile egos are bruised by being unable to perform poses that are easier for women, men are uninterested in "touchy-feely" spirituality, and when they do come to class, it's to be surrounded by women in tight pants. "You want to be where the women are," one male practitioner told Niiler.
Niiler may not give male yoga practitioners much credit, but he's right about one thing: Despite the fact that nearly everyone seems to be an aspiring yogi these days, the yoga community is still heavily female-dominated (or as Niiler puts it, "not a man's world"). The ancient practice has exploded into a $27 billion dollar industry in the U.S. with more than 20 million practitioners, 83 percent of them women, according to a 2012 Yoga Journal report. The industry has made a killing selling, largely to women, a premium yoga lifestyle -- as one Bustle writer says, "inner peace comes with a high price tag." That lifestyle includes, in addition to classes, designer sportswear, mats, towels, water bottles, juice cleanses and retreats. It's part of a larger, $290 million marketplace, dubbed Lifestyles of Health and Sustainability (LOHAS), comprised of "goods and services focused on health, the environment, social justice, personal development and sustainable living," whose consumers make up an estimated 13-19 percent of the population.
Though he points to some very real myths about the practice, Niiler's analysis neglects to mention a critical piece of the puzzle when it comes to the feminization of yoga: The fact that the yoga industry has long been using images of thin, statuesque, often white women to sell its products -- and so, unsurprisingly, our wellness-obsessed culture has come to associate yoga with a certain ideal of female perfection.
Karlyn Crowley, professor of English and director of the Women's and Gender Studies Program at St. Norbert College, recently told ELLE that we've come to think of the "yoga body" as female, slender and taut.
"The yoga body is Gwyneth Paltrow's body -- the elongated feminine form," Crowley said. "That is still the way yoga is represented in mainstream media."
A more inclusive media portrayal of yoga -- one that better represents both genders, as well as a greater variety of body types and races -- would be a step in the right direction towards diversifying the practice. But given the current marketing tactics employed by the yoga industry (yes, there is actually a "Yoga Teacher Barbie"), it's unsurprising that women, and particularly those of a certain body type, are the ones who seem to be most at home in yoga studios.
"If you ask the average person what yoga is, they immediately think of a beautiful woman doing stretches and bends -- that tells you how commercialized it has become, and how limited," Phillip Golderg, spiritual teacher and author of "American Veda," recently told the Huffington Post. "What yoga has meant for thousands of years is not just that."
And what yoga actually meant for thousands of years -- stilling the thoughts of the mind in order to connect with the self -- is a pretty equal-opportunity pursuit. Men and women of all races and body types could stand to practice a little self-reflection, and it's important to remember that anybody practicing yoga has a "yoga body."
"The beauty of yoga is that it meets you where you are," Lauren Walker of Mother Nature Network wrote in a recent blog post. "Yoga can hold us all, and can hold all of us."
Also on The Huffington Post: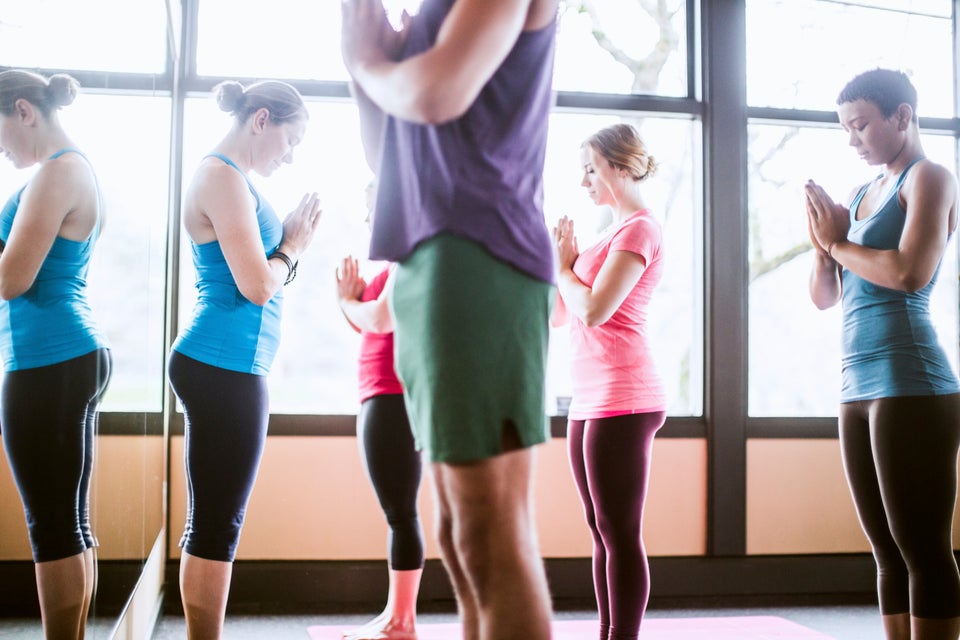 10 Energizing Yoga Poses
Popular in the Community