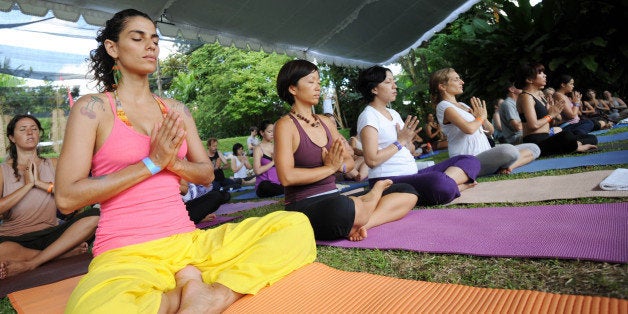 The smartphone has become a dating tool, and dating apps have become the norm. More people are meeting their significant others online then ever before. Single people from all walks of life are using dating apps and swiping their way to new mates, including yogis. This new way of dating provides an interesting way to track data, and swipe dating app Hinge recently released stats on how yogis date differently. The data was collected from both male and female Hinge users of all sexual orientations who self-identify as yogis, compared to users who don't.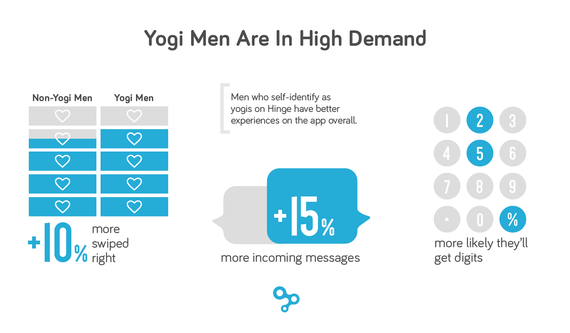 Hinge collected some interesting info on male yogis: They are 10 percent more likely to get swiped right. They get 15 percent more incoming messages, and are 25 percent more likely to get a phone number. This data suggests that it may be easier to get a date on the app if you are a guy who practices yoga.
Male yoga teacher Justin Richie is not surprised with the stats. "The practice of self awareness is an attractive quality, and self awareness is a huge component of dating. If one does scary arm balances, it will make dating less intimidating. There are a lot of correlations between physical and emotional wellbeing and yoga. Yoga makes you sexy."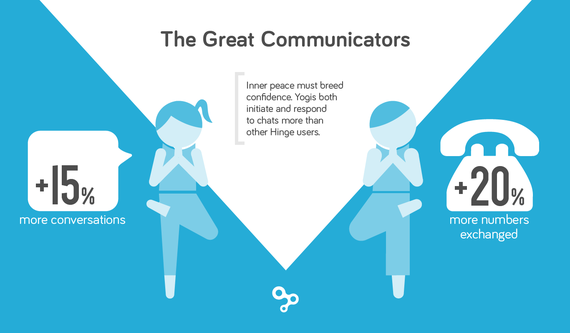 Boldness and self awareness is a big part of yoga. People who do yoga train to challenge themselves, both on and off the mat. After all, asking someone out takes guts, and when you've been working on challenging yoga moves, dating can seem like just another fun challenge to take on.
Yoga helps you to be a fuller version of yourself. Communication is necessary for any evolving relationship, and comes naturally to a yogi. The data shows that yogis have 15% more conversations on Hinge than non-yogis. Moreover, 20 percent more yogis exchanged numbers. This shows that yogis both initiate and respond to chats more than non-yogis.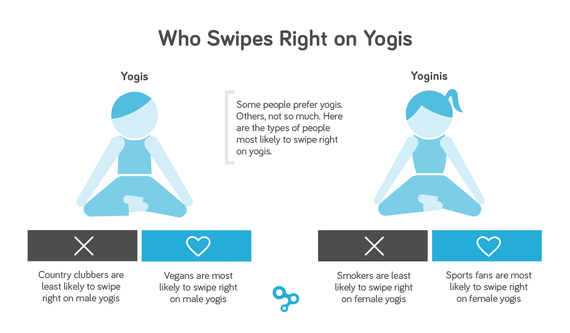 Hinge's data shows that someone who self-identifies as a country clubber may just not be that into you if you self identify as a yogi. But if you are a yogi, a smoker is less likely to swipe right on you, which is probably a good thing if you spend a lot of your time cleansing your body of toxins. Yogis as a rule are health-conscious. It just comes with the territory of dedicating time to focus your mind on your body. And being healthy is sexy.
When having a casual conversation with a female doctor friend, she had some interesting things to say about why yoga is so sexy. "When I do yoga, it helps me to feel. It engages me in my body. As a person who lives in my head, it helps me to disengage with my internal monologue and be with my physical existence."
Physical existence, you say? "People who do yoga are better in bed. You have better cardiovascular health. If you regularly do any physical activity, you'll have more endurance." Studies show that working out improves your sex life. Moreover, yoga makes you better at loving yourself. The act of consistently paying attention to your own body and breath trains you to be more aware of your experience on an everyday basis.

Yoga Helps People Be More Open to New Relationships
"The results make sense to me," said Hinge CEO Justin McLeod. " Yoga has the tendency to make people more intentional and more sensitive to others, so I would guess people who practice would be more likely to actually connect with their matches."
McLeod, a certified yoga instructor himself, shared how Hinge has found that people connect over unique passions and shared experiences. "Sharing any interest, especially a practice aimed at helping you connect with yourself like yoga, could make a person more likely to actually connect with their matches."
Yoga is an enjoyable activity that people can do together. In a world where relationships can be formed at the simplest swipe of a screen, sharing real life experiences is what dating is all about. I asked McLeod if we will be getting more interesting stats like these. Hinge plans to continue to track data to better understand the dynamics that spark connections for different groups of people.
For many people, the ultimate goal of dating is to find love. Lodro Rinsler, co-author of How to Love Yourself (and Sometimes Other People): Spiritual Advice for Modern Relationships noted that yoga is one of many ways to be more open to new relationships: "I have found that people who are more willing to do inner work - who get to know and befriend themselves - are clearer on how they want to manifest in relationships, be they romantic, familial, or even at work."
Taking time to do a practice like yoga helps build self-love and self-awareness. So if there weren't already enough great reasons to do yoga, perhaps getting a date will be your motivation to start!
Lauren Coles is the Founder and Lead Teacher of Daisy Office Yoga in New York City, where she brings yoga to people at work. She also teaches for youth programs at Lighthouse Guild for the Blind and Mentoring USA.