For some of the most poignant moments in sports, the agony of defeat merely presents the opportunity for a moving display of resolve, compassion or audacity.
Despite appearing to be in serious pain, Nascimento refused the support of the stadium officials, per The Associated Press, who came to his aid. He rose to his feet and he gingerly made his way toward the finish line. Stirring memories of Redmond's painful progress, with the aid of his father, at the 1992 Olympics in Barcelona and Xiang's injurious ordeal during the 110-meter hurdles at the 2012 Summer Games, Nascimento's finish joins the many memorable Olympics and Paralympics moments to take place in London over the past several weeks.
These Paralympics Games have been an emotional rollercoaster for Nascimento, who picked up a gold medal in the men's 200 meter (T46) , a silver in the men's 400 meter (T46) and perhaps even a fiance before taking the track for the 100-meter final. The 24-year-old Brazilian proposed to his girlfriend via television camera after winning his gold medal by unfolding a handwritten note while still on the track.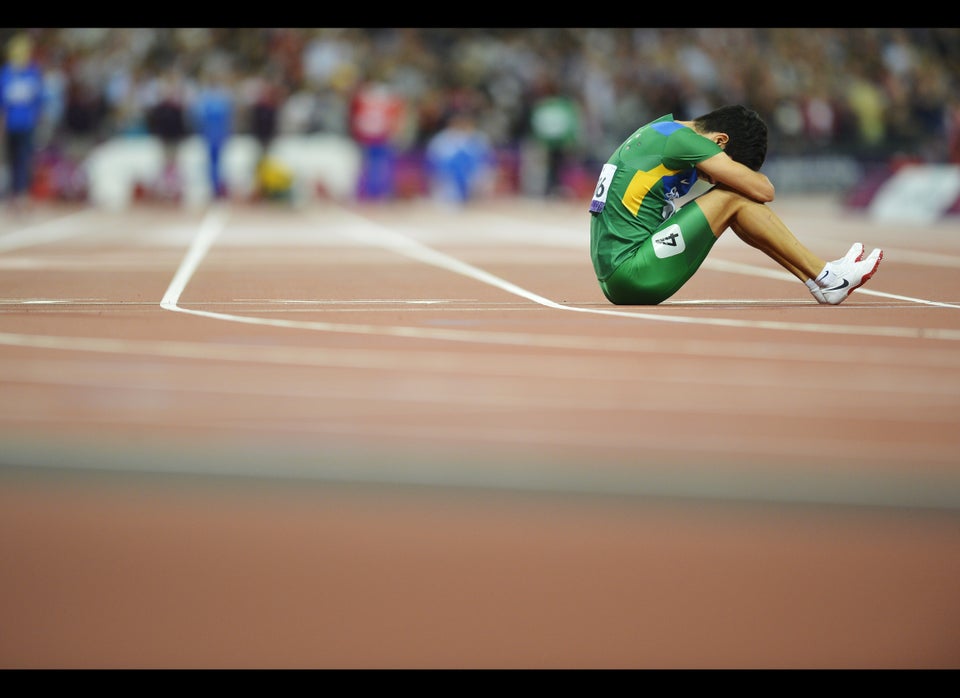 2012 London Paralympics - Yohansson Nascimento Falls
MORE FROM THE ASSOCIATED PRESS:
LONDON (AP) — Brazilian sprinter Yohansson Nascimento fell about a third of the way through the 100-meter final at the Paralympics. He then watched in agony on the track as his rivals completed the race.

Race officials tried to help Nascimento. But, undeterred by the pain in his left leg, he brushed them off. And, with a crowd of some 80,000 applauding, he hobbled to the finish line in tears.

Xu Zhao of China won in 11.05 seconds. Nascimento, who captured the 200-meter title Sunday, finished the 100 in 1 minute, 30.79 seconds.

His gallant finish evoked memories of the 1992 Olympics when Derek Redmond was helped across the finish line by his father after his hamstring popped in the 400 semifinals.
Popular in the Community