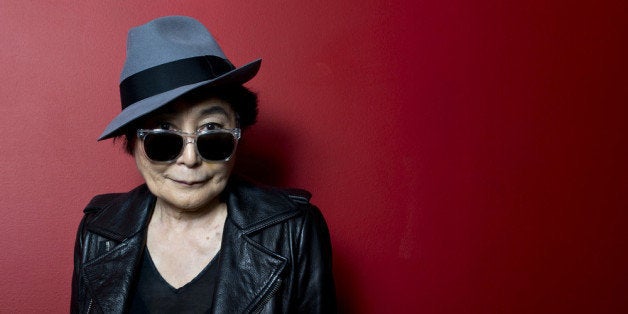 Yoko Ono is 80 years old, but on Sunday night, she was just a rockstar sashaying her way around the stage at Bowery Ballroom, one of New York's smaller yet still venerable concert venues.
The tireless activist, recording musician, performance artist and widow of John Lennon worked through a strong set, at times adding echoes that rendered her voice incomprehensible and dipping into her trademark howls and hollers with a decidedly physical effort. A run of Ono's curious art films preceded the actual performance: a hilarious trailer for "Film No. 4," (a 1966 short that offers nothing but close-ups of various derrières), 1970's "Freedom" (in which Ono slowly removes her bra) and "FLY," (an impressively difficult to watch project in which the titular insect screeches its way around Ono's body).
The films were a handy way to reinforce Ono's position as one of pop culture's most enduring figures, adding a sense of weight that clearly delights Ono, who uses the gravitas as a foil. Those who have spoken with Ono know that while she does take her work seriously, she's lighthearted and quick. Before working through "Walking on Thin Ice," for example, Ono admitted that it was "difficult" for her to do, only to jump back after a pause: "It's OK. I'll do it!"
Ono was also upbeat in a recent interview with HuffPost Entertainment. We reached her via phone as she took calls in the kitchen of her apartment at The Dakota, the Central Park West apartment building outside of which Lennon was shot in 1980. The subject at hand was "Take Me to the Land of Hell," the Plastic Ono Band's first LP in two years and their third since Ono reformed the group with her son, Sean Lennon. The album features collaborations with everyone from Lenny Kravitz and Miike Snow's Andrew Wyatt to tUnEyArDs and Questlove alongside remixes from the likes of the Beastie Boys, hits stores Tuesday.
"I'm in love with this world and this planet," Ono told us. "It's beautiful!" A condensed transcript of our conversation follows, in which the singer reveals her thoughts on today's artists, her own activism and the piecing together of "Take Me to the Land of Hell." Ono also speaks about Lennon's passing and how he would have interacted with today's media.
Releasing one song a week up to the album's debut was a nice way to let fans get to know the project.
That wasn't my idea, someone here thought of it but I love that idea. I thought, 'Great, do it!' It's really great that you can do it that way because then people have the chance to think about the songs.
Do you feel like music fans are moving back toward albums, as opposed to a more singles culture?
I don't know, in my case, I think that this is definitely a theme album, about life and breathing and whatever it is. I think that we're going to go back [to albums]. Once we get so bored with the way things are now, we'll go back, yeah.
One of the most searing lyrics on this album is when you sing, "We, the expendable people of the United States."
I know! I could cry! I really like that one. That was Lenny Kravitz, Sean Lennon and me, all three of us were really turned on by that line.
Was that lyric -- and album itself -- inspired by current events in any way?
I just wanted to finish it and finish it right. You get that way when you're making an album. I just don't want it to go on and on and on. Some people go on for like six months or a year. I was always like that, and John was like that too. I mean, 'Double Fantasy' was made in a month or something.
There are a lot of references to blood and brutality on the record. Are you feeling a bit down about humanity?
We just have to say that we're not living in a pretty, pretty world. We have all sorts of things going on and people are bashing us, but it's in that situation where we have to do something positive and right. Not in a situation where it's all pretty. It's life.
We've recently seen top level artists like Jay Z, Beyonce and Stevie Wonder speak about the George Zimmerman trial. Do you think we're seeing artist activism coming back?
We are awakened, definitely. It's beautiful, because now there are so many activists. Are there any musicians who are not activists? That's very different than when John and I started. There was a good reason that we did all of the stuff that we did, and that's that it has spread and the message has gone to everyone.
Is that a blessing and a curse, though? The ease of getting a message out sometimes seems like it can dilute the impact of the message. Is tweeting really activism?
The thing is that because it's so easy, it's just not easy. Everyone can do it, so then we can't sit around and say, 'Well, we are all the same.' No -- you have to make a very, very important statement. I think that when things are very easy, they're more difficult.
What do you think John would have thought about Twitter?
I think John would have loved it. He would have used all of social media and convincingly, because he was a communicator.
What's the next step in your fight against fracking?
We're trying to do all sorts. We did something in London at the Meltdown festival. Did you know that even the Brits are very upset? Well, the normal Brits, not the politicians. It's going everywhere now. We have to make sure that people understand that fracking kills.
Many people have noted that you seem to have an indefatigable energy about you. Do you find that all of your endeavors, whether they're creative or activist, for example, come from the same place?
Yeah, it is. I don't differentiate it. When I was doing "activist work," I have the same passion as I have for music, art and everything else.
What accomplishments stand out in your memory as your proudest to date?
Right now, I'm really feeling like this album that I made is the best that I've ever made, so far. When I made 'Walking on Thin Ice' they said that I could never top it. I think I did, in different ways. Maybe not as a single song, I don't know. But that didn't upset me or scare me. Everything in this album is just as good or maybe better, I think.
The song "7th Floor" is about John's passing, and it's almost startlingly vivid for an event that occurred 30 years ago.
Of course, I'm still carrying that with me.
Did you write that song by yourself?
I mean, is anybody else going to write that song? It's such a crazy song. The team did the production together. Sean and others are very powerful producers. So they did that, and that was good. But the lyrics and notations and the harmony, of course, are all mine.
Are there any artists you currently enjoy listening to?
Well, I don't have the time to listen to anything except my work, doing anti-fracking things… There are so many things I have to do, really. When I'm alone and I really want to relax, I'll put on music. I listen to old Indian songs and gypsy songs. They're beautiful.
Which gypsy groups do you like?
I don't have a real preference. In other words, if I'm going to name one group or something, I think it's unfair because I haven't listened to all of them.
Do you feel a certain responsibility when it comes to lending your name or credibility to up and coming groups?
Oh, definitely, definitely. Also, we all have that responsibility, you know? In my case, I think a lot of people focus on it.
At what point in your life or career did you realize discover your voice?
I must say that I always thought I had a voice, even when I was 4 years old.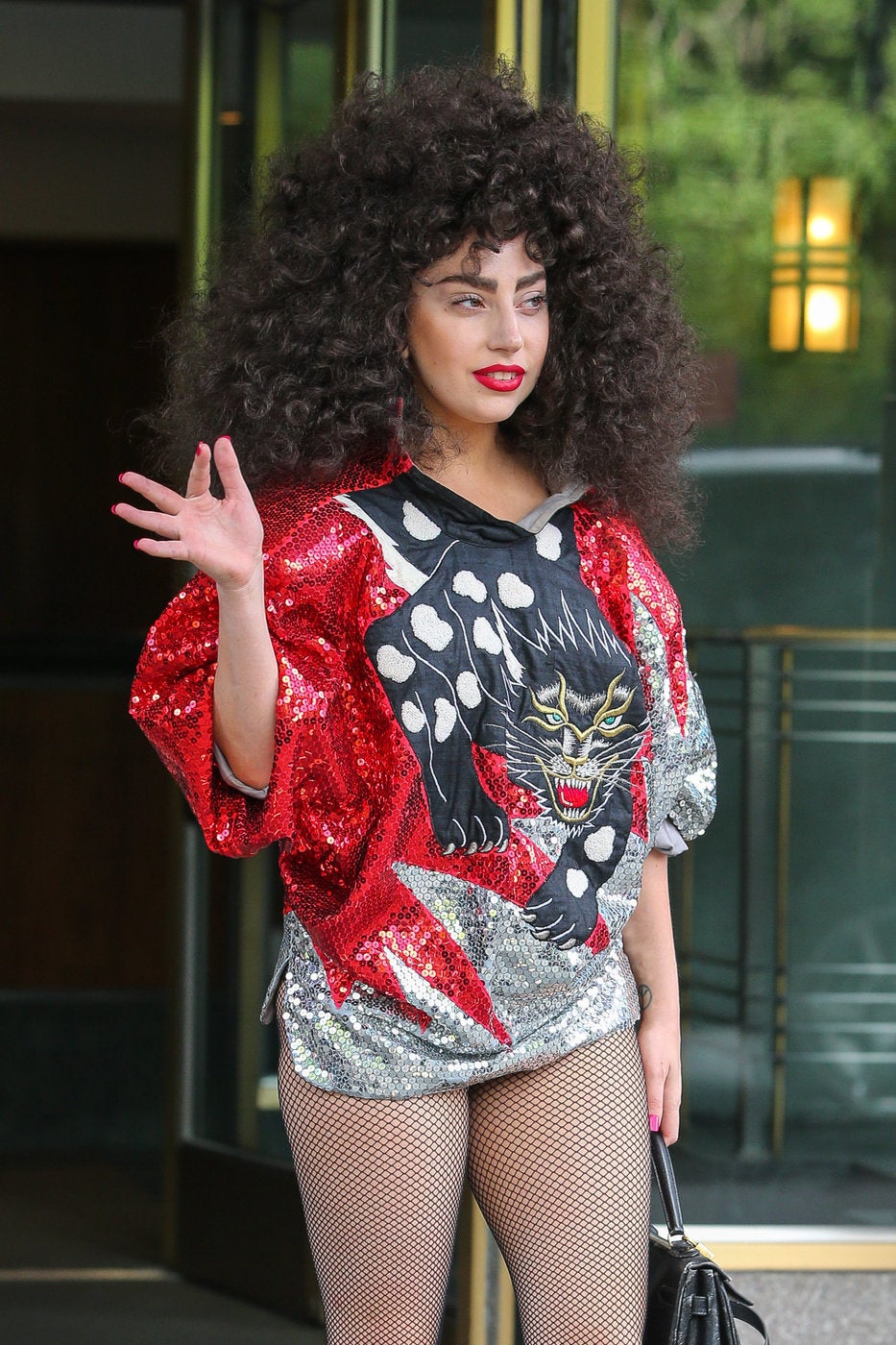 Celebrity News & Photos
Popular in the Community