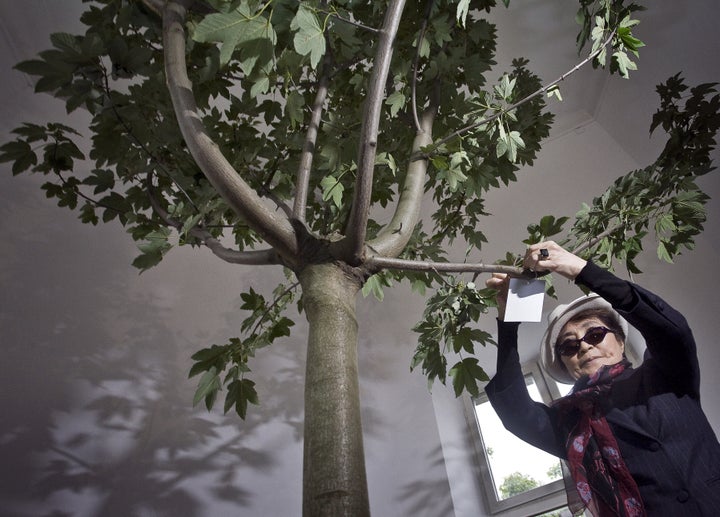 We recently heard that Yoko Ono, the artist and famous widow of John Lennon, will collaborate with Occupy With Art in order to distribute 10,000 postcards among Occupy Wall Street protesters nationwide on Saturday, January 14th. If you're in New York, head down to Zuccotti Park by 1 PM that day in order to get written instructions from Ms. Ono about the project. This act is a resurrection of her "Wish Tree Project," which the artist began as a type of healing process after the murder of her husband. Occupy With Art's website reports that "Wishes can also be sent directly to Ono's website and will be kept private. Ono assembles the wishes into another artwork, Imagine Peace Tower, based in Iceland." You can find more information about Imagine Peace Tower here. You can also see an image of the Wish Tree for Zuccotti Park message at Flavorwire.
In 2007, Ono took her Wish Tree to D.C., where she conducted a ceremony in front of the Jefferson Memorial. People wrote their wishes on scraps of paper and tied them to nearby cherry trees. A Washington Post writer peeked at some of the hopes tied to the tree branches, reporting that one person wrote, "I wish for equality for all and an end to tyranny and poverty," while another had a simpler message: "I wish everyday was swimming."
Readers, what wish would you make? What change do you want to see this year?
Popular in the Community