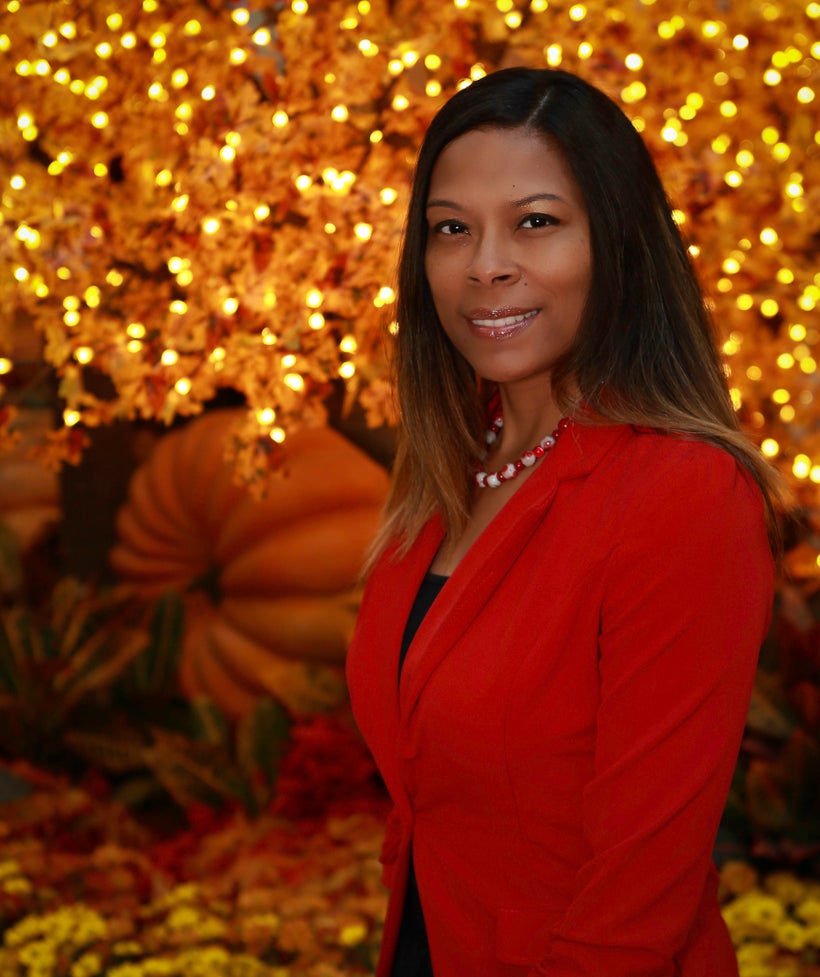 My uncle always said that,"Big things come in small packages!" At the time I did not know what he meant. Well, that was until I met the beautiful Yolanda! She's little in stature, but big in spirit. Her can do attitude is contagious. And her eagerness to see all that she comes in contact with succeed, is something to definitely take note of. Yolanda is a woman of great strength, resiliency, and passion. I had the opportunity to sit and chat with this phenomenon of a woman. She is every bit of elegance and class all wrapped up in one.
Cheryl: Who is Yolanda at her core?
Yolanda: I am a daughter, mother, sister, partner, aunt, granddaughter, friend, member of the community, domestic violence survivor, currently a Research Specialist with the University of Virginia, and an Air Force Veteran who selflessly served for 20 years active duty. I still live by those same core values; Integrity first, Service before self and Excellence in all we do! I am God-fearing, anointed, passionate, an overcomer and a confident woman who empowers/motivates others daily. I rock professional attire but don't get it twisted, I will rock jeans with a t-shirt and tennis shoes too on any given day. I choose to be happy! Live a purposed filled life and ensure I find "balance" to enjoy time with my family and friends!
Cheryl: Tell us about your business?
Yolanda: I'm the Business Manager for iRunMS Entertainment, LLC, a professional entertainment company that provides services for all occasions. We are based in Biloxi, Mississippi with over 40 years of experience as a disc jockey, concert promoter and sound/light engineer. We work hard to make sure your event is just the way you imagined. We know how important it is to get it right the first time. We are self-contained and offer competitive pricing. I am also a published co-author in the collaborative book for Overcomers of Domestic Violence titled "When a Women's Fed Up".
Cheryl: Where do you see yourself in the next 2 years? 5 years?
Yolanda: I see myself continuing to be an advocate for Domestic Violence Awareness, telling my truth and sharing my testimony and partnering with a Non-Profit Organization. I also plan to start/own a Life Coaching business. It is a profession that is profoundly different from consulting, mentoring, advice, therapy, or counseling. The coaching process addresses specific personal projects, business successes, general conditions and transitions in the client's personal life; relationships or profession by examining what is going on right now! Discovering what your obstacles or challenges might be, and choosing a course of action to make your life be what you want it to be.
Cheryl: What's next for Yolanda personally?
Yolanda: First, I plan to send my daughter off to college. Next, I plan to travel more to see the world and go to places I've never been to learn more about other cultures. You can never gain enough knowledge while having fun doing it. I will most definitely have my fiancé/sidekick right beside me too so we can enjoy all of the fun and continue to build long lasting memories together.
Cheryl: How do you handle setbacks?
Yolanda:I give myself time to process what happened. I come to terms with what has happened, and then it's time to figure out how to proceed from there. But whatever I do, I don't panic and try to control my emotions. I make peace with my failures, so it doesn't keep me from reaching my potential. I cut myself some slack (but don't let go of the rope). While I can't change what's been done. I can choose to deal with it and I'll move forward when I do. I regain as much control over my situation as possible to help me avoid feeling helpless and hopeless. This means considering the actions I need to take to help me overcome whatever obstacle is in my way. When life knocks me down, I get back up. And when it knocks me down again, I get back up again. That's how I've learned to overcome setbacks, defeats, and roadblocks. I CHOOSE to make my setback, my COMEBACK!
Cheryl: What is the greatest lesson that you have learned in business?
Yolanda: The number-one lesson I've learned in my lifetime is success doesn't happen overnight and nothing beats hard work. Hard work outweighs talent and intelligence and is necessary if you want to succeed. Don't waste your time trying to cover up your faults. Instead, accept them, face reality and do your best to work around these faults. There is no greater sign of confidence than self-acceptance. It's equally important to never forget to learn from the past. I'm not afraid to look back. You must make mistakes to build character and to make yourself a better, more rounded individual. There is no better investment than an education. Investing in education for the sake of getting a paper degree will not pay off in the way that investing in a passion of mine will. Education is a lifelong process. It doesn't end when the class does. Remember life is your best teacher!!!
Cheryl: What advice would you give to that woman who's business is not doing so great and wants to give up?
Yolanda: If you need to take a break to refocus and regroup, Do that! But, DO NOT give up on what you have a passion for. So, start networking and reaching out to other women who have been in business for while to gain some of their knowledge on their struggles and successes. Get literature on building businesses and educate yourself even more. The only person that can get in the way of your success is you. Remember, when you love what you do, you'll never work a day in your life.
Please connect with Yolanda on Facebook.
Calling all HuffPost superfans!
Sign up for membership to become a founding member and help shape HuffPost's next chapter
This post was published on the now-closed HuffPost Contributor platform. Contributors control their own work and posted freely to our site. If you need to flag this entry as abusive,
send us an email
.