Update, 10/7/11, 11:21 p.m.: Several hundred people showed up in front of downtown New York's Brown Brothers Harriman building for a candlelit, social justice-oriented Kol Nidre service Friday night. They included men and women in white prayer shawls, participants in street wear and non-Jewish onlookers. Leaders of the service prayed for the eradication of racism, classism and discrimination against gays and lesbians, among other causes. As with the Occupy Wall Street demonstrations, no microphones were used and readings and songs were echoed throughout the crowd as dozens of police officers watched. So far, no incidents have been reported. Several attendees said they planned to cross the street to Zuccotti Park to spend the night with Occupy Wall Street demonstrators, as observant Jews do not use cars or the subway on Yom Kippur. Check out a slideshow of the service below.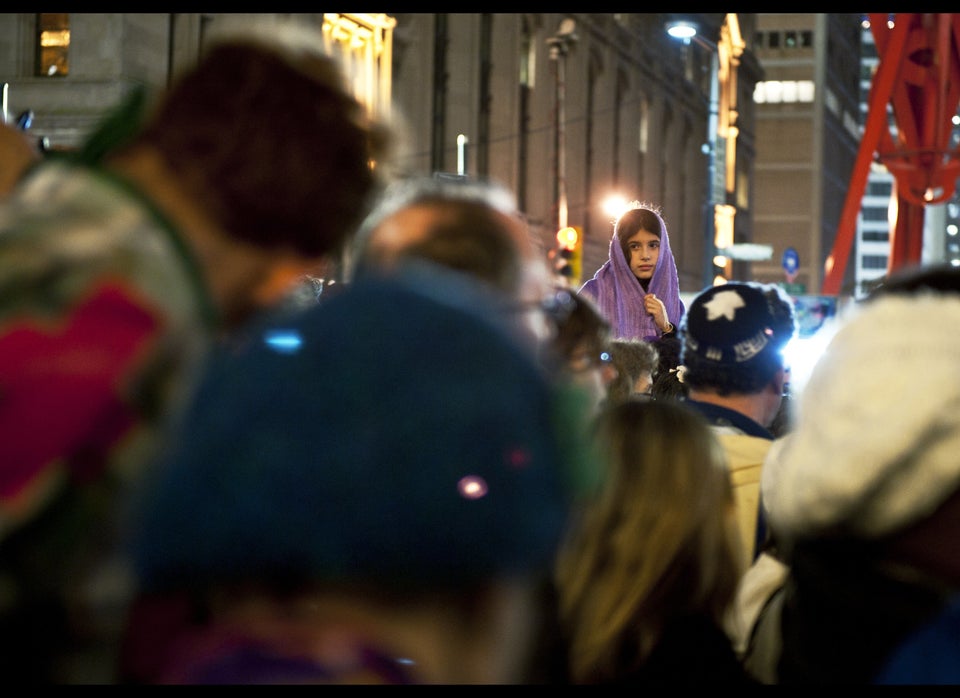 Yom Kippur held at Occupy Wall Street Protest
NEW YORK -- It's rare that Mae Singerman, a self-described secular Jew who grew up in a Reform family, observes Yom Kippur by praying, fasting or attending synagogue.
"For me, it's about bringing my Jewish identity and my politics together," said Singerman, who has participated in several anti-capitalism protests in recent years and visited the demonstration at Zuccotti Park for the first time last week. "Having a Jewish service or ceremony brings more Jews who wouldn't necessarily come. I know people coming tonight who are pretty skeptical about Occupy Wall Street but are willing to give it a try because of the Yom Kippur service."
Organized mostly via Facebook over the last week, the Kol Nidre service starts at 7 p.m. across from the downtown park where demonstrations have occurred since mid-September. Almost 500 people have RSVP'd on Facebook, although at least a few dozen of them are out-of-towners who are just showing their support.
The service, led by rabbis and students from several Jewish traditions, has been endorsed by Jewish organizations such as Jews for Racial and Economic Justice and the Shalom Center. The Rabbinical Assembly, an association of Conservative Rabbis, has donated 100 prayer books for the service, and organizers say that the Battery Park Synagogue and Chabad of Wall Street have welcomed holy-day observers who spend the night at the protest camp to come pray at Saturday services. Similar Kol Nidre services have also been planned in Boston, Philadelphia and Washington, D.C.
Daniel Sieradski, one of the service's organizers who has been participating in the Occupy Wall Street demonstration, said he was inspired to arrange for the Yom Kippur service by a part of the haftarah from the Hebrew Bible, which is typically read the first morning of Yom Kippur.
"You can fast for a day, you cover yourself in ashes, you can wear a sack cloth, but who cares if you are not out there feeding the hungry, housing the homeless, breaking the bonds of oppression?" said Sieradski, paraphrasing Isaiah 58:5.
"I am less concerned about halacha, Jewish law, and traditional observance than I am about the prophetic character of recognizing the divine in my fellow human being," said Sieradski, who also plans to observe the Jewish holiday of Sukkot at the demonstration.
While Sieradski said he does not plan to sleep over at the encampment Friday night, Nom, a 23-year-old Talmud student, said she plans to spend the night there with a group of friends to start her Yom Kippur observance. She will walk two hours to her upper Manhattan home on Saturday morning to attend synagogue.
"Part of Yom Kippur is that you are supposed to review the past year to see what you can improve about yourself and your community. I am seeing right now that I live in a country where homes are being foreclosed, where people are losing jobs and people are suffering," said Nom, who did not wish to give her last name.
"We're hoping the people up top can do some sort of teshuva. It literally means 'return,' but the whole point is that one specifically in the 10 days between Rosh Hashanah and Yom Kippur will admit their wrongdoings and ask for forgiveness," she said. "We are putting ourselves out there. and so should Wall Street. They should have the opportunity to review their actions and change."
CORRECTION: An earlier version of this article incorrectly identified the name of a Conservative Jewish Rabbi association, the Rabbinical Assembly, that donated prayer books.
Related
Popular in the Community