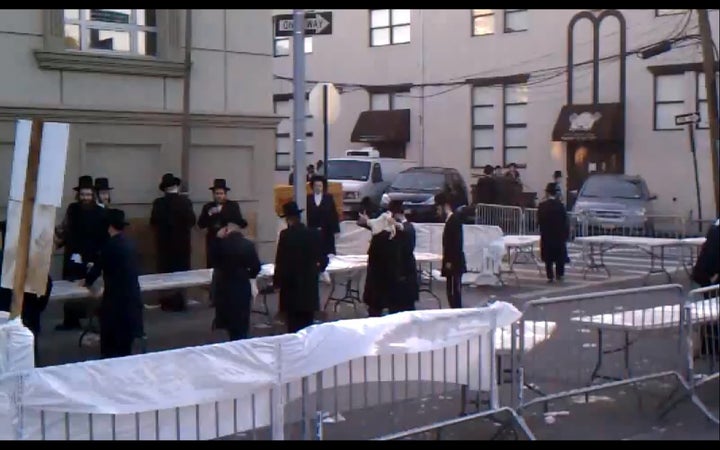 Yom Kippur, the most sacred day on the Jewish calendar, kicks off at sundown Friday and lasts until nightfall Saturday.
Synagogues across the country enjoy their highest attendance rate on the this Day of Atonement, when worshippers fast for the sins of the past year and take a spiritual inventory of their lives.
In New York, the Long Island Railroad will be running nine extra trains from Penn Station Friday afternoon to accommodate passengers traveling for the holiday.
And further downtown, according to CBS News, "the ground zero synagogue" will pay tribute to "the heroic firemen of Engine Six" at its Yom Kippur services. Nearby, a group of Jewish activists at Occupy Wall Street will hold Kol Nidre prayer services at 7PM.
Meanwhile today in Brooklyn, the Orthodox Satmar community practiced the controversial Kaporos ritual— the waving of live chickens three times above the head before slitting their throats in honor of the High Holy Day.
The tradition dates back almost 800 years and congregation members usually donate the meat to charities. However, Jewish leaders, animal activists, and protestors have long called for an end to the ritual.
A group called An Alliance to End Chickens as Kaporos told CBS News that religious leaders should stop the slaughterings and instead adopt what many others in the Jewish community have done: substituting the chickens for bags of coins:
There is a perfectly acceptable Kaporos practice that not only avoids animal cruelty, but can help reduce hunger and show compassion to all. The chickens need mercy from us. We ask Kaporos observers to show mercy and use money instead of chickens.
Gothamist captured the scene in Brooklyn Friday. There were no protesters present. Another onlooker, who asked that the videographer turn off the camera, explained that the slaughtered chickens would be given to the poor.
An Alliance to End Chicken as Kaporos protests:
Popular in the Community