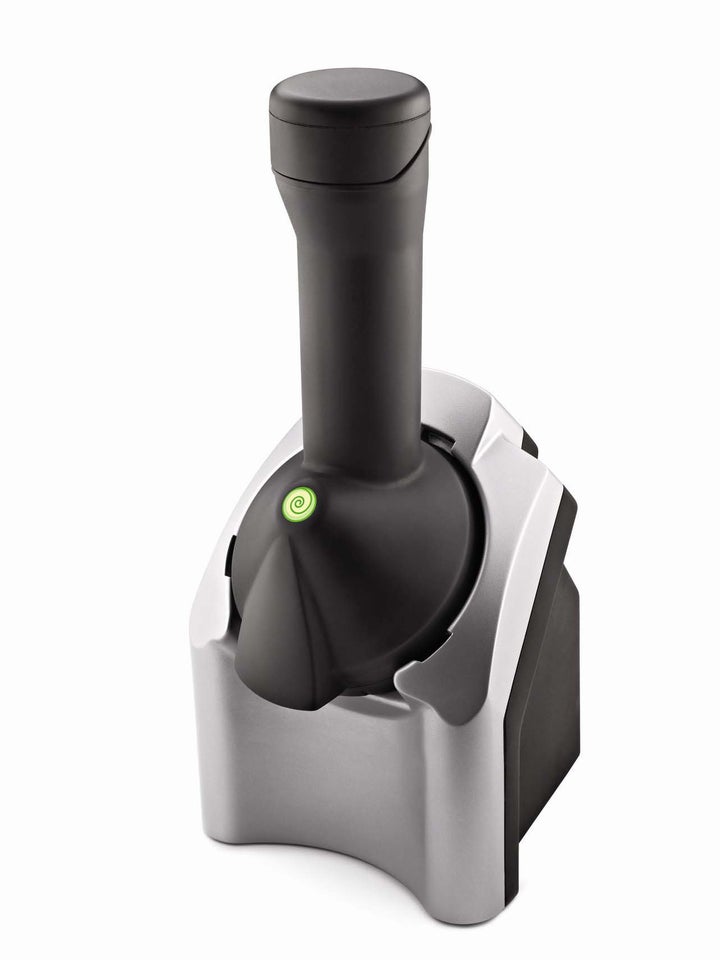 As a food editor, I've seen hundreds of cooking gadgets parade through my kitchen only to end up in useless piles of sadness in the backs of drawers (I'm looking at you, banana and avocado slicers). So it's rare that I recommend products to my friends or family for fear that I might burden them with yet another item to store, in turn making them hate me forever.
But I've been so obsessed with my Yonanas machine this summer that I've convinced five people in my life to buy one (and so far, I think they all still like me).
If you've been living in a Yonana-free world, let me catch you up: Yonanas is a machine that turns one simple ingredient — frozen banana — into a cold, creamy treat with a consistency that is ridiculously similar to soft serve ice cream. And since it's made of just bananas, it contains none of the dairy, eggs or added sugar of conventional ice cream. Here's what the Classic Yonanas machine, which retails for $39.99, claims to do:
Transform frozen fruit into dessert in just seconds by simply inserting frozen banana (or any fruit of your choice) into the chute and pushing down using the plunger.
You can instantly turn 100 percent frozen fruit into a healthy dessert without additional fat, sugar or preservatives compared to other ice cream or frozen yogurt like treats.
Create delicious treats without the hassle of cleanup. The chute assembly, plunger, and blade are dishwasher safe.
Here's a quick peek at what the final product looks like when it's made at home:
Here's why you might want it.
The "nice cream" fad is a food trend that's actually worth getting behind, especially if you have an undeniable love for ice cream but aren't the greatest at digesting dairy. It's also a smart option if you're trying to cut back on added fat and sugar in your diet. Take a look at the comparison:
1 medium banana (which makes approximately 1/2 cup of Yonanas) contains: 105 calories, 0.4g fat, 27g carbohydrates, 0mg cholesterol, 14g sugar and 1.3g protein (plus 12 percent of your daily potassium requirement)
1 serving (1/2 cup) of vanilla Haagen Dazs contains: 250 calories, 17g fat, 21g carbohydrates, 90mg cholesterol, 20g sugar and 4g protein
Beyond the nutritional benefits, another bonus is that the machine is simple to assemble, operate and clean up.
Here's why you might have reservations.
Some users have complained that the machine is noisy, but it only takes a minute to make a couple servings. If you'd like to hear it for yourself, give it a listen:
Another small issue: The machine requires you to disassemble it to scoop out all the bits of soft serve banana. For some reason, not all the soft serve comes out of the chute, and a significant amount ends up being wasted inside the machine (but I just scoop it out and eat it).
But here's the biggest question you may have: Does it taste good enough to satisfy your ice cream cravings? If you ask me and my colleagues who've tried it, the answer is yes.
I, for example, am an ice cream purist who is vehemently opposed to substitute atrocities such as Halo Top, so I was a little shocked at how good this is. The texture is magically creamy, especially if you follow the machine's instructions to thaw your frozen bananas for 10 minutes before you put them through the chute. And even as someone who doesn't particularly love bananas, I find the flavor to be oddly un-banana-like ― which is a good thing.
One of my Yonanas-converted colleagues agrees: "I recently accepted that I'm lactose intolerant and have completely cut out dairy. So I was in desperate need of an ice cream replacement and it totally does the trick."
Another colleague loves the fact that it's kid-friendly. "I love that my daughter can't tell the difference between this and regular ice cream with all the extra sugar."
If the flavor of bananas really doesn't do it for you, you can mask it by adding pretty much any ingredient you want, and the machine will pulverize it all together. The manufacturers of Yonanas suggest you get creative; they have hundreds of recipe ideas. I toss big spoonfuls of peanut butter and raspberry jam in mine, or sometimes just a handful of frozen blueberries if I'm feeling more virtuous.
If you're feeling the opposite of virtuous, Colleague #2 has discovered a boozy trick: "I hear that it's also great with liquors, so trying it with Kahlua or Amaretto is on my list!"
It's entirely possible to make "nice cream" in a food processor ― trust me, we've tried it here at HuffPost ― but Yonanas produces a creamier result in much less time. So if you're looking for a healthier alternative to ice cream, I highly suggest giving this a shot.
If you do, you'll know you're a convert when you start using "Yonana" as a verb. ("I just got some frozen peaches. I wonder if they'll Yonana!")
Editor's note: This article pertains to the Yonanas Classic, not the Yonanas Elite, which is a larger, more powerful and quieter version, but it'll cost you $119.99.
This story was in no way sponsored or influenced by Yonanas. We're just trying to share the love with you all.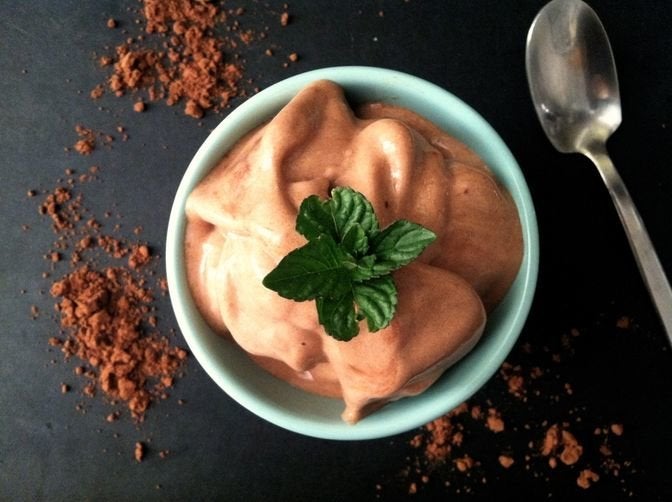 Two-Ingredient Banana Ice Cream