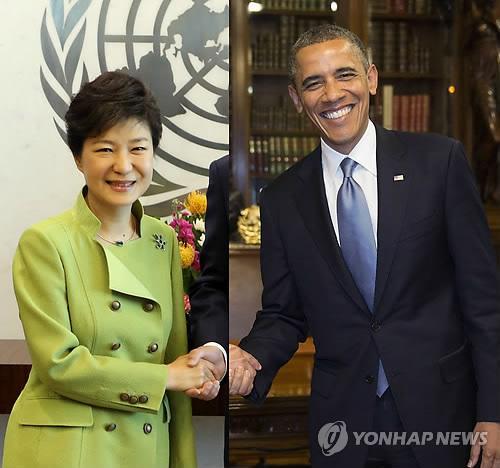 To be fair, the Atlantic Wire called this a Photoshop, and that's the only reason why one might be remotely comfortable with the term. At polite best, it could be called a poor composite; at worst, a hatchet job.
Yonhap News Agency, the largest news organization in South Korea, released this image with a dispatch about South Korean President Park Geun-hye's joint news conference with President Obama on Tuesday. The photo's caption read, "South Korean President Park Geun-hye (L) shakes hands with U.S. President Barack Obama at a White House meeting on May 7."
Seems legit. Except for maybe the extra hands. And the fact that Park and Obama are in different rooms.
Sure, it couldn't look worse if it had been cut and pasted together with Microsoft Paint. But what can we say? We've been spoiled by North Korean's recent Photoshop deception. At least the North is putting some effort into doctoring its photos.
Update: May 9, 10:05 a.m. -- A Yonhap News representative provided the following statement to The Huffington Post:
"A Yonhap story slugged 'Park-NK provocation,' released on May 8 (Seoul time), carried an erroneous caption for an attached photo. The caption should read, 'This edited file photo shows South Korean President Park Geun-hye (L) and U.S. President Barack Obama.' We regret the error and any inconvenience this might have caused."
However, no comment was offered about the composite photo itself.
Although it would be hilarious if there were some comically chaotic story behind this pic, there probably isn't.
Calling all HuffPost superfans!
Sign up for membership to become a founding member and help shape HuffPost's next chapter
BEFORE YOU GO
PHOTO GALLERY
North Korea's Craziest Threats