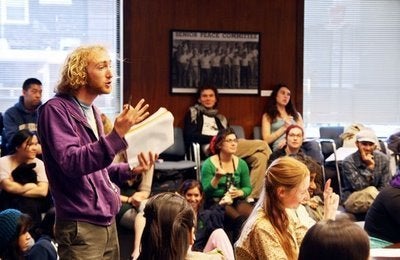 Yoni Landau says it's time to transform our relationship with food, and with each other.
As a founder and director of the Cooperative Food Empowerment Directive (CoFed), Landau is intent on providing students with the practical tools that enable one to turn an idealistic vision into a reality.
"You see these huge groups of students that are really idealistic on college campuses. They want to promote their values in the world, but you can see the challenges they're going to run up against," Landau said in an interview with The Huffington Post. "But if you give them the business planning and concrete, hard skills they need, then they can create the world they want to live in, instead of just taking the jobs that come their way."
CoFed's primary aim is to train university students who want to create local, sustainable and ethically-sourced community cafes on their campuses. Prior to creating CoFed, Landau helped raise $100,000 and block Panda Express from opening a franchise in UC Berkeley's student union. "I found myself, as a recent graduate, in a position to stop this chain from opening on campus by suggesting a viable alternative," Landau said.
The Berkeley Student Food Collective that Landau and others created proved to be a success. When students from other campuses began contacting him for help in starting similar organizations on their own campuses, the idea for a national network was born, and Landau launched CoFed.
CoFed's model is simple but well thought out: "Selling prepared meals, groceries, and beverages that meet the highest ethical and sustainability standards, the CoFed model stays competitive through steady volunteer labor, uniquely effective branding, and tax exempt status as a non-profit."
Though the organization is still finalizing its strategic planning, it has quite the business plan and executive summary. It raised $5,000 to run its 2010 summer retreat, training students from six campuses. Two teams from the retreat (from the University of Washington and UC Santa Barbara) have already raised a combined $90,000 to put toward their own co-ops.
CoFed is currently seeking $220,000 in philanthropic capital for its next fiscal year -- money the organization says it will put toward a network to reach 700,000 students through cooperatives and on-campus storefronts over the next five years.
To Landau, however, the food is not the end goal -- it's a way to spread a greater message. "Food is an amazing vessel for change -- it's intimate, personal. It connects you not only to your own life experience, but to a vast and often not very transparent system that's poisoning our water supplies and contributing massive amounts of greenhouse gases to our environment," Landau said.
CoFed has certainly been noticed. A fast-food industry website even featured CoFed as "additional competition" for chains operating on college campuses.
Landau envisions the food co-ops as a way to reimagine a lost sense of community in this generation of college students. "I think we've lost a cultural sense of commons," Landau notes. "We have lots of entrepreneurs, but by putting co-ops back in people's lives -- functional, thriving businesses run by a community -- we tie people to local government and civic action."
By working with organizations such as Slow Money, Landau hopes to create a paradigm shift: "Through changing the way we interact with food, we want to create a new generation of leaders that will create a more participatory, more just world."
WATCH: Yoni Landau further explains his vision for CoFed:
Calling all HuffPost superfans!
Sign up for membership to become a founding member and help shape HuffPost's next chapter