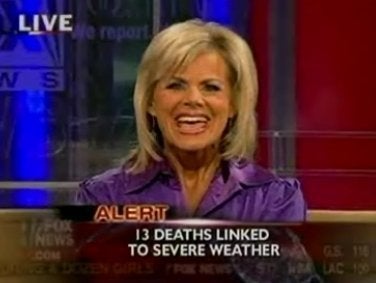 Terrible spring floods have been devastating the midwest over the past few days, killing 13 people and displacing thousands more in Ohio, Indiana, northern Kentucky, Arkansas, Missouri, Illinois, Oklahoma and Texas, and there are fears that the worst is yet to come. You'd think that news reports about such things would be read in appropriately somber tones, given the severity of the situation. Or maybe not! This morning, "Fox and Friends" anchor Gretchen Carlson was so excited about the first day of spring that she couldn't contain herself. "Guess what? It's the first day of spring! Yoo-hoo!" Chirped Carlson. "But it's not so great for some people in the country — heavy rains have swollen rivers and streams and across the Midwest - 13 people have lost their lives — we're going to tell you why the worst may be yet to come." In the background, an upbeat tempo underscored the chipper morning feel, matching Carlson's tone, if not the news story she was sharing with her viewers. Odd. Perhaps she's been getting tips from Ainsley Earhardt?
REAL LIFE. REAL NEWS. REAL VOICES.
Help us tell more of the stories that matter from voices that too often remain unheard.