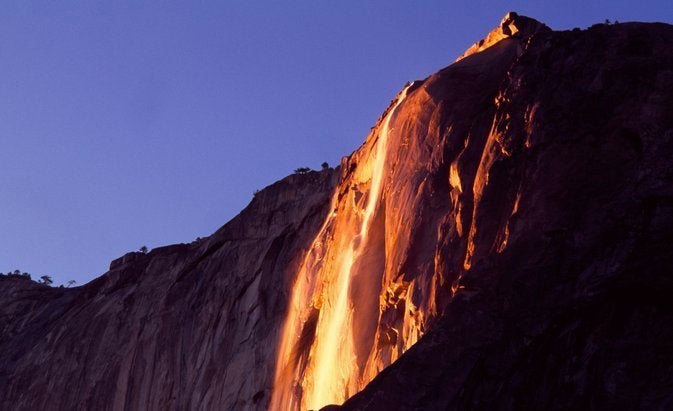 For a few minutes last weekend, a waterfall in California's Yosemite National Park erupted into flame.
At least, it appeared that way to spectators lucky enough to catch a glimpse of an amazing natural phenomenon observers have dubbed a "firefall."
For a few weeks in February of each year, a brief period of time opens up where the combination of the sun's position in the sky and the flow of water over Horsetail Fall, a small waterfall on the eastern side of El Capitan, creates the illusion that, instead of water, liquid magma is tumbling off the face of the cliff.
First documented by famed outdoors photographer Galen Rowell in the early 1970s, the glowing of Horsetail Fall, which is also the tallest free-falling waterfall in the park, only happens at sunset on clear days in late February.
"Horsetail is so uniquely situated that I don't know of any other waterfall on Earth that gets that kind of light," Michael Frye, author of "The Photographer's Guide to Yosemite," told the Associated Press. "How many are perched on a high open cliff? Most are in an alcove or canyon and won't get the sun setting behind it. Yosemite's special geography makes this fall distinctive."
Whenever Horsetail Fall explodes into a visual cacophony of vibrant colors, it's always sure to draw crowds. The San Francisco Chronicle reports:
"There's an emotional aspect with the crowds," said Lee DeCovnick, who watched with his wife, Janis, for their 37th wedding anniversary.

"People are whooping, hollering, crying," he said. "It's an emotional, visceral experience. It feels like a miracle when you see it, that there is a God to create this amazing juxtaposition of water, ice and light in a place like Yosemite."
The term "firefall" references a now-defunct, similarly-named nightly practice at the park that lasted from 1872 to 1968 in which the owners of the Glacier Point Hotel would dump hot embers off top of Glacier Point and into the valley underneath. The "Yosemite Firefall" was halted by the National Park Service George Hertzog, who deemed it an "unnatural spectacle more appropriate for Disneyland than a national park."
Check out this slideshow of photos of Horsetail Falls:
PHOTO GALLERY
Horsetail Falls
REAL LIFE. REAL NEWS. REAL VOICES.
Help us tell more of the stories that matter from voices that too often remain unheard.
BEFORE YOU GO