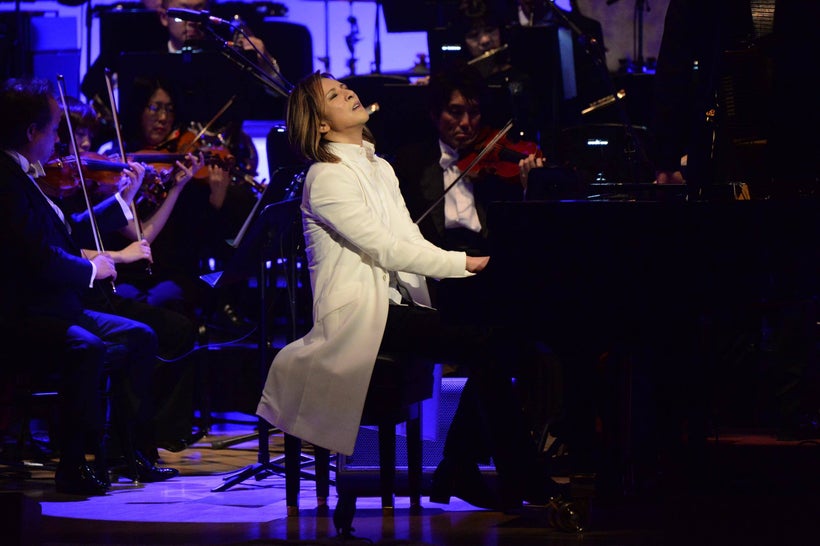 "It's a little different from what I've been doing," Yoshiki grinned.
One of the most prolific megastars from Japan graced Carnegie Hall last week for two special events that saw him play the piano with more tenacity than New York's own Billy Joel. Known for his incredible skills as the drummer for X Japan, Yoshiki amazed his fans with unique, beautiful and heartwarming renditions of "Forever Love" and "Endless Rain."
"I feel really good. I feel like I accomplished something. It feels very surreal. I'm still thinking, 'Did I really just play New York two nights in a row?' It's almost like I was dreaming or something," Yoshiki smiled as he reflected on his experience. He continued, "I thought I was going to wake up and realize it was just a dream. Except it wasn't a dream. I felt the same way when I played Madison Square Garden. I went to myself, 'Did I really perform here?'" Yoshiki is quickly becoming New York's favorite son. Everyone in attendance for his Carnegie Hall show kept cheering for Yoshiki to return to the stage one last time. He was more than happy to oblige as he accepted a mass amount of roses from his adoring fans.
When asked about how he puts his shows together, he said, "It's about the vibe. I don't really think that much. Because when I play a concert or do anything in my life, I think about how the audience feels. If I were in the audience, I always think to myself, 'What would I want to see?' I like to take the audience on some kind of journey." What an epic journey it was. Fans were hooked on his every word. Not everything in Yoshiki's life is all smiles though. During his concert, Yoshiki addressed the heartache of losing his father to suicide several times.
Remaining strong and never losing focus, Yoshiki continues to put out music to inspire others who might be going through hardships. "So first of all I don't think I overcame...I don't think I overcame what I've been dealing with. But at the same time, I am trying to find a way to coexist with that pain," Yoshiki told me. He took a deep breath before saying, "The reason why I am revealing so much about my story is because it might be able to help other people. It might help somebody who might be going through a difficult situation. That's also the reason why we made the film, We Are X. It is a crazy story and was a painful documentary to make. In the end though, I really do think that it could save somebody's life."
Yoshiki elaborated that starting his healing process wasn't easy. "I didn't want to create that film because it was too painful to go back in time. But again—the story may help somebody. At the beginning, I was hesitant to talk about something deep. But I opened the door to the past. So I figured I might as well just open it up all the way. It was near the end where I gave my full heart." It is Yoshiki's tender honesty that makes him stand out from the crowd. Yoshiki then explained what he felt when X Japan rocked the house at MSG back in 2014.
"When X Japan played at MSG—we were so connected to the audience. It's like, I create the show not for myself, but for the audience. Especially at an arena like Madison Square Garden. I feel like we were all doing the show together. That thought made me very happy. I walked out there and was amazed. We did a really good show because we had an amazing audience," Yoshiki said.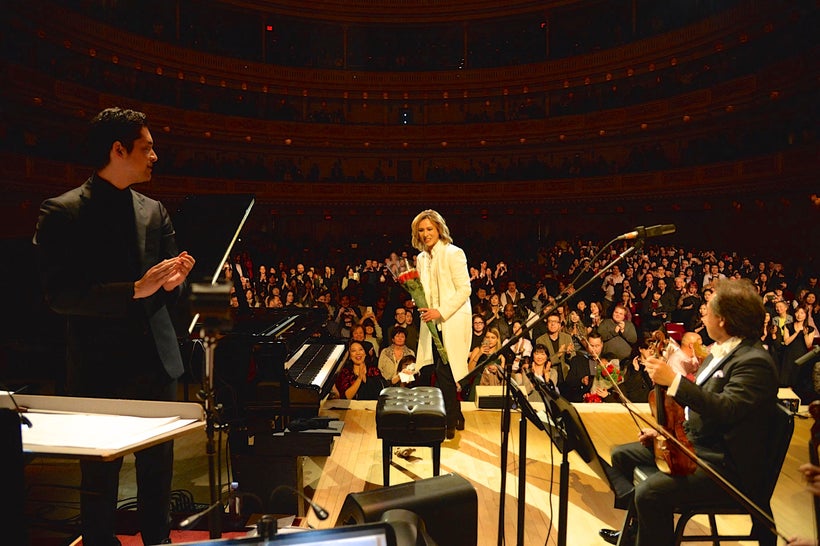 Yoshiki got people buzzing inside of Carnegie Hall when he addressed the crowd to not accept intolerance and racism. "I live in Los Angeles. I live in America. I respect this country and always will. I just want this country to continue to be amazing," Yoshiki nodded. He continued, "Also, the phrase is called 'the American Dream.' You never heard of something like, 'the Japanese Dream.' It is an amazing phrase that is unique. The American Dream is for everyone. I came here because I wanted to pursue 'the American Dream.' I think hope is so important. We have to keep the dream alive for everybody."
For people who dream of playing the piano like Yoshiki, he said that it takes a lot of practice and living in the moment. "I started playing the piano when I was four years old. I think it comes naturally. When you eat something, you don't really think about how you are eating," Yoshiki laughed. He followed up by saying, "When you are walking, you don't really think about how you are walking." When asked if he felt something different when he plays the drums, he said, "It's a little different. I started playing drums when I was ten years old. It all just comes naturally to me. I'm just being myself." The world is thankful that Yoshiki stays true to who he is. He also happens to be a very stylish guy with a successful fashion line.
"I have a fashion line called Yoshikimono. I opened the Tokyo Fashion Week last year," Yoshiki gushed. He then stated, "My parents used to own a kimono shop. Usually the oldest son in the family takes over the family business. I became a musician instead. I always wanted to do a kimono thing. Now I'm doing the fashion thing in addition to my music."
When asked what fans can expect next from Yoshiki, he smiled, "We Are X is going to be opening all around the world. We are also finishing our first studio album in over 20 years. It's all happening very soon."
REAL LIFE. REAL NEWS. REAL VOICES.
Help us tell more of the stories that matter from voices that too often remain unheard.
This post was published on the now-closed HuffPost Contributor platform. Contributors control their own work and posted freely to our site. If you need to flag this entry as abusive,
send us an email
.