On May 11, 2012 Enrique Peña Nieto, Mexican presidential candidate and member of the Institutional Revolutionary Party (PRI) walked into Mexico City's Ibero University-- a private institution of higher education-- and was received by a mob of angry students.
"La Ibero doesn't love you! La Ibero doesn't love you!" students chanted as Peña Nieto made his way across university grounds, as recorded in VICE'S documentary which is part of the "The VICE Guide To The Mexican Elections."
Some students wore masks of Carlos Salinas de Gortari --a former controversial Mexican president (1988-1994) and a member of the PRI. Others were dressed in red t-shirts and painted their hands red in memory of the bloody confrontation between armed government troops and unarmed peasants, in the municipal seat of San Salvador Atenco.
The vicious conflict occurred in 2006, when Peña Nieto was governor of the state of Atenco. Two people died, 200 were were arrested, and 26 women reported being sexually abused, according to El Economista, a Mexican business and economics newspaper.
On May 11 2012, Peña Nieto addressed the crowds of Ibero University during a conference declaring himself directly responsible for the events.
"I repeat, it was a determined action that I personally overtook to restore peace and order," Peña Nieto says to students from La Ibero in a conference room. "The Mexican state has the right to use public force. But I should also mention, that our action was validated by the Supreme Court."
After his statement, the crowds broke out into a frenzy. Hordes of students reportedly were were searching for Peña Nieto himself. Students turned to the internet, posting videos of themselves on YouTube and using Twitter to amplify their message quickly.
The next morning, different Mexican news outlets published the same headline: "Peña Nieto, succeeds in La Ibero, despite attempts at boycott." An Ibero professor went on the radio and said that the protesters weren't students, but rather hired thugs who were paid to protest. Students began to submit videos of themselves showing their university IDs and giving their names to prove that they were in fact students, and not "thugs".
131 clips were submitted and uploaded to YouTube. The movement went viral, catching on at other Mexican universities, and movement YoSoy132 was born. "Yo soy 132" translates to "I am the one-hundred and thirty-second."
While the movement has not endorsed any political party or candidate, it's vehemently unsympathetic to Peña Nieto and the PRI. YoSoy132's chief demand is impartiality in media coverage of political campaigns.
"I think one reason this movement has been popular and has had influence is because it's authentic," said Eric Olson, associate director of the Mexico Institute at the Woodrow Wilson Center according to VOXXI. "I think to the extent that it has not been something controlled by any of the political parties, it gives it a certain credibility that other groups don't have. They're not as easily dismissed."
Like many recent public protests --Occupy Wall Street, the Arab Spring, and the Spanish indignados-- YoSoy132 relies heavily on social media to spread their message and rally support.
"The #YoSoy132 is a major achievement for students in Mexico," wrote Fundacion MEPI an independent investigative journalism project, in a blog for Huffington Post. "Formed and kept alive through social networks, the group has grabbed the attention of the next generation of Mexican voters, who are traditionally ignored."
Discontent from Mexico students with the government has been brewing for some time. During the 2006 Mexican presidential elections, protestors took to the streets claiming electoral fraud. But with a lack of international coverage and a minimized use of social media, the protests were quickly silenced.
In contrast, YoSoy132 has garnered worldwide media attention. On June 19, the movement organized a debate with the Mexican presidential candidates where three of the four candidates took part in the debate: Josefina Vázquez Mota of the National Action Party (PAN), Andrés Manuel López Obrador of the Democratic Revolution Party (PRD) and Gabriel Quadri, of the New Alliance Party.
Peña Nieto was the only candidate who didn't attend.
This year's Mexican presidential election will take place on Sunday July 1st. Nearly 80 million Mexicans will be eligible to vote for a new president.
Before You Go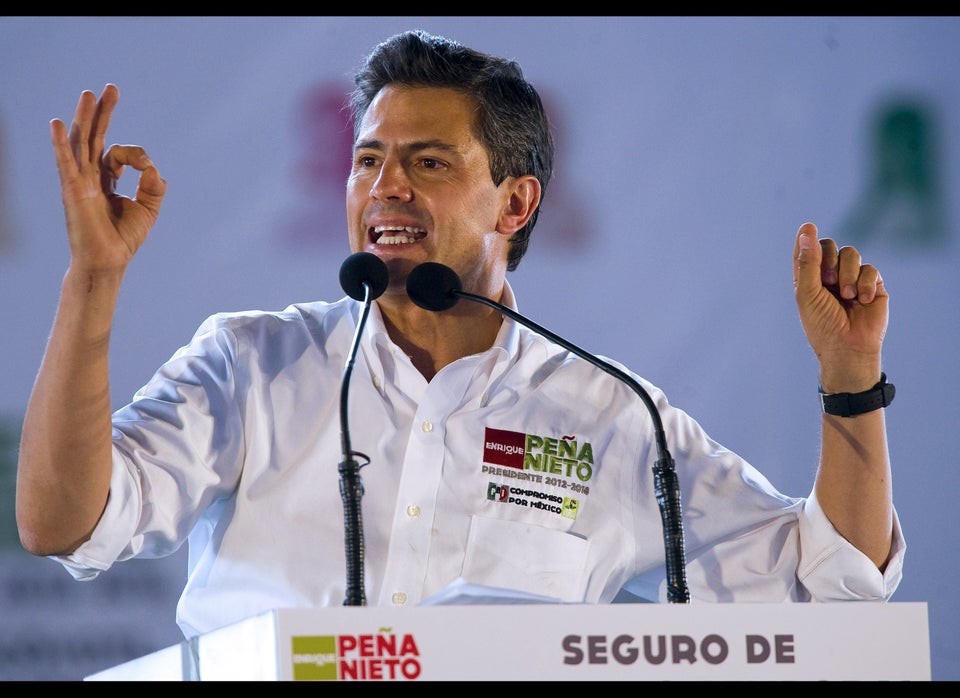 Mexico Presidential candidates
Popular in the Community