Every day, over 90 Americans die from an opioid overdose. Unfortunately, the dental profession is partially contributing to this crisis. Dentists as a profession rank 4th among medical specialties for opioid prescriptions. Many of these prescriptions, historically, are written out to patients following wisdom tooth extraction, impacting children and young adults at ages when their brains are still developing and thus highly susceptible to addiction response.  Patients also commonly received prescription opioids when treated at pain clinics and following surgical dental procedures.  Though other medical professions also contribute to the volume of prescription opioid use and abuse in today's society, dentists as a profession have the incredible power and knowledge to make the needed difference in response to this tragedy. In collaboration with patients and other medical providers, the dental profession is already paving a path towards a recovering nation, beginning with a transformation in the education of future dentists.
In August of 2017, NPR's Robert Siegel of All Things Considered came to Harvard School of Dental Medicine to learn more about the dental outlook and response to the opioid crisis. He also happened to catch me learning how to make temporary crowns in the process...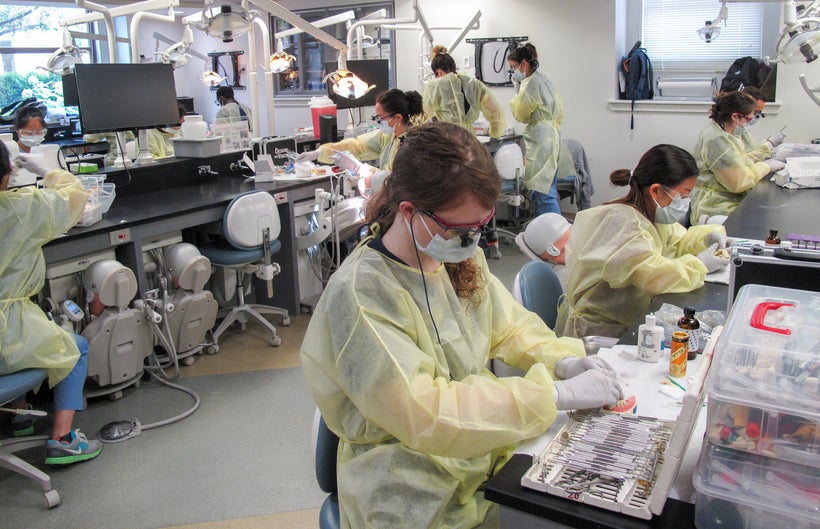 "I am so proud of my classmates, colleagues, instructors, and university for responding effectively to such an important issue," says Ms. Mirissa D. Price, 2019 DMD Candidate at Harvard School of Dental Medicine, describing the NPR broadcast and article to her medical school colleagues. "Our dental education reflects the growing awareness that we are treating an individual and not a mere symptom of dental pain."
"NSAIDs - Advil, Aleve, Naproxen - [can be just as] effective as one Vicodin or Percocet [for pain management]," said Ms. Kelly Moore of the DMD Class of 2018 in the NPR broadcast, citing her education from the Harvard School of Dental Medicine Orofacial Pain Management instructor, Dr. Jeffry Shaefer, DDS. Meditation and alternative methods of pain relief can offer some patients the greatest respite. Most importantly, we as practitioners and patients can learn to accept that pain control means bringing an individual to a level of comfort sustainable for activities of daily living. It means reducing pain with minimal side effects, and acting in the interest of wellness. Sometimes, this means accepting a new norm for comfort that protects the individual from addiction and physical harm, even if this doesn't bring an individual's pain level down to an absolute zero on the zero-to-ten pain scale. With this in mind, the first-line medication of choice, according to the Journal of the American Dental Association, is rather simple: ibuprofen and acetaminophen.
The opioid crisis has reached an unfortunate peak in today's society.
AND, in this same generation, we as practitioners and patients can work together to bring the crisis to a close. 
Whether you are the patient, the family member, the medical doctor, social worker, or dentist, it's time to ask yourself one simple question: What role will you take in creating the solution? 
Mirissa D. Price is a 2019 DMD Candidate at Harvard School of Dental Medicine and future pediatric dentist. She serves as a Scholar of Dental Education at Harvard School of Dental Medicine and a Give Kids a Smile Leadership Ambassador. Mirissa's research and outreach interests include social-emotional development in youth; addressing barriers and access to pediatric dental care; interprofessional collaboration; and dental education. As a child, doctors told Mirissa that she would live in a nursing home, confined to a wheelchair, crippled by pain. Instead, Mirissa uses her medical experiences to inspire others, living each day with a passion to spread pain-free smiles through her dental work, writing, improv comedy performances, and nonprofit work with children.
© 2017 Mirissa D. Price: A Dental Student, A Writer, A Journey to Share.
REAL LIFE. REAL NEWS. REAL VOICES.
Help us tell more of the stories that matter from voices that too often remain unheard.
This post was published on the now-closed HuffPost Contributor platform. Contributors control their own work and posted freely to our site. If you need to flag this entry as abusive,
send us an email
.