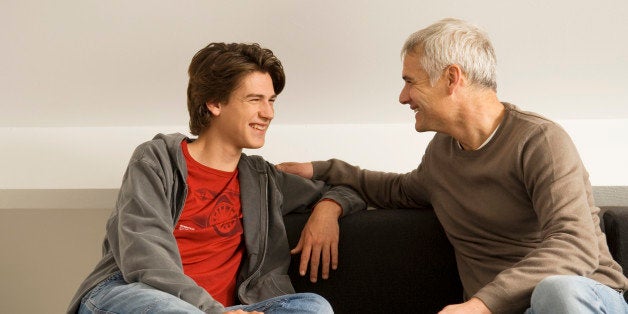 You are it. A role model.
So am I. So are we all. Unfortunately, there aren't many good ones these days. There are far too many poor role models for our kids to watch, and our kids to follow. You and I need to step it up. You and I need to change that. We need to take our role of being a good parent more seriously. We need to embrace the possibility that we might be the only positive role model other children might ever see.
A few years back, controversy was stirred when professional athlete Charles Barkley once stated that he was not a role model. Unfortunately, this is not true for you, or for any of us. We are all role models to someone. There is always someone who is watching us, listening to us, and perhaps even modeling after us. Somebody is watching what you do today. Someone is listening to what you say, this very day. Maybe it is your child. Perhaps it is a niece, nephew, or grandchild. It might be the child at the grocery store, watching you down the aisle, or packing up your items at the check out line. As a role model, what kind of message are you sending? As a role model, what kind of lesson are you teaching?
For people like 22-year-old mother Mireya Alejandra Lopez, who drowned two of her twin infants in a bathtub, she lacked love in her life. When questioned by investigators, she stated that nobody loved her children and nobody loved her. For people like Dylann Roof, the alleged shooter of nine people in Charleston, South Carolina, there were few good role models in his life, or in his home. An absent mother, a father who beat his step mother, and by age 15, Dylann began skipping classes, eventually quit school, and ended up unemployed and taking drugs. For 15-year old Alyssa Bustamante, who brutally stabbed a nine year old girl, simply because she "wanted to know what it was like to kill people," she also suffered from lack of healthy parenting. Abandoned by her mother and, and a father who was in prison for most of her childhood, the troubled teen battled thoughts of suicide, and was on medication for depression. For the children who were rioting in Ferguson and in Baltimore, where are their positive role models? Who was telling them that their actions were wrong?
As a parent, you will be a role model for countless people, as many eyes will be upon you. Not only will you be a role model for your children, but for the public, as a whole. For your neighbor who is having a difficult time as a parent, you are their role model. For the expectant mother at your work, you are her role model. For your child's friend, who comes from a home of abuse, you are his role model for his future children. After all, not many in our society know what good parenting is really about these days. Your actions today might show other parents, and other children, how to act, how to behave, how to be compassionate, and how to be kind. People are watching you, today. People are learning from you, today. I am an adoptive and foster parent, and have been for 13 years, now, taking care of 45 plus children in my home and in my family. My family, my work mates, close friends, those at my church; all will discover what foster care is all about, and what good parenting is about, just by watching what I do each and every day. Now, you might not be a foster parent, yet you are an example of what good parenting is all about.
With this in mind, it is important to remember that you are being watched. To be sure, you might be the first example of how to take care of a child, and how to be a healthy and loving parent to those around you. If you are parent, your actions and your words are not only teaching your child how to act and behave, you are also a role model to other parents on how to raise children in a positive way in today's harsh and hostile climate. If you are a foster parent, everything you do will send signals to the biological parents on how a parent should act, as well as how to treat their own children. Everything you say will speak volumes to the child's birth family members. For both sets of parents, this is indeed a big responsibility, and should not be taken lightly. Therefore, as a parent, it is important that you embrace this role, as it will surely affect the child in your own home, as well as others around you. You are planting seeds in the lives of both your children and those around you; seeds which will hopefully blossom into something better.
___________________________________________________________________________
Dr. John DeGarmo has been a foster parent for 13 years, now, and he and his wife have had over 45 children come through their home. He is a speaker and trainer on many topics about the foster care system, and travels around the nation delivering passionate, dynamic, energetic, and informative presentations. Dr. DeGarmo is the author of several foster care books, including the brand new book Love and Mayhem: One Big Happy Family's Story of Fostering and Adoption, and writes for several publications. Dr. DeGarmo is the host of the weekly radio program Foster Talk with Dr. John, He can be contacted at drjohndegarmo@gmail, through his Facebook page, Dr. John DeGarmo, or at his website, http://drjohndegarmofostercare.weebly.com.