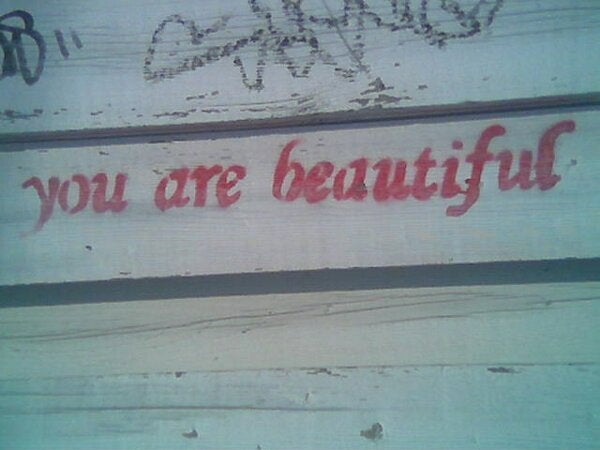 I spotted my first You Are Beautiful sticker on the blue inside lip of a U.S. Mailbox. I opened it to send a bill and was greeted by a small, silver pick-me-up. "You Are Beautiful," the mailbox told me. And I smiled inside.
Later that day, I Googled "You Are Beautiful stickers" and found a movement dedicated to making people feel good. You write in to a mystery P.O. Box; a few days later, five stickers arrive on your doorstep, ready to be pasted on a random subway pole, a park bench, the mirror in your local Cheesecake Factory restroom. It's feel-good graffiti, and I dare you to slap a YAB sticker inside your locker at the gym and not walk away with a smile spreading across your face as you imagine whose day it will make.
February is YAB's 10-year anniversary, so I contacted Matthew Hoffman, the movement's brainchild. When Hoffman was 23, the recent college graduate moved to Chicago with a graphic design degree and a desire to create a positive public art project. "There was so much the negativity in advertising," he says, "and I was bombarded by it a lot more moving into city. I moved around a lot as a kid, was always the new kid, so I experienced those self-esteem issues, trying to figure out how to navigate life and make friends. I wanted to create something that said, 'You're OK just as you are.'"
It began with 100 stickers that Hoffman ordered in a clean, fresh shade of green; they arrived a sad shade of brown. "I handed them out to friends and asked for them to do something with them and report back." Soon, You Are Beautiful stickers were smiling out from lamp posts and coffee house front doors around town. (The sticker sort of blends in next to the logos of preferred credit cards, Hoffman explains, "but pops out right when you need it.") People noticed, they liked the way it felt, and they began requesting more stickers so they could pay it forward. "It's needed more than ever," Hoffman, now a 33-year-old father to a young son, notes. "If you're having a rough day and need a little tiny pick-me-up, or you're in a rough spot, it hits at the right moment. This little tiny sticker has done some really powerful things, and when people are affected by it, they get really excited and want to spread it everywhere. They want as many stickers as they can get to just share it with anyone they can."
A decade later, the design has changed to its current silver, slightly holographic form, but the message has remained the same. Hoffman has printed and distributed more than a half-million stickers which have made their way across the globe, and his passion project has mushroomed to massive public art installations and cultural institution exhibitions in Chicago, Portland, LA, San Francisco, NY and even Italy. From 2005-2008, Chicago's bustling downtown State Street was beautified with a block-long, 8-foot-tall orange and purple YOU ARE BEAUTIFUL wooden cut-out. Here it is, emblazoned on the Rice Mill Lofts building in New Orleans. At an elementary school in Waldron, IN, 300 kids painted their portraits on canvas; the images were then photographed and inserted into a grid which Hoffman used to create a massive YAB mural that currently hangs in the school's gym. Hoffman has YOU ARE BEAUTIFUL tattooed across his chest.
YAB celebrates its 10-year anniversary at a time when public displays of acceptance and more needed than ever. Hoffman isn't the only one to recognize the public's thirst for love yourself messages:
Last month, at Woodlawn Middle School in Long Grove, IL, someone stuck a neon Post-It note scrawled with an affirmation on the girls' bathroom mirror. By the time the school day was over and the bell had rung, the mirror was enveloped with more 200 positive messages, all penned by preteen girls -- a group normally written off as catty and self-absorbed.
In Iowa City, high schooler Jeremiah Anthony created the Twitter handle @WestHighBros to send anti-bullying shout-outs to his West High School classmates. (Anthony was inspired by a story he had read about cyberbullying.)
At Rutgers University, sophomore Dan Munoz started RU Post-It Anonymous, writing silly, make-you-smile sentiments like, "Be happier than a bird with a French Fry" on sticky notes and slapping them up around campus for others to find.
And this compassionate handwritten letter was found taped in a stall in a women's bathroom at a university, meant to offer comfort to "the girl who was raped," "the girls with eating disorders," "the girl with the alcoholic father."
"Almost everybody has been bullied in some way or another, and they know how it feels," Hoffman says of his movement's purpose. "Sometimes [seeing] 'You Are Beautiful' is what you need to sort of pop you out of that dark, troubled moment."
Want to spread the love? Receive five stickers by sending a self addressed stamped envelope to:
You Are Beautiful
PO Box #220175
Chicago, IL 60622
Inspired? You can learn more about the YAB movement by clicking here.