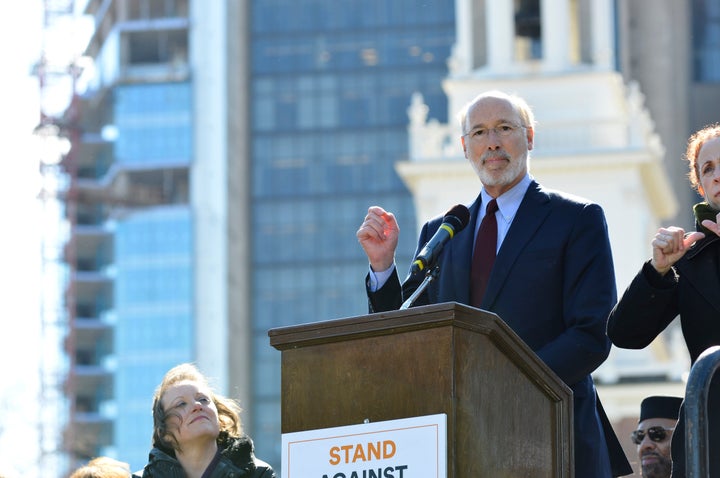 The Wolf administration released a statement urging President Trump not to pull the United States out of the Paris climate agreement.
It reads, "I urge President Trump not to abdicate the United States' global leadership and seat at the table on climate change – a pressing issue for Pennsylvania's economy, especially energy, agriculture and tourism, and our resident's health," Governor Wolf said.
"Pennsylvania is an energy leader and addressing emissions presents opportunities for Pennsylvania's natural gas, renewable energy and energy efficiency industries to grow and create new jobs.
"Many of America's largest corporations – from energy to technology – agree with environmental advocates, faith leaders and scientists that staying in the Paris agreement is the right choice for America. We cannot ignore the scientific evidence and economic significance of climate change and put our economy and population at risk."
Governor Wolf's efforts to expand the market for fossil fuels in Pennsylvania are evidence that he is anything but a climate leader and make his words ring hollow.
Here are some of the lowlights of Wolf's track record on fossil fuels:
· On his watch, the Department of Environmental Protection (DEP) has issued 3,892 permits for unconventional drilling, or one permit every hour and fifteen minutes.
· Last November, Wolf announced the PIPE program that moves $24 million from an alternative energy program to pay for new natural gas distribution lines to make customers of schools, hospitals, and some businesses. One of the first recipients of a PIPE grant was Glenn O. Hawbaker, an excavation company that is an associate member of the Marcellus Shale Coalition. Daniel Hawbaker, Glenn's son and president of the company since 1978, made two campaign contributions to his gubernatorial campaign totaling $7,500.
· Yesenia Bane, Wolf's Deputy Chief of Staff, is married to John Bane, a former lobbyist with Buchanan Ingersoll & Rooney in Harrisburg who has since gone on to work for one of his former clients, gas driller EQT. An investigation by StateImpact revealed that she was "frequently involved in matters related to her husband's clients and their business interests." Bane was the author of emails to the DEP instructing the agency to rescind Scott Cannon's invitation to serve on the administration's Pipeline Infrastructure Task force when it was discovered that Cannon is active in the anti-fracking movement.
· Speaking of the Pipeline Infrastructure Task Force, former DEP chief and task force chair John Quigley stated that building public acceptance of the industry was among its goals. He also talked about tens of thousands of new miles of pipelines coming to Pennsylvania.
· In January, the Wolf administration issued a report that said the western part of the state could support four more ethane crackers in addition to the one that was approved in Beaver County in 2016. Wolf blogged that he had worked in close collaboration with members of his team to make that plant a reality. Royal Dutch Shell received an historic $1.65 billion tax break to build the plant. Cracker plants "crack" ethane molecules to get at the ethylene within that is used to make single-use plastics, like dry cleaning bags and plastic shopping bags.
· Wolf telegraphed to the press the approval of the water quality permits needed to finalize the Mariner East II natural gas liquids (NGL) pipeline project proposed by Sunoco Logistics, now known as Energy Transfer Partners after the two companies merged in April. The company's 80-year old refurbished pipeline called Mariner East I is already moving ethane to Marcus Hook where it is shipped to a cracker plant in Scotland. Mariner East II received its permits from Wolf's DEP even though the agency had not completed its review of the company's response to the 17 letters of deficiency it had issued citing hundreds of unresolved problems.
· Since January, 2014, the DEP has approved at least 47 new natural gas power plants, the vast majority of them on Wolf's watch. Three of the plants are coal conversions. The new generation of power plants is intended to solidify Pennsylvania's position as a net exporter of natural gas-generated electricity.
· The DEP has met with the Delaware River Basin Commission to discuss regulations that would lift the moratorium on fracking in the Basin that has been in place since 2010, according to PA Environment Digest.
· Since taking office, Governor Wolf has not visited a single impacted community. I have personally handed him the science on fracking and have witnessed impacted constituents and scientists tell him what is happening on the ground and what impacts fracking is having on the climate. He has ignored all of the evidence, the testimonials, and the expert opinions he has been given.
President Trump's environmental and climate agenda are worthy of outrage, but they're more worthy of action. When the federal government has made it clear that it wants to roll back every imaginable environmental protection and push the planet over the climate precipice, then it is incumbent upon governors, state legislatures, and state regulators to provide the protections the federal government won't.
If Governor Wolf wants to be a climate leader, he can start by breaking his allegiance to the oil and gas industry and putting his constituents' interests first.
Until then, he can spare us his empty rhetoric.
Popular in the Community