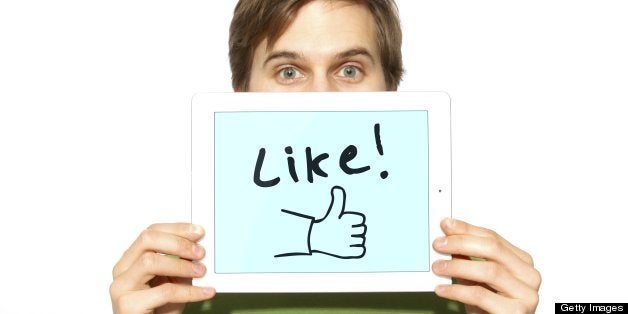 The first thing you probably do when you wake up in the morning is check your social media. You most likely sleep with your phone next to you and if you happen to wake up in the middle of the night, you check your social media. You ride the subway staring at the phone. You miss to catch the eye of that beautiful girl in front of you or of that kind man who just smiled thinking how beautiful you are. You drive to work, scroll the Facebook wall and put your life in danger. You ignore your friends when you go out with them for beers, and you ignore your loved ones over dinner at home. You take selfies, post them and wait to be liked.
And how nice that everything is free. Facebook is free. But Facebook's valuation is at more than $230 Billion (more Info). How can something that valuable be free? It's simple. You think you are the Facebook user but in fact you are the Facebook product. The company sells you: your data and the advertising that you see.

Because you spend your life on social media instead of doing something that matters, you are probably the best product to sell in the world. Billions of products, no production cost, no storage cost, nothing. Perfect!
On the short run, Facebook is free and it seems like fun. On the long run, it's a tragedy. You miss endless opportunities in life patiently sitting on the shelves of Facebook waiting for somebody else to like you. Wherever you are now, put your phone down and look around. The real world is much more real.

The next time you scroll aimlessly the Facebook wall, remember that you are in fact the product that just jumped on the shelves of Facebook, waiting to be sold to advertisers. That's how we spend our lives.
I wrote this because I care about you and nothing makes me more angry that to see somebody with his or her dreams crushed. If I were you, I would read a book and work towards my dreams instead.
PS: If you like these conversations, watch THE AMAZING YOU movie. It's about how you discover your passions and how you transform them into reality. It's about how ordinary people like you and me walk the long journey of their dreams and become extraordinary.
Related