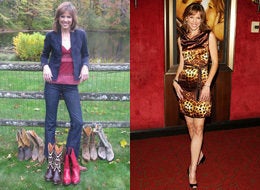 My on-camera style has really changed over the years. When I was one of the only female sports anchors in the country, at CNN and NBC Sports, I used to wear a lot of suits, but paired them with feminine tops. I did a lot of Armani and Escada. When I moved into hosting the CBS "Early Show," suits were a staple along with tailored skirts and dresses. When it wasn't a heavy news day or I was doing a concert or celeb interview, I would have a little more fun with the wardrobe, often wearing Elie Tahari and Manolos because they were not too high. Now that I'm back in sports, I can go much more with my personal style: a lot of dresses from Huminska and Diane von Furstenberg, plus Louboutin heels and Stuart Weitzman boots. I also like some of the skirts and tops from Searle. My preference is fitted and feminine clothes and I am really happy with my style now because its much more reflective of my personality and a lot more fun, rather than being so anchor-ish!
It doesn't take me any time at all to get dressed at work because I put together a bunch of outfits at once, jewelry and all, and take them en masse to work. When I get there at about 5:30 AM, I just pick an outfit depending on how I am feeling that day. You can't mess with your clothes much at that hour of the morning! And about once a week I totally forget earrings!
My biggest fashion emergency came the first time I covered a champagne celebration in a locker room. Not only was my hair wet and my mascara running, but my jacket actually started wrinkling and shirking because the champagne had melted the glue that was inside lapel. After that I had the same DKNY red jacket that I wore for years to every championship clinching celebration. It was totally misshapen and trashed, but I was better than having to replace a bunch of clothes!
My stylist Carmen is one of my best friends and she always tells me it is important to feel comfortable and confident in what your wearing, whether it's your workout clothes or a formal event. The clothes can't wear you. My wardrobe is more about me collecting things I like to wear and enjoy wearing rather than keeping up with the latest trends. And I like to pick up funky pieces, especially jewelry when I travel. I tend to be a little eclectic and fun and not worry too much about what other people think about my outfits at this point.
Related