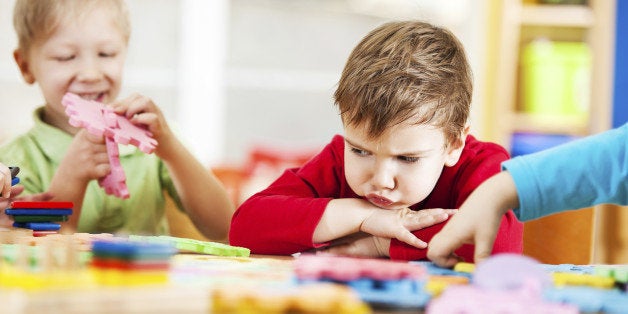 My 4-year-old little boy is a lively, passionate child but he often gets into trouble because he hits when he is get mad. If they didn't love him at his preschool they would probably have kicked him out by now. What can we do?
A child's brain develops from back to the front, with full maturity in the prefrontal cortex (located behind the forehead) not achieved until at least the age of 25. Why is that important? Because among other things, the prefrontal cortex manages impulsivity, judgment, and inhibitory responses.
All of us are subject to impulses that can propel us into saying and doing things we shouldn't -- even long after we've turned 25! But children have far less ability to control their whims and urges, even if we've lectured them repeatedly about how they should behave.
In the heat of the moment, a child snatches Tommy's toy and before he can even think about it, his fist has made forceful contact with the side of the offending child's head.
Tommy's immature pre-frontal cortex simply hasn't had time to consider the aftereffects of punching the other child. Angry urges arise -- That's my toy! -- and he lashes out.
Teach him this: You Are the Boss of Your Hands.
One of the ways I work with aggressive children is to playfully ask them to imagine what would happen if my hands suddenly started knocking over the lamps in my office, or if my legs started kicking the toys all over the room.
Most children find this image funny; sometimes I even act it out, pretending as though my hand has a mind of its own and suddenly starts pulling my hair or pinching my arm.
I tell children, "We need to be the boss of our hands and feet, don't we?" Introducing the idea that we are the boss of our hands -- in charge of them -- creates space between a child who pushes, kids, or hits others, and the hands or feet that carry out the behavior.
I then suggest that the child's hands may have gotten too bossy. (Most children love this idea as they can relate to the idea of craving more power and autonomy.) "How can we help you become more of the boss of your hands, Tommy?"
I then patiently work with the child to become more aware of the physical indications that their hands may do something they shouldn't. "You might feel tight in your chest, or you may feel a scrunchy feeling in your tummy. Or you might hear something in your mind that says, NO! That's mine! Stop!"
Help your son recognize that he can tune in to the signals that his hands are about to commit mutiny so he can ask for help before they push or hit, when he is frustrated.
For more on helping frustrated children cope before they become aggressive, please check out my other HuffPost articles, or click here.