The report also includes new and revised guidelines on the importance of improving healthcare's systems of care, but the biggest take away is really for us, members of the general public. While our first step in helping someone in a cardiac emergency is calling 9-1-1 to alert dispatchers and secure the help of emergency responders, being able to simply perform Hands-Only CPR until emergency help arrives can be the difference between life and death.
How can we build a generation of life savers?
The American Heart Association is hard at work passing laws across the country requiring CPR in schools. To date, the governors of 27 states have signed bills into law that will ensure a future generation of lifesavers. The remaining 23 states and the District of Columbia have yet to pass this law, but a great deal of work is being done to make sure that every student in the United States will graduate with CPR training and be equipped to save lives.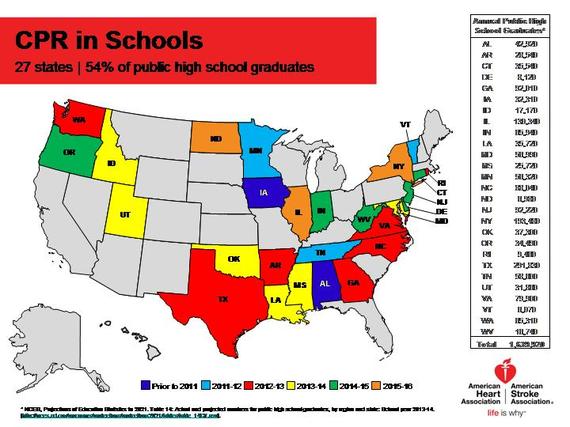 We work so hard to teach our children so they will be well educated, kind people who are able to contribute to the communities in which they will one day live and work. It only makes sense to provide them with training in a skill that they will always remember. By requiring CPR in schools, we can increase the number of people in our communities who are capable of saving a life.
Why is this something I am passionate about?
I am one of the 10 percent of people who did receive CPR in the most critical moments after my heart attack. My husband was home with me, and knew CPR because he took a class through his workplace several years ago. Many of his staff members are required to know CPR, but as a manager he isn't. He just thought it was a good idea to know what to do in an emergency. And with 70 percent of out-of-hospital cardiac events happening in homes and residential settings, the odds are a victim would receive CPR from a friend, neighbor, co-worker or loved one.
What can you do today?
1. Take just one minute out of your day to learn Hands-Only CPR. In just 60 seconds, you will learn how to perform life saving CPR.
2. If you live in Alaska, Arizona, California, Colorado, the District of Columbia, Florida, Hawaii, Kansas, Maine, Massachusetts, Michigan, Missouri, Montana, Nebraska, Nevada, New Hampshire, New Mexico, Ohio, Pennsylvania, South Carolina, South Dakota, Tennessee, Wisconsin or Wyoming, please contact your legislators and show your support for CPR in schools. Having CPR in schools will insure that all of our children will know CPR and greatly increase the number of people who are trained and ready to save lives for years to come.
3. Register as an advocate with You're the Cure where you can play a crucial role in the fight against heart disease and stroke. You'll be able to communicate with key legislators, connect with advocates near you, and stay up-to-date on the heart and stroke issues that matter most to you throughout the year.
The CPR you learn today could save the life of someone you love tomorrow. Please do all you can to help create more life savers so there are more lives saved.