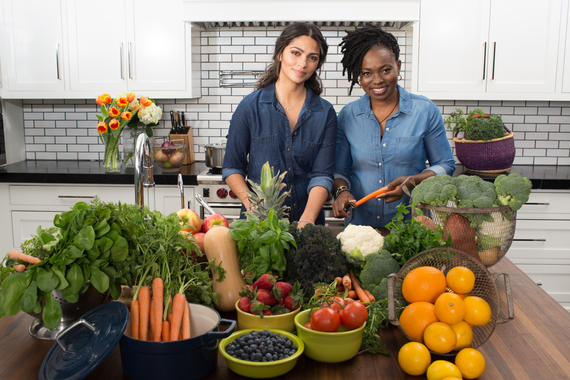 We both come from families where fresh food and healthy ways of eating were a way of life. As children, we grew up with a strong connection to the taste and aroma of food made using only fresh-picked ingredients.
Our families had strong ties to farming, local markets and gardening. Meals at home were always prepared with the freshest, simplest ingredients: spinach, plantains, cassava, potato. Snacks were always tree ripen fruits like mango, papaya, avocado and guava.
Now as mothers ourselves, we want the same for our own kids and for children everywhere. Just consider, in the U.S., childhood obesity has more than doubled in the past 30 years. Pediatric and teen obesity is now widely recognized as a top public health concern.
Of course, raising kids is a balancing act - we all know that. There are days when it's a struggle to get everyone out the door in the morning - let alone out the door with a healthy breakfast in their stomachs, a lunch box packed with items that are both nutritious and delicious, and an idea for something fresh and simple to put on the table later on for supper.
But making sure that children embrace healthy eating from a young age doesn't have to be a lost art. Good habits start young and can last a lifetime. Just last year, the American Academy of Pediatrics updated its recommendations on obesity prevention with a focus on living a healthy lifestyle - and on beginning early. That's why we're excited to bring our Yummy Spoonfuls brand exclusively to Target stores around the country, making it easily accessible to more families.
It wasn't surprising to us that much of the guidance focused on showcasing healthy foods and beverages in everyday family life - putting fruits, veggies, fresh water and other wholesome snacks "in plain sight" in the kitchen, and making sure children eat at least five servings of fruits and vegetables every day.
It's obvious that more and more Americans are embracing better-for-you food. Interest in home gardening and local farm markets is on the rise, and organics have gone from being a passion for just a few to something most Americans enjoy at least occasionally.
So, yes, your children can grow up loving fresh, wholesome organic foods including their raw vegetables - really. And it doesn't have to be daunting. Consider these three tips for helping healthy eating become second nature for your family:
PLAY: Having your kids scampering around while you're pulling a meal together can be an opportunity for them. Don't shoo them away! It is a way for them to connect to the idea that good food is a big part of family life. One trick that we've used is to have kids play with their food. Yes, you heard that right! The internet is filled with fun ideas for creating everything from rainbow fruit skewers to edible animal shapes like teddy bear toast. It might sound silly but it's a great way to get kids accustomed to preparing fresh, simple food that is fun to eat.
PREP: Advance prep is another key. When you have your kids in the kitchen, putting them to work and making it fun is essential! For instance, they can help you assemble nutritious, freezable ingredients to help make meal-time more efficient. We've built the Yummy Spoonfuls brand around flash-freezing fresh food for babies and making it simply with pure ingredients - and we're passionate about sharing those techniques with other parents. Freezing is actually an under-appreciated at-home technique for staying ahead of the "what's for dinner" question and keeping things fresh. Freezing can lock in nutrients, flavor and color.
PROVIDE: We love helping parents develop young palates and foster a love of healthy food. Perhaps the most important thing you can do for your children is provide a warm, loving atmosphere and celebrate simple, fresh food. Don't be afraid to let them try a variety at a young age - go outside your comfortable zone or your "favorite flavors" zone. Your child may like certain vegetables that you don't! In many ways it's like learning a language: By starting young, the nuances of taste and sensation become ingrained in them. We're serious when we say one day you might be delighted to see one of your kids happily munching on fresh raw veggies as a snack.
While we're at it, here are a few action items to keep top of mind to instill a love of healthy food in your kids:
Idolize wholesome treats: Don't make the wrong foods always be the special treat for your kids. When it's time for dessert, choose fresh fruits - especially ripe ones, as they will be sweeter. There are plenty of recipes that are both delicious and good for you. One of our new favorites is "nice cream" made with bananas! Yes, that's it! It is creamy and delicious and you can add other flavors ...our latest is banana cherry!
Be a great role model: it is very important not only to make healthy foods readily available but also to set a good example. Don't eat junk food and expect your kids to eat healthy wholesome meals - kids mirror their parents.
No "clean plate club:" As parents, there is the tendency to believe that you always know what is good for your kids but remember that babies have an innate feeling of when they are full. Forcing them to eat makes them lose that sense. Kids will eat when they are hungry.
Did you say juice? Offer your kids fresh clean water. Statistics show that kids who consume more than 16 ounces of juice a day are at an increased risk of obesity and poor bone density. If you want another tasty option, you can mix up a delicious and fresh fruit smoothie. By serving smoothies, your kids will get the fiber that is notoriously absent from fruit juice.
Healthy snacks: Your kids will eat whatever you bring home from the market so make it a point to buy only healthy, wholesome snacks. Instead of regular jelly you can buy the 100% juice-sweetened jelly. Subtle changes like these go a long way and keep your kids away from harm's way.
Introducing children to healthy eating early takes a commitment, but it doesn't have to be hard. Keep good food around, celebrate it and enlist your children in the joy of preparing it.