As young children, we're taught we are what we eat.
But, more and more, parents and educators are teaching kids that, instead, they are what they read.
Books are the cornerstone of education -- and so much more. The first stories children read are the ones that help mold them into the adults they will become. They are influenced by words from these books and by memories of reading.
Scholastic recognizes this. The children's publisher recently launched You Are What You Read a social networking site that's part of its Global Literacy Campaign. Readers of all ages are asked to list the five books that had the biggest impact on their lives, and connect with others through these shared "Bookprints."
Scholastic also has enlisted widely-recognized Names You Know to create Bookprints. I am honored to be featured alongside Oprah Winfrey, President Bill Clinton, Arianna Huffington, Malcolm Gladwell, and 170 other reading role models who have shared their five most influential books.
As the CEO of Reach Out and Read, I am always surrounded by books. But there are a few that stand above the others, books that have shaped me into the man I am today.
The Little Prince first comes to mind. I think often of this quote: "It is only with the heart that one can see rightly; what is essential is invisible to the eye."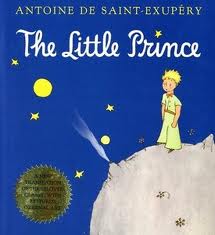 I have come back to this book and this quote time and again when making key decisions. Our hearts know what's right, and serve as critical guides through life.
Next on my list is The Autobiography of Malcolm X. This powerful book documents the evolution of a revolutionary. As someone who has dedicated my career to social change, I was deeply impacted by Malcom X's spiritual and intellectual growth -- both as a fearless voice for justice and how ultimately, issues became less about race for him and more about the "haves" and the "have nots."
The third book I chose for my Bookprint is A People's History of the United States for its amazing restatement of our nation's history. This book helped me adopt a completely different view of some of the great milestones in our nation's past and have a greater understanding of the true forces that create social change.
While Think and Grow Rich may be seen as a book to help people gain wealth, for me it's a book about spirituality -- about how to use the laws of nature to help turn one's thoughts and highest aspirations into reality. I lean on this book frequently as I work toward realizing my vision for children and families, and overcoming the challenges inherent on this journey. I always remind myself that everything great in life once began as an idea; and that if you dare to dream it, you can create it.
W.E.B. Du Bois: A Reader is the final book in my Bookprint. His collection of short essays reminds me of the importance of stepping back from an issue and truly understanding the root of the problem, re-evaluating how we can change, and improve an entire system. Activists make things happen, but philosophers evaluate the core issues and create a vision for how things should be. DuBois has helped me stay focused on both root issues and my highest hopes for the future.
It's fascinating to stop and reflect on the five books that made you who and what you are today.
Calling all HuffPost superfans!
Sign up for membership to become a founding member and help shape HuffPost's next chapter