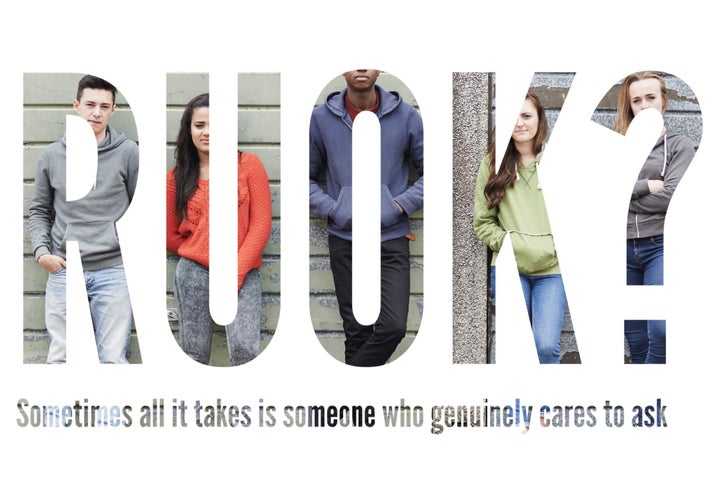 If you've been following my blogs and podcasts, you know I've been concerned of late with all the attention directed at Netflix's "13 Reasons Why." In my book, "R U OK? Teen Depression and Suicide" I speak to the importance of parents, teachers, counselors and peers asking one key question to at-risk teens: R U OK? What concerns me about "13 Reasons Why" is not that it doesn't accurately show the risk factors for suicide (it certainly does), it's that the parents, counselors, teachers and peers portrayed in the show offer no direction on how to handle an at-risk child, student or friend.
Before you ask, "R U OK?" it's important that you're prepared for what you hear in response. As a confidant to someone in pain, you have a certain responsibility to act in that person's best interest. In fact, how you respond could be the key to saving a life –literally or figuratively.
Recognize the warning signs
If you're asking the question "R U OK?" chances are, you've witnessed some symptoms of depression or warning signs for suicide. As you talk to your friend, child or student, it's important that you keep these warning signs in mind. In my book, I outline several symptoms and warning signs for depression and suicide, including withdrawal from family and friends, disinterest in favorite extracurricular activities, behavioral problems, substance abuse, risky behavior, declining grades, physical pain, low self-esteem, conflict with family and friends, sadness, anxiety and thoughts of hopelessness. Prepare yourself to identify these symptoms or warning signs when they arise in the conversation, as you could be the key to helping a friend or loved one get help.
Some problems are too big for a good friend – or even a loving parent – to fix on their own. As you listen to your friend, student or loved one, it's important that you know what resources are available if and when you need to find additional support. If you ever suspect that a friend or loved one is at risk of harming himself or someone else, it's imperative you seek professional help immediately. This isn't about betraying the confidence of a friend; it's about saving and healing a life. I've included resources at the end of this blog that are available to help you 24 hours a day, 7 days a week.
Depression is treatable, but as a friend (or even a teacher), it may not be your place to start in on "fixing" the problem. In fact, offering "solutions" to someone with severe depression might only serve to make that person feel more hopeless. Don't ever tell someone who is depressed or suicidal to "snap out of it," or "look on the bright side." Chances are, if your friend or loved one is confiding in you, he or she is really just looking for someone to listen and understand. Show empathy, love and support. Offer to help them on their journey to health and healing; but don't assume you can fix them alone.
Keep the "mind difference" in mind
Whether you're talking to a student, child or peer, it's important to remember that the teen brain is far different from a mature adult brain. Adults have all been teenagers before, but it's easy to forget how differently the teenage mind works. In fact, male brains are not fully mature until age 25, while females' typically mature at 21. This means that teen brains are not equipped with the same problem-solving and decision-making skills as those of mature adults. It also explains why so many teens act on impulse, misread social cues and emotions, get into accidents or fights and engage in risky behavior – teens don't think like adults do. Another important factor to remember: one in five teens live with a mental health condition. Half will develop this by age 14, three-quarters by age 24. If your friend or loved one has a mental health issue, know that you can offer support and encouragement, but he or she likely needs professional help and treatment.
Above all, someone suffering from depression or at risk for suicide needs to know they are loved. This is more than just listening to what they have to say; it's important to acknowledge their growth and accomplishments, offer reassurance and kindness and show them that you are on their side. In my book, I offer some words of encouragement you can use for friends or loved ones struggling with depression:
I'm always here for you, even when times are bad.
I love you for who you are.
You make my life better just by being in it.
Of course, if you suspect a friend, child or student is at risk for suicide, no amount of encouraging words will replace the professional help and treatment they really need. Seek out the following resources when needed:
Teenline (This is a crisis hotline for teens to talk to other teens): 800-TLC-TEEN
National Suicide Prevention Lifeline: 800-273-TALK(8255)
Trevor Lifeline (Crisis line for LGBTQ youth): 866-488-7386
Bullying Hotline: 800-273-8255
National Eating Disorder Association: 800-931-2237
National Alcohol and Drug Abuse Hotline: 877-437-8422