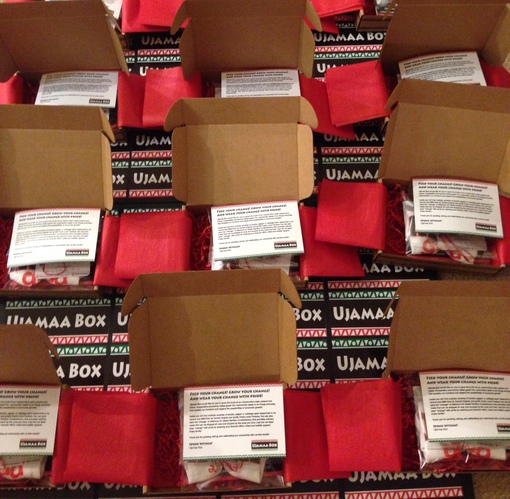 Ebony Costain, the founder of Ujamaa Box, was imbued with the spirit of entrepreneurship by her parents who owned a residential painting company. She was born in Ft. Lauderdale, FL but raised in Appomattox,VA where she received a Bachelor of Arts in Fashion Merchandising from Virginia Commonwealth University.
As a business woman, full-time worker, mother, and wife, Costain understands the essence of hard work and perseverance. Her mantra "slow and steady wins the race" guides her work ethic and plans for the future of Ujamaa Box. While conducting research on box subscriptions, Costain realized that there was no black-owned box subscription that sold products exclusively from black-owned businesses. Some of the most influential aspects of her research was discovering natural hair box subscriptions and reading "Our Black Year" by Maggie Anderson.
In response to the lack of "buying black" in America's racially divided economy, she created Ujamaa Box which "encourages the economic exchange among entrepreneurs and businesses within the Black community." Thanks to her, cooperative economics in the Black community has been made easier. Say hello to Ebony Costain.
Your business is named one of its principles so I have to ask, do you celebrate Kwanzaa?
I was first exposed to Kwanzaa around the age of 10 at a large celebration while my family was visiting friends in Massachusetts, but it wasn't until last year that I incorporated Kwanzaa in my own family's life. The great thing about the seven principals of Kwanzaa is that you can practice year round, not just December. I want Ujamaa Box to be a reminder that the principle of cooperative economics can and should be practiced many times over throughout the year.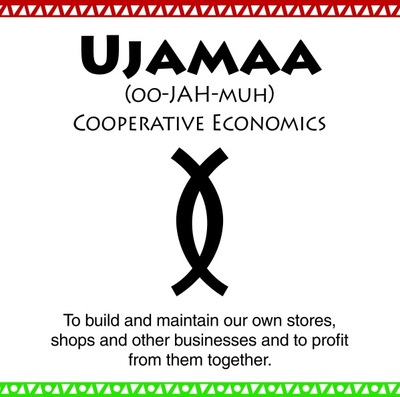 Someone once told me that buying from a black owned business is stupid since most of the products it sells are not black owned. What do think about this sentiment?
Ask that black owned business do they think it's stupid that someone supports their business. We have a spending power of one trillion dollars but only spend 2% with Black business. Our dollars leave the community in six hours. What type of capital are we generating to create our own manufacturing facilities? Sometimes we can be so critical and ignore the basic importance of supporting a Black business. That Black business will employ Black people.
Is your work compatible with your personal style?
Perhaps more in my hairstyle, I'm big hair don't care. Just today while at lunch I was told how "wild" my hair was. And this hasn't been the first time I've heard that term used at work. It's interesting to see how uncomfortable people get from a hairstyle.
Cooperative economics is so important. Building wealth for our communities is something we are not taught nor trained to do from a young age. How do you plan to reach young black people who have as much buying power as their older counterparts?
To my surprise a good number of our subscription base are college students. They get it. I think they are responding to what is happening in the news in a powerful way.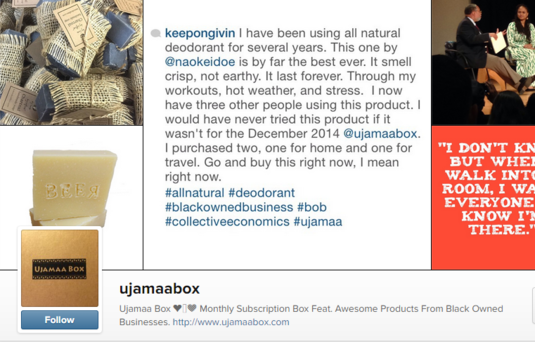 You told "Kin Called Creative" that the Trayvon Martin case and the non-indictment of George Zimmerman spun you into action. What are your feelings towards the daily killings of black people by the police?
It's tiresome to continue to hear these stories and see little happening. I hope Attorney General Loretta Lynch will enact a serious change.
Where do you see yourself and this business in the next five years?
I hope to be long gone from my 9 to 5 and recirculating millions of dollars back to the Black community.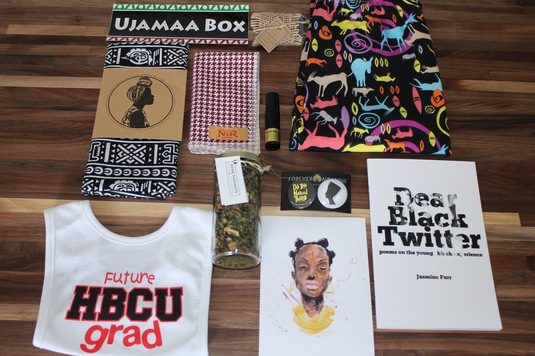 What products have you included in current and past boxes?
Promoting Black entrepreneurship is one of the most important goals of Ujamaa Box and I am always looking for black businesses to partner with. Some of the products that have been featured are:
Charcoal Soap (wrapped in burlap) by Karess Krafters (May Box)
Head Wrap by The Wrap Life (Dec Box)
Pocket Square by Nathaniel & Randolph (Men's Feb Box)
Body oil by The Balm Co (Jan Box)
Loose Tea by Good Thoughts Tea Company (April Box)
Do The Natural Thing & Cleopatra pins by Forever Audacious (Feb Box)
Woman Print by Markus Prime (May Box)
Dear Black Twitter poems on the young black experience by Jasmine Furr (April Box)
Popular in the Community