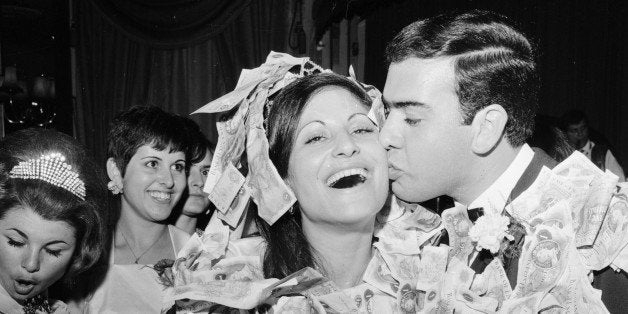 The rules of wedding etiquette are constantly changing, making it difficult for modern brides, grooms and guests to find up-to-date and correct information. But here at HuffPost Weddings, we're all about making your life easier. That's why we've launched #MannersMondays, a weekly series in which we ask our followers on Twitter and Facebook to submit their most burning etiquette-related questions. Then, with the help of our team of etiquette experts, we get you the right answers to your biggest Big Day dilemmas. You can send yours via Facebook or tweet it to us @HuffPostWedding with the hashtag #MannersMondays. Check out this week's question below!
Anna Post -- great-great-granddaughter of etiquette guru Emily Post and author of Emily Post's Wedding Etiquette -- is here to help us answer this week's question. Find out what she had to say below:
"Alternatives to traditional registries such as a honeymoon fund, a bank account in the couple's name or a charity suggestion in lieu of gifts are fine. So many couples already have at least one set (if not two) of everything they need to set up house, and more towels, sheets, pots and pans would be pointless. Emily Post was a very practical woman so I think she'd understand the desire to receive gifts that are truly meaningful or helpful. But know that the choice of gift is always up to the giver, so don't be surprised or offended if your Aunt Edna isn't keen on buying you kayak lessons in Mexico for your honeymoon and opts for a vase instead.
Most importantly, be gracious in how you phrase the request or how you coach others to say it on your behalf. 'We'd like anything you think of, though we could really use help with our honeymoon/first down payment on a house.' Or, 'Sara and Carlos have pretty much everything they need, but there is a fund set up in their name — that might be the most helpful.' These words matter — you want to guide, not dictate.
Spread the word about any registry or gift information, including 'no gifts, please,' by word of mouth, as well as on your wedding website if you'd like. Don't put any reference to gifts at all (even 'no gifts, please') on the wedding invitation or its enclosures. Yes, receiving an invitation means a gift is expected, but the focus when a guest opens that heavy, calligraphied envelope should stay on their being invited for their own sake, not for their gift.
Lastly, even if you don't want a traditional registry, it's not a bad idea to set up a small one for those guests, like the proverbial Aunt Edna, who want to send a gift wrapped in ribbons and bows. Remember, too, that all kinds of unconventional stores have wedding registry options, so think about your hobbies. You might ask for landscaping (trees aren't cheap!), camping gear, or a start on a wine cellar, to name a few."

How Should A Couple Ask For Cash In Lieu Of Wedding Gifts?