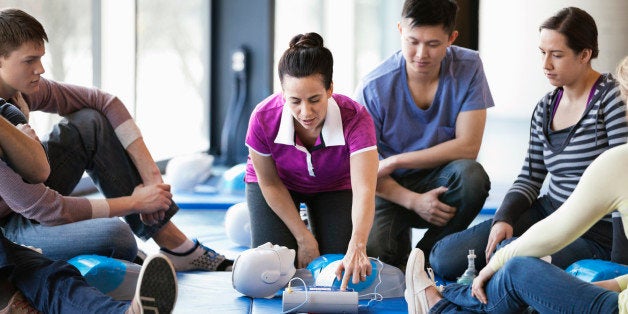 Growing up -- and honestly, even today -- I have what could be called a superhero complex. I don't have a fancy super suit but I do have an amazing superpower, and you can too! This superpower is cardiopulmonary resuscitation, or CPR. There are, of course, other powers I believe everyone should possess, including driving a stick shift, parallel parking, and swimming, but this is American Heart Month, so let's focus on CPR.
Now you might think learning such a superpower would require long hours and intense training, but in fact it is easy to learn, and more important than ever! Every year, there are more cardiac arrests in the US than the population of Orlando, Florida, which is the home of Universal Studios and super heroes everywhere! Cardiac arrest, which is different from a heart attack, is when your heart stops beating; so you are technically dead. Unless someone performs CPR, you will remain so.
Cardiac arrest occurs without warning, to seemingly healthy people who are going about their daily lives (cue the BAM, POW, WHAM). For every 1 minute without CPR, the chance of survival decreases by 10%. This is a problem because the average EMS response time in a major city is roughly 8 minutes. So if someone has a cardiac arrest, and no one performs CPR, the chance of survival is dramatically decreased. It should not surprise you to learn that the survival rate from cardiac arrest in the US is approximately 10%. If CPR is performed in a timely manner, the chances of survival can double or even triple!
We should be shouting this from the rooftops, or shinning a CPR bat-light over cities everywhere! Just by learning CPR, and performing it when needed, we can double or triple the chance of saving someone's life. Who wouldn't want to learn this super life-saving skill? Until recently though, there were many barriers to becoming a superhero, including the need for CPR certification, high costs, long course hours, and inconvenient timing of classes. But that has all changed, and CPR is more accessible than ever before. Anyone can learn CPR through non-certification methods that are cheap (if not free), quick (30 minutes or less), and convenient (on your schedule). Additionally, newer recommendations suggest performing Hands-Only™ CPR for adult victims. This means chest compressions without the breaths, making remembering the technique of CPR that much easier. Again, why are we not screaming this from the rooftops people?
Well, I am screaming it. We live in a time where there are ample choices of how and when to learn CPR. One such method, created by the American Heart Association is a video self instruction (VSI) kit. The VSI kit comes with an inflatable manikin and DVD that teaches CPR in under 30 minutes. The bonus is that you can use the same kit to train family members, friends and co-workers increasing the number of people who are trained in this super skill! Did someone say CPR training party?
There are also brief training videos that show, in just 1 minute, the steps needed to perform Hands-Only CPR. For most people these two training options are all you need to learn CPR. I would be remiss not to mention those steps -- if you see someone collapse, check quickly for responsiveness and call 911. If unresponsive, immediately push hard and fast on the middle of the chest, and use an automated external defibrillator (AED), if available. It really is that easy!
I know many people who say they would be too scared to perform CPR or that they would be afraid to hurt the person -- please know that any CPR is better than no CPR, and you can't hurt someone worse than dead. I don't mean to make light of the situation, a cardiac arrest is a very serious and scary situation, but one that is less so if you are prepared and know what to do if called upon to act. This visualization always helps me: picture yourself standing with your hands on your hips, cape blowing in the wind behind you, with a super "CPR" on your chest.
I also talk to a lot of cardiac arrest survivors, and the one thing they all have in common -- other than being alive -- is that someone stepped up and performed CPR! So, if you learn no other superpower, please take the time to learn this one. You could just save a life. And, the citizens of your fair city can rest easy knowing that their hearts are in good hands!
This post is part of a series produced by The Huffington Post and the American Heart Association's Go Red For Women in recognition of National Wear Red Day (Feb. 6, 2015), the aim of which is to raise awareness that today women are more likely than men have heart disease or a stroke, and 1 in 3 will die. But 80 percent of cardiac events can be prevented with education and lifestyle changes. To read all the stories in the series, visit here. And to follow the conversation on Twitter -- and share a picture of yourself wearing red -- find the hashtag #GoRedSelfie.