Since I left my native NY for a career in broadcasting many moons ago, I have wanted to return. Truth be told, I grew up on Long Island, but like the John Travolta character Tony Manero in Saturday Night Fever, I longed to be in Manhattan, the 'real' NY. My best friend Rachel and I were allowed to take the LIRR into 'the city' by ourselves by age 13 or so. Sometimes we'd see a matinee. Other times we told our mothers we were seeing a matinee but headed straight to Central Park to look for boys. I can remember climbing those big rocks near Sheep Meadow for a better vantage point. We would occasionally venture up Central Park West to the Museum of Natural History (boys liked dinosaurs) and couldn't help but notice those gorgeous buildings that overlooked the park.
Fast-forward ten years and I'd find myself actually in NY as a college graduate. After several production jobs in television, I learned I'd have to leave 'my' city to get on the air in local news. In spite of that, I stayed as long as I could because of a few amazing friends.
Two of those friends were David James Carroll and his partner, Robert Homma. David and I had known each other for years, but as soon as I met Robert we were thick as thieves. David was a gifted actor whose work took him to LA and everywhere in between Broadway and Hollywood. I was a poor substitute, but Robert graciously shared their stylish Westside penthouse and garden. Grace and style were Robert's middle names... anyone remember the fabulous shop off Madison called Dimson-Homma? He was an arbiter of good taste in a city that thinks it invented the concept. And when David wasn't on tour, he was coaching me on my demo tape... my ticket out of NY to my first position as an on-air reporter.
This was the late '70s and AIDS was not on my radar screen. It wasn't on David's either but he would die from the disease a decade later. Robert stayed in their apartment but never fully recovered from the loss of his soul mate. A few years later he would succumb to cancer.
This year, my first not working since I was that adolescent girl awed by Central Park and its surroundings, has been a gift. My love of NY was contagious. Or my husband's love for me made it so. We embarked on a search for the perfect crash pad in 'the city' for us. And for me when he travels alone. We looked at more than a dozen properties before falling for what is now our flat on CPW.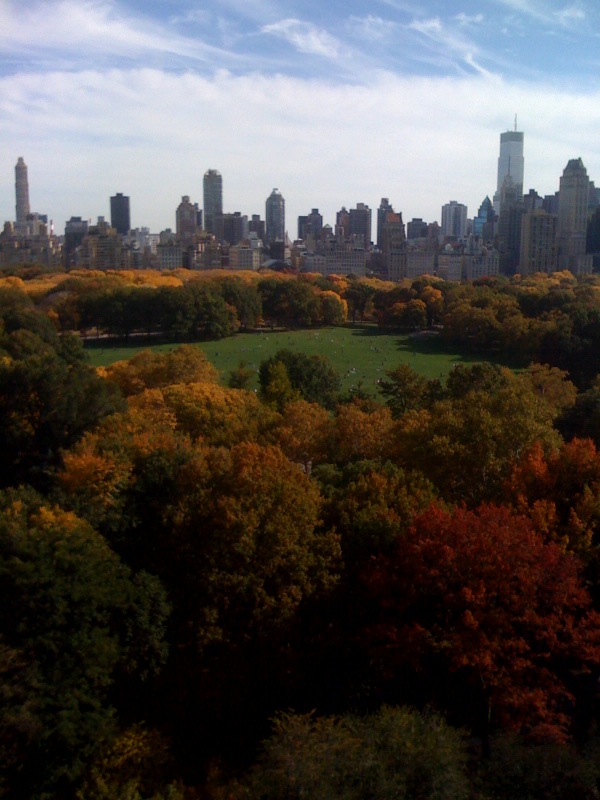 The space is stunning, the view to die for, and we felt good about the price. But more importantly I had an indescribable sense of belonging in this part of the world. I never believed I would be living in one of those buildings that I coveted my entire life. I still pinch myself every time I look out the window at those boulders around Sheep Meadow.
And there's something that makes me smile every time I walk down 68th St. toward Columbus and our corner grocer. It's a pretty block, but it's more than that. Not to get all new agey on you but I really feel like I've lived here before.
This morning, 8 months after we moved in, it finally hit me. David and Robert lived at 60 West 68th St! I looked up and recognized their beloved roof garden. 'Our' corner store was where both David and Robert's friends would buy them meals when each was bed-ridden. I had unknowingly returned to the very same nurturing neighborhood that had welcomed me decades ago. The boys are still there. Only now they're my son and my husband. And this time I'm not visiting. I am home.
Calling all HuffPost superfans!
Sign up for membership to become a founding member and help shape HuffPost's next chapter