Having breakfast brought to you by an elephant might sound like an outlandish fairy tale, but in fact this is a very real possibility! I stumbled upon Vision Quest Ranch quite accidentally while researching the San Diego Zoo Safari Park. Imagine my surprise when I learned they were not only a sanctuary for retired animal actors, but also a Bed and Breakfast, this sounded too good to be true!  I was inspired to write a review of Vision Quest Safari  Bed and Breakfast, because it was such an amazing experience right here in the states and to give you a very real idea of what to expect. Many are unaware that an experience like this, is well within reach and makes a great weekend getaway! Thus, saving those precious vacation days for more distant locations. Vision Quest Safari offers a safe and ethical way to interact directly with elephants, this isn't as easy to find as one might think. I've encountered many locations outside of the US who have mistreated elephants, using them simply to profit, it's important to recognize those who are truly giving back to the animals.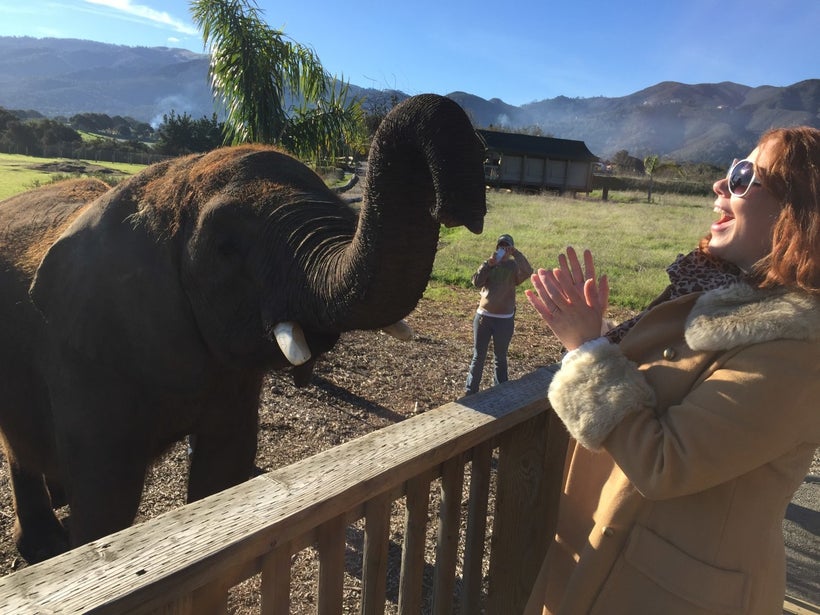 Before booking,  I read on through the sites description of their Bed and Breakfast offerings:
"Listen to the lions and tigers roaring only yards from your canvas walled hotel suite. Each African tent style bungalow is creatively decorated and equipped with comfortable furniture and complete bathroom facilities. They're basically "chic" canvas walled hotel suites with most of the comforts found in a luxury hotel suite. Wake to a continental breakfast delivered to your tent by the staff and one of our African elephants. In the afternoons, guests will enjoy visiting with the facility trainers on their evening walks with many of our Wild Things (weather and animal(s) permitting)." – Vision Quest Website 
Sleeping to the amazing sounds of lions, elephants and tigers and then awaking finally to breakfast in bed delivered by an African elephant? This I had to see in person, so I read up on the reviews and I made a few personal notes in order to have the best possible time at this establishment. If you're planning a fun family trip or if you happen to be driving through on a road trip, this is a must do! I'm going to outline below a few of my favorite aspects of this Bed and Breakfast as well as some pro tips on how to get the most out of it.
What You Get During Your B&B Stay: 
Let's start by talking a little bit about what is included in your Bed and Breakfast stay so that you can make the most informed choices when booking.
A themed bungalow (We stayed in the Big Cat Bungalow)
Community elephant viewing deck (for bungalows without view of elephants)
Free Daily Public Tour (1:00pm – $10 – $12 value)
Discount for optional package additions
Visits from 2 other animals (We were visited by a skunk and a donkey)
Continental breakfast delivered in the morning by an African Elephant!
Package Add Ons: 
Since we were not totally sure what to expect, we decided to opt for the lower priced package. We went with the "Butch's Bed Time" and "Crunch Time" combo, which ran us $50 each after the Bed and Breakfast discount. If we return, we may opt for one of the higher packages following our first experience.
Crunch Time – This package consisted of an evening walk to feed the large cats! Just to put this in perspective, for the safety of the animals and visitors, you will be feeding the cats through their cage and at a distance, but it's still really amazing to push raw meat into the mouth of a lion. The care takers are very informed and full of fun facts along the way!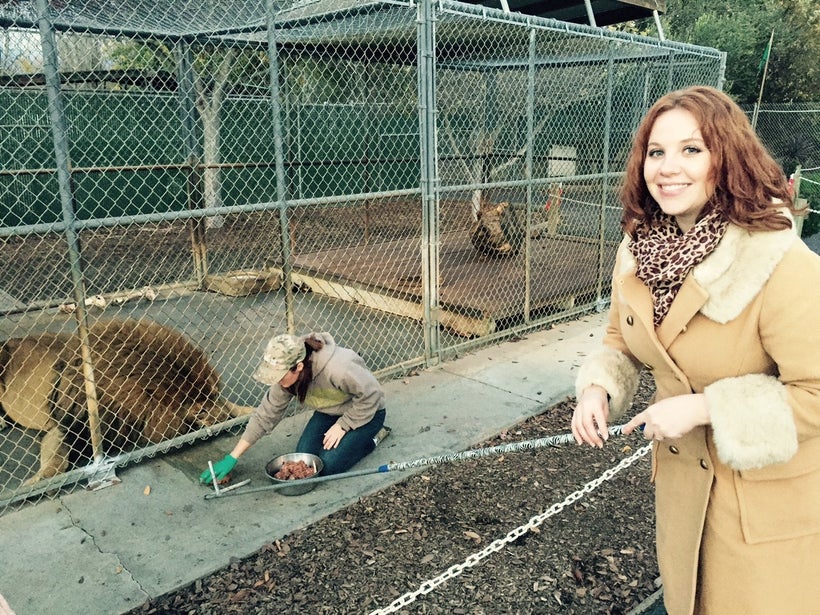 Butch's Bed Time – After feeding the big cats for the night, we headed over to put the elephants to bed and feed them a few night time snacks. This was such an amazing experience! Everyone was given a hand full of carrots and the opportunity to feed all the elephants in the room. Talk about personality, these elephants were so unique!  Again, the handlers were incredibly informed and had loads of fun facts, stories and answers about each elephant! Have you ever felt an elephants snout on your hands? It's so gooey and strong, so much stronger than I was expecting. We touched their tusks and learned about their individual tusk grooming preferences. It was incredible!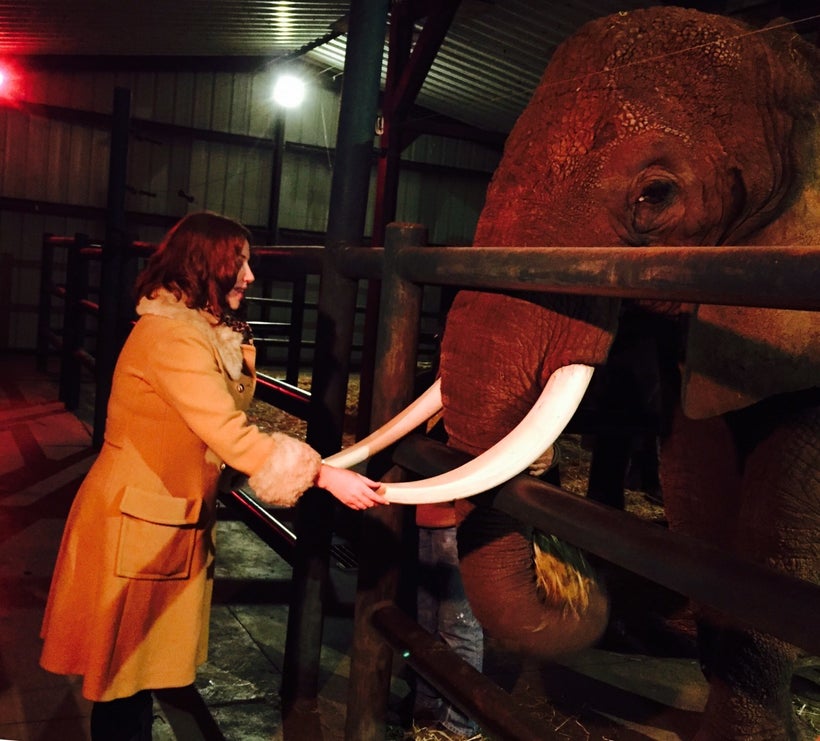 Night Time: 
After feeding all the animals dinner and night time snacks, we headed back over to our bungalow to settle in for the night. I was so excited to hear the night time safari that I could hardly fall asleep and opted to read instead of watching TV to pass the time. My husband and I took all kinds of ridiculous photos in the epically decorated bungalow, because it's not every day you fall asleep surrounded by leopard print. That is, unless you're a groovy bachelor.  As soon as we switched off the lights we began to hear the roars of the big cats! Long into the night, the cats made their presence known and the local coyotes got in on the action too.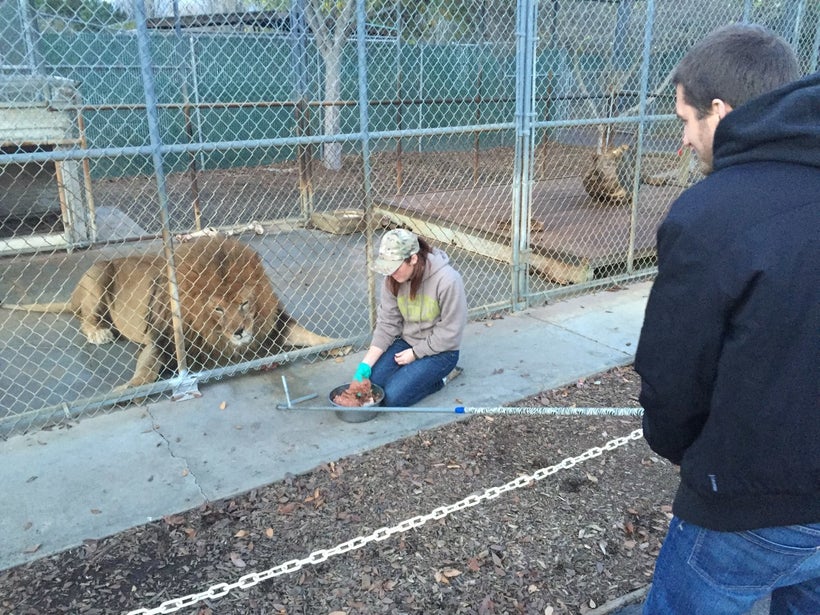 Morning Breakfast and Elephant Visit:
We were given an approximate time frame in which we were to receive breakfast in the morning, because you never know when the elephant is going to feel like her morning walk! We watched the elephant stroll lazily up the sidewalk towards our bungalow and I could hardly contain myself from jumping off our balcony and running straight for it! When they arrived to our front porch, Malika the elephant, seemed very excited for what was coming next. The trainer handed us fruit to feed her and she happily accepted! My husband and I spent about 10 minutes each feeding Malika, but it felt like much longer due to the sheer excitement! The trainer took amazing photos for us and we also traded taking photos of each other. It was truly a magical experience! After washing the elephants snot (haha!) off our hands in the bungalow bathroom, we sat down to enjoy pastries, bagels, fruit and orange juice while watching the elephants slowly move back into their play pen.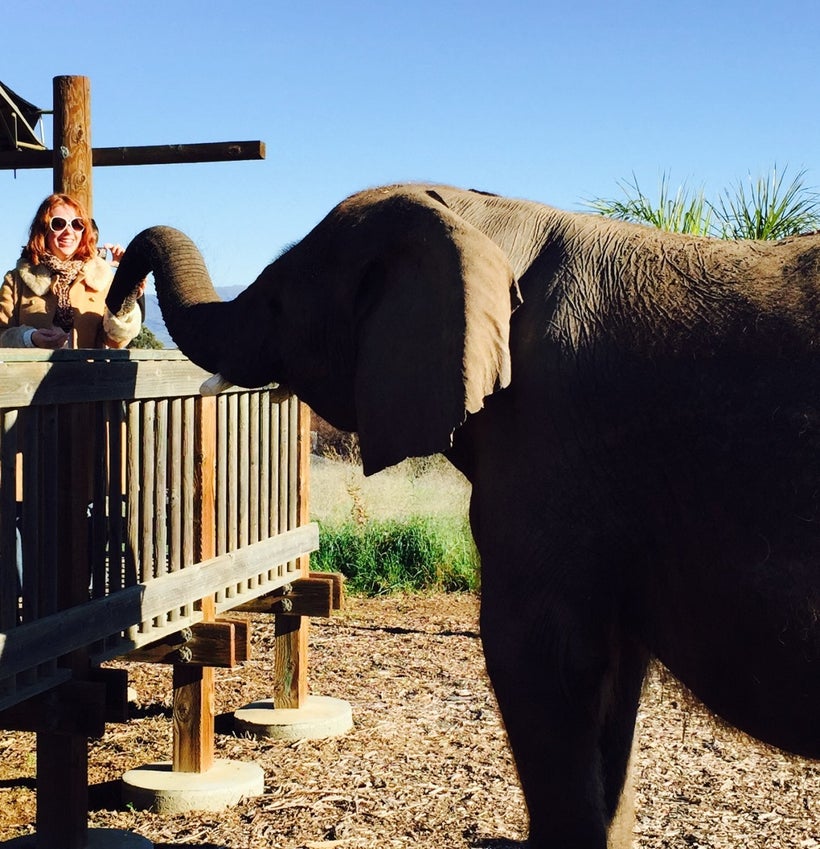 How to improve your visit: 
Here are a few tricks to help you have the best possible experience at Vision Quest.
Bring Your Own Snacks: You will be arriving around 1:00pm in order to ensure you receive your free daily tour. After completing the tour, you'll begin checking into your bungalow. You're likely going to be hungry by that time or getting very close to it! Bring a few snacks to tide you over if you plan to head to one of the surrounding restaurants for dinner.
Pack a Picnic: Instead of dining out, we decided to take advantage of our time at Vision Quest and packed a Picnic. This way we were able to eat on our deck as we watched the elephants play, what a view! We brought all our own plates, food, napkins in a picnic basket.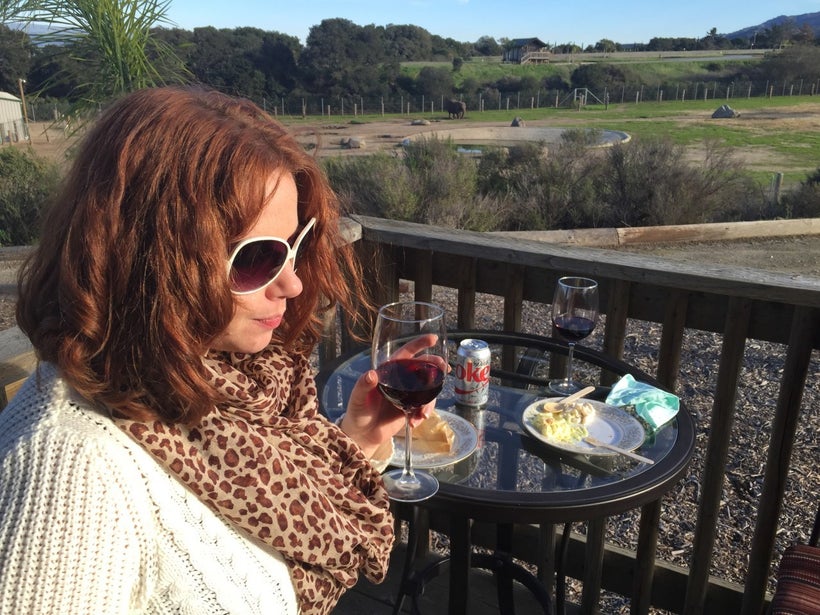 Bring A Bottle Of Wine: It was so magical and romantic to enjoy a glass of wine while overlooking the elephants at play and the beautiful surrounding valley. Where else can you enjoy your favorite bottle of wine while listening to the roars of lions? (If you know of anywhere, comment below!)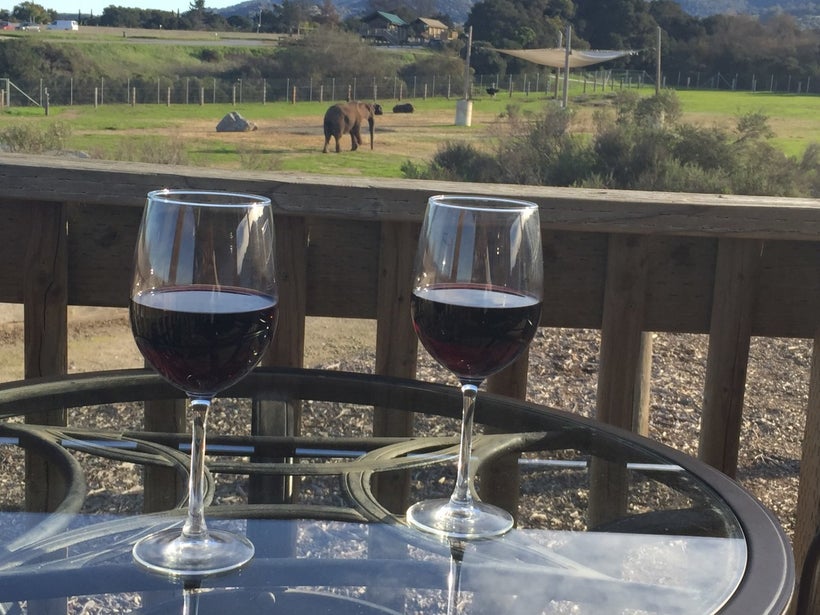 Mimosas: We also packed a bottle of champaign and orange juice to make our own mimosas with breakfast in the morning. Please keep these inside until AFTER your elephant visit for safety!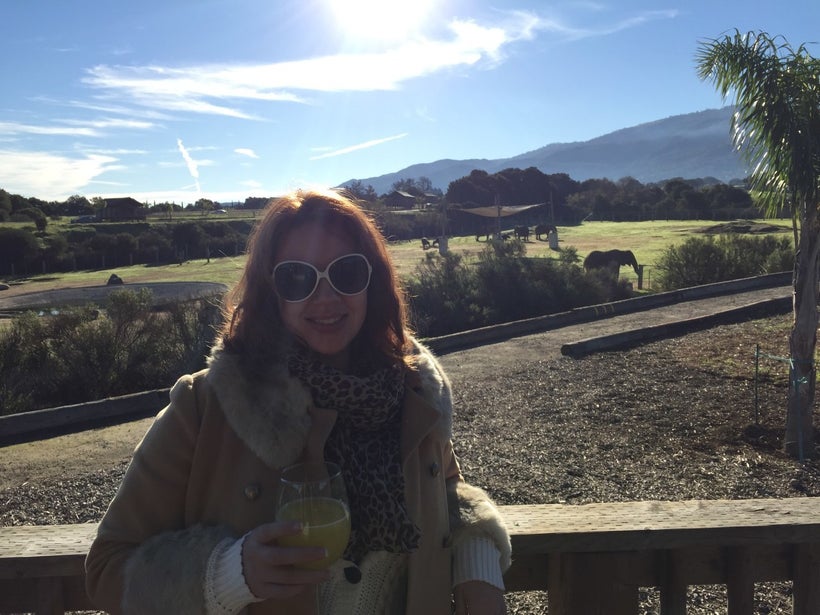 Extra Blanket: Since we went in the colder months, I would suggesting bringing an extra blanket if you want to sit outside for a period time!
Camera: You're going to want to capture the close encounters with the elephants on the best possible camera equipment. We totally forgot to bring ours, but still ended up with some great shots on our cell phones.
What do you think about having breakfast delivered to you by an elephant?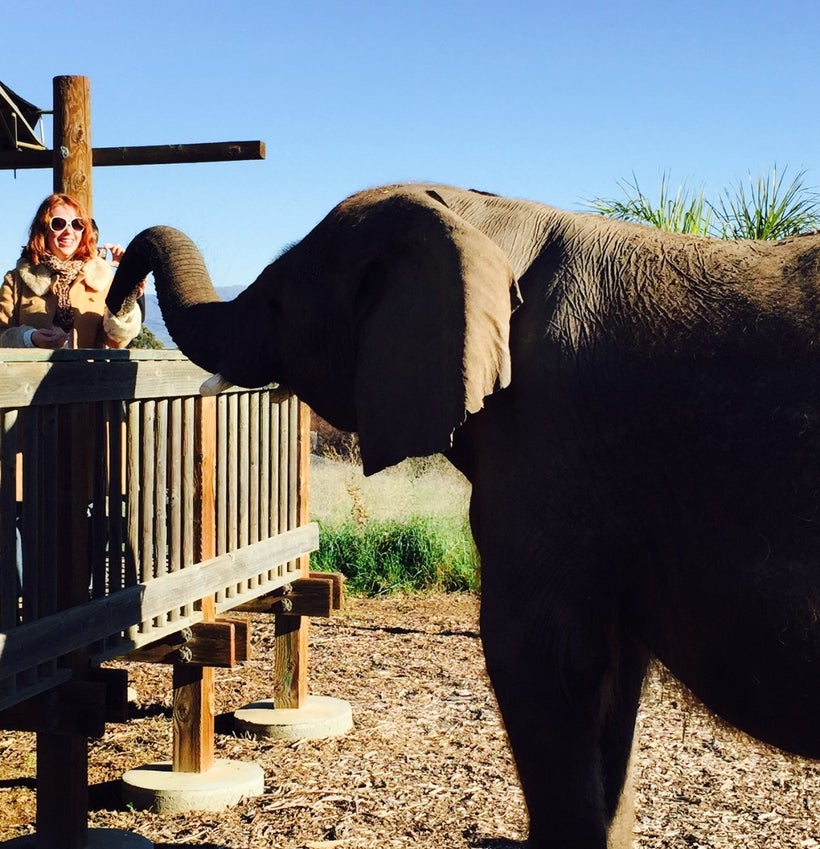 Calling all HuffPost superfans!
Sign up for membership to become a founding member and help shape HuffPost's next chapter
This post was published on the now-closed HuffPost Contributor platform. Contributors control their own work and posted freely to our site. If you need to flag this entry as abusive,
send us an email
.