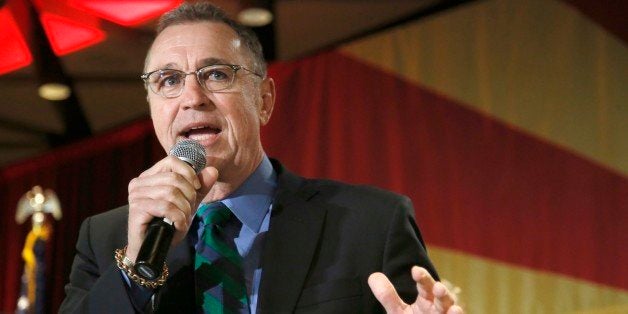 Using Love to Combat Hatred in the Fight for Equality
I have been the victim of a lot of bullying in my life. Throughout childhood schooling, I was bullied for being gay, and that was incredibly difficult as my under developed coping skills did not provide me with a secure foundation on which I could stand. Luckily, as an adult, I have found my grounding and no longer feel the twinge of pain from attacks made on my psyche.
Interestingly enough, the brunt of bullying I have encountered in my life wasn't during those formative, childhood years, though those were the most influential. The majority of the bullying I have faced has been cyber bullying through hateful comments spewed by individuals who presume to understand my personal life, and want to spread what they think is intelligent commentary on the relationship I have with my father. It is strange to me, also, that many are people who claim to champion "love not hate," "equality for all," and an anti-bullying plight but are the first to hate me, treat me as unequal, and bully me.
One of my favorite attacks comes from individuals who regurgitate the words, "Stockholm Syndrome," like it actually relates to my life. To be clear, not everyone who loves someone that has hurt them in the past has Stockholm Syndrome. If that were the case, we all would find ourselves with that label. I happen to subscribe to the idea that love can conquer all, and so I choose to apply that philosophy in this situation.

"I happen to subscribe to the idea that love can conquer all, and so I choose to apply that philosophy in this situation."

Sure, there have been trials associated with being gay and having a Republican politician for a father, but I support my father just as he supports me. I came to realize many years ago that my father does his job, and he does it well. My father was hired and is employed by his constituency, just as every other politician. His job is to represent the popular (meaning majority) opinion of his constituency, and so he does. His "anti-gay" votes or decisions stem from his responsibility to act based on that opinion and not on a personal opinion, or the opinion of a progressive minority.
I know my father, I know his feelings, and I know that he loves and supports me regardless of what is perceived by the public. I know that most people don't understand, that as an employee of the public, his obligation is to the majority of his constituency, but that's how it goes.
Among the rather despicable comments I've received the cake probably goes to, "It's too bad you weren't bullied into suicide." I would hope that any person with a shred of human decency would look at that kind of remark with disgust, but I assure you, it has been said.
I was lucky enough to never struggle with thoughts of suicide as many have, and I can attribute that largely to the love of my family. I can also attribute a large part of that to my father. He's known that I am gay since the age of 15 or so, and he also was aware of my pain. He was my earliest strength in the battle between my religious conviction and my sexuality. He assured me of his love for me regardless of which path my life took. It was also his suggestion that I truly foster a personal relationship with God and that as long as I had, I would know how I should live my life.
He told me that as long as I had that relationship, the opinions of others wouldn't matter, and he was right. The strength my father gave me to fight is a big part of why I am where I am today. For that reason, I won't do as others condemn me for not doing and turn my back on him. I will "turn the other cheek" so to speak, rather than throw a tantrum, and I will persist in my love for him and my family. I will live my life proudly, openly, and with love so that others can see the benefits of doing so.
Now, this doesn't mean that I support every decision ever made by the people I choose to love and support, because that would be ridiculous. I choose to support and love the person, regardless of my agreement with each decision they make. I guess you could say I love the believer, not the belief.
It's no secret that I disagree with any person who doesn't support equality. Ask anyone close to me and they will tell you that my opinions, sought after or not, are given. Any defense I have provided to anyone who doesn't agree with me is not to endorse their beliefs, but to support their decision to have their own beliefs and opinions. I would question any person who is unable to see the difference.

"The strength my father gave me to fight is a big part of why I am where I am today."

So yes, I can employ rational thought. It's that rational thought that helped me to see the error in "anti-gay" therapy, which I underwent, as so many have pointed out. Where people got the idea that I was forced into it, I couldn't say. When I started the therapy I was an adult and when I opted to do it was asked on multiple occasions if it was what I really wanted to pursue, and at the time, I did.
Luckily, for me, I wasn't subjected to some of the more gruesome tactics used in many versions of the therapy. After some time, I realized that I did not want to change who I am and decided to discontinue therapy and had no recourse when doing so. When I did, my family verbalized their support and some even noted they disliked that I had done the therapy in the first place, as they distrusted the entire process.
It hasn't all been hate, however. Many positive situations have also come from my experiences. Those who have good things to say are usually not the ones asserting themselves publicly and I had multiple people reach out in private.
One man explained to me that he had become so downtrodden he searched the Internet for the most effective ways to kill himself. He went on to say that one of the first things to pop up in his search was my "It Gets Better" YouTube video and this changed his outlook and dissuaded him from suicide. We kept in touch for a while and last I spoke to him he was living out a dream of his to travel around Europe.
Another experience was my father's, and he outlined it for me while beaming with pride. He was out running errands one day and was stopped in a parking lot by a local pastor. The pastor wanted to shake his hand and thank him for his example of loving me, though we disagree. He informed my father that members of his congregation could truly benefit and he was developing a sermon in which he would urge them to love and support their LGBT loved ones despite their opinions.

"I don't need people to condemn me for not hating enough. I need people to express the love they want to be shown."

These and many more positive outcomes are my reasons for living my life openly and with pride. If I allowed the negativity to stand in my way, people like that man I noted might have effectively researched suicide and might not be alive today. I can tolerate the hatred, even if for just one special outcome, and will continue to do so.
Ultimately, I don't need people to condemn me for not hating enough. I need people to express the love they want to be shown. We don't need people to say another is "not self-respecting" because they have forgiveness and love for another. We need people who will not cry for equality while treating others as unequal. We need people who will not bully others for not being a big enough bully. Why, as a marginalized community, so many within feel the need to further marginalize others, is beyond me.
As long as people continue to have hatred for those who are different, we need to love more, not add more hatred. Utilizing love can be difficult to do, especially when coming from a place of so much hurt and a history of shame, but we need to rise above that in order to defeat the hatred in this world. Maybe, just maybe, it isn't such a bad thing to love the believer without loving his belief.
REAL LIFE. REAL NEWS. REAL VOICES.
Help us tell more of the stories that matter from voices that too often remain unheard.