Last week, a judge in Nebraska threw out a 2007 lawsuit filed against God by state Sen. Ernie Chambers, who had sought a permanent injunction against the Almighty for bringing "acts of terrorism" against the Cornhusker State.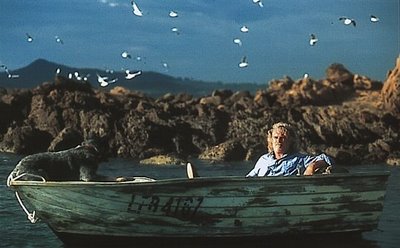 Chambers' suit, which he claims he filed to protest the filing of other "frivolous" lawsuits, asked that an order be issued demanding God cease and desist from causing "fearsome floods, egregious earthquakes, horrendous hurricanes, terrifying tornadoes, pestilential plagues, ferocious famines, devastating droughts, genocidal wars, birth defects, and the like."
Judge Marlon Polk threw out Chambers' case because the defendant in the case, a.k.a. God, could not be served with a summons. "There could never be service effectuated on the named defendant," Polk said.
Back in August, Chambers, who has described himself as an agnostic, did have his day in court, when he argued for the judge to consider the existence of God, noting that U.S. currency carries the motto "In God We Trust" and that God is often invoked in civic ceremonies, including the oaths taken in a court of law. (F.Y.I., Nebraska's state motto is, "Equality before the law.")
"If God is omnipresent," Chambers argued in court, "then he is here in Douglas County and in this courtroom."
That last bit could have come directly from the dialogue of the 2001 Billy Connolly film, "The Man Who Sued God," which followed the (fictional) case of an Australian fisherman whose boat is destroyed by lightning and who sues God when his insurance company refuses to pay his claim based on what they call an "Act of God."
I saw the Connolly film for the first time a year ago and it quickly became one of my favorites, not only for its humor -- Connolly is, next to the comedian Eddie Izzard, perhaps the funniest man alive -- but for what it was really trying to say. More on that in a minute.
In taking God to court, Chambers was hardly making history. As Connolly says in his film, quoting Scripture, "There is nothing new under the sun." A quick check of news files for the last decade or so brings up a number of cases where God has been sued for negligence and the like.
Last year, a Romanian convict sued God for breaking his baptismal promise to "protect [him] from all evil." Pavel Mircea, who is serving a 20-year sentence for murder, named "God, resident in heaven, represented in Romania by the Orthodox church," as the defendant. He accused God of a number of crimes, including fraud, abuse of authority and misappropriation of goods. One news account said among the damages Mircea sought was reimbursement for the money he had spent on prayer candles.
Also in 2007, a Kansas City man lost his federal lawsuit against God almost as quickly as he filed it, claiming the Almighty was "negligent" in the way the man had been created. Greg Rollins sought $1 trillion in damages because God had not "made him right" and also because God was not running the world well. The suit was quickly dismissed.
In July, a fellow from Michigan took a slightly different tack and filed a $60 million lawsuit against Zondervan, based in Grand Rapids, the largest publisher of Bibles in the world. Bradley Fowler of Canton, Mich., who is gay, filed suit against Zondervan (which happens to be my publisher as well), because the Bibles it produces say that homosexuality is a sin, and that, he says, violates his constitutional rights and has caused him emotional pain. Fowler also filed a similar suit against Thomas Nelson publishers, another large Bible publisher.
I guess if you can't sue God directly, you can try to sue his publishers, instead.
The intersection of theodicy -- the theological conundrum of "If God is good why is there evil in the world?" -- and our human penchant toward the litigious has ancient historical roots, depending on your interpretation of Scripture.
In her commentary on the Biblical books of Nahum through Malachi, the esteemed late biblical scholar Elizabeth Achtemeier notes that the book of Malachi takes place in a courtroom setting where the Israelites have, ostensibly, placed God on trial for not living up to his end of their covenant.
Malachi opens with the Almighty on the witness stand making a pretty good case that it was the Israelites, and not God, who had been negligent in fulfilling the terms of their agreement. God's testimony ends with the simple argument, "I have loved you and I love you still."
That's precisely the spirit with which "The Man Who Sued God" concludes.
Connolly's character has dragged the heads of various Christian and Jewish denominations to court as God's representatives on Earth, forcing them to either say there is no God or pay huge amounts in damages to the victims of insurance companies' nefarious "Act of God" clause.
"I'm not really suing God, you know," Connolly says. "I just hate the way people use God as some kind of giant all-purpose lying mechanism."
Connolly argues that the God of the insurance companies' "Acts of God" does not, in fact, exist. "If God exists, I don't think he sits around sinking people's little boats," he says. "I don't think he causes earthquakes and landslides . . . If there is a God, surely he is everywhere. He's in everything. He's even in this courtroom.
"He's in the sea, he's in a lobster, he's in a line of Robert Burns, he's in a woman's thigh, the soft anvil of creation. He's in the face. How can I sue these things?" Connolly says, adding a last thought, from the poet John Donne: "All other things, to their destruction draw/Only love hath no decay."