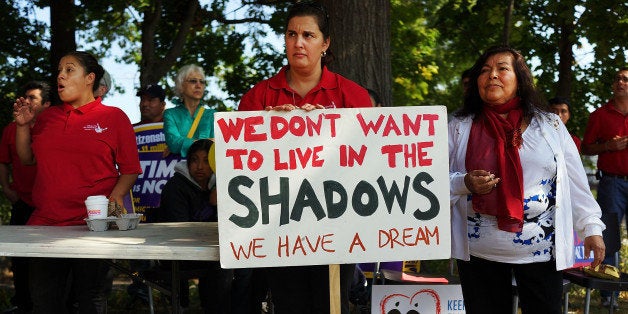 I was raised by a single mom, an immigrant from South America who left her family, support system, and incredible career as a well-connected influencer for a completely different life in the United States. My mother, a beautiful and talented woman, became a domestic worker. And for most of my youngest years, she cleaned wealthy people's homes and offices so they didn't have to -- so they could focus on their own families and their own careers.
Intelligent and talented women of color, like my mother, make up nearly one third of the nation's workforce, but when compared to white women, they are twice as likely to be employed in lower-wage sectors. And when they're employed in lower-wage positions, they work several jobs to bring home a decent amount of money. When they work several jobs, they sacrifice time with the families and children they love. I am one of those children.
Regularly, my mom came home from work with stories about the people she worked for and the way they treated her. She talked to me early and often about her reality, the other workers she met, and the interconnectedness of multiple issues. Latinas are most likely to be domestic workers. They are often forced to work in hostile environments where they are underpaid, threatened, and sexually harassed. But when you don't have options, when you are afraid, and when you have a family to support, you make tough choices.
Like so many of my peers, my mother pushed me to get an education and always took the time to celebrate my accomplishments. She knew I would be the one in my family to change the course of our future. So when I told her I was moving across the country for a new career in the tech sector, she proudly called my family in Brasil to tell them the news. Her daughter, a Latina born to a domestic worker, made it.
But I struggled to feel proud. I began attending networking events at your favorite tech companies, meeting other people in tech, and only felt more disconnected and guilty for being in this space. Guilt surfaced because I noticed how the caterers at events were invisible and how janitors were ignored. I would look into the eyes of women of color walking through tech headquarters with trash bags, the ones no one else noticed, and I saw my mother.
So when we talk about the lack of women of color in tech, it's important that we center the women who protect tech's productivity. Whether they provide childcare in your home or clean your office, treat them with kindness and honor their value. These are the women raising the very young people your company is trying to recruit. Yet, these are also the women making sacrifices so you don't have to.

Follow Natasha Vianna on Twitter: twitter.com/natashavianna
This post previously appeared on Medium.
REAL LIFE. REAL NEWS. REAL VOICES.
Help us tell more of the stories that matter from voices that too often remain unheard.