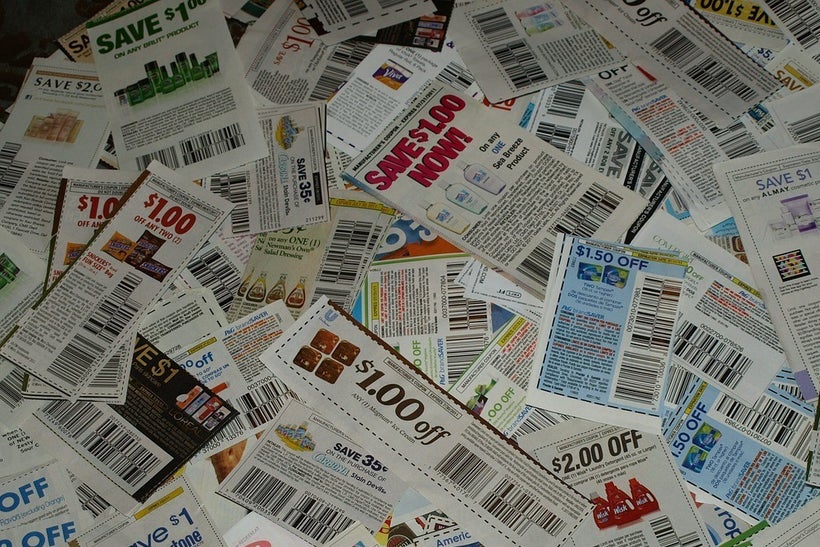 After wrapping up my grocery shopping recently, I found something increasingly rare in my busy suburban Publix: an open checkout line with no wait.
Well, almost no wait. Another customer was just paying for her groceries. I asked my kids to start loading the merchandise onto the conveyor belt.
Then the customer, a tattooed woman in her early 40s, glared at us and shook her head.
"You should go somewhere else," she announced, clenching a fistful of coupons. "This could take a while."
Maybe your mother collected them, carefully clipping them from the Sunday newspaper like my mother did, and still does. Maybe you do it yourself, although you probably find yours online now, through sites like Coupons.com or Retailmenot.com. But have you ever wondered who wins with coupons -- or whether, even, couponing is a winnable game?
Consumers have their doubts. Even though Americans were offered more than $515 billion in free-standing insert coupons in 2015 -- an increase of 3.7 percent from the previous year -- redemption rates plummeted 13 percent during the same period. Those statistics are courtesy of Kantar Media and Inmar. An increase in digital coupons and deal fatigue in an improving economy were blamed for the drop-off.
In other words, people couldn't be bothered.
"Many coupons require you to buy more than originally intended," says coupon skeptic Karen Huber, a retired librarian from Lewistown, Pa. "I'm not sure the time required is worth a few cents either."
But it's still possible to play the game and come out on top, say others.
"Yes, you can absolutely win at the coupon game," says Lisa Lee Freeman, a savings expert for Flipp, a money-saving app. "But it's important to remember that coupons are a marketing vehicle, plain and simple. It's easy to overspend when you've got a pile of juicy coupons because they can tempt you to buy things you don't need or to buy more than you need. Overbuying will quickly obliterate any savings, especially when you end up throwing stuff away."
Let's come back to the grocery store for a moment. I quickly backed out of the lane, but not before taking note of the customer. She looked a little jittery as she redeemed each coupon individually, double-checking it against each purchase. My middle son said what we were all thinking: "Dad, I think she's crazy."
That word -- crazy -- is a badge proudly worn by many coupon collectors. Just ask Joanie Demer, the co-founder of the TheKrazyCouponLady.com. I'm not making this up. There's a site called TheKrazyCouponLady.com.
Her take on coupons is decidedly more sober than her name suggests.
"Coupons are a great way to save money, she says, "but there's a trick to using them. If the consumer buys a product they wouldn't have otherwise bought just because there's a coupon, the manufacturer wins."
Since an estimated 7 in 10 coupons are for a grocery item, let's stay in the supermarket. And let's talk about winning.
"Money can be saved," says Diane Nissen, a money coach for the The Alexandrite Group, a financial planning firm. "However, the real question is how much time is spent clipping, sorting and searching. In other words, what is a person's time worth? For the smart shopper, it is more practical to know the prices of commonly purchased goods and buy them when they are on sale."
Talk to someone like Andrea Briant, a dedicated coupon gamer for the last two years, who says she's definitely learned how to win. Her first rule: Don't buy a product just because you have a coupon. Instead, look for coupons on products you were going to buy or have bought recently.
"This will ensure you won't buy something you won't use or won't need," she says.
Also, if the price is right and a coupon lets you do it, stock up on an item -- but again, only if you need it. "Whenever possible, double up on coupons, sales and cash back apps," she says. Among her favorite apps: Heckout51, SavingsStar, Ibotta, Cartwheel, SwagBucks, RetailMeNot and Shopkick.
The results are impressive.
"I've been feeding my husband and myself well balanced, healthy meals on a budget of $125 a month," she says. That's about one-third of the minimum food budget set by the US Department of Agriculture for a family.
Briant doesn't spend a lot of time collecting grocery coupons, perhaps only a few hours a week at most. She allows the apps and sites she visits do the work for her and holds a full-time job for a technology company in Lakeville, Minn.
If couponing is right for you -- and only you can make that call -- you have two options, according to experts. One is to go "all in" and coupon everything, whether it's a brand you normally use or not, says Brent Shelton, an editor for FatWallet, a site that caters to couponers.
"The other is to seek coupons for the items you wish to buy, so the coupon becomes a second condition of the purchase," he says.
If I had to guess, I'd say the coupon lady we met at the grocery store was the latter. Maybe it was something in the way she shooed us away from her aisle that made us wonder if she was making a rational purchase, or just buying something because of the coupons.
And that's really how companies getcha. You see a "50 percent off" deal and you find a reason to buy something, even though you wouldn't under normal circumstances. That's where the crazy factors into it.
"You have to watch to ensure you are truly saving with the coupon," says coupon collector Anna Renault, who describes herself as being in the former group -- using a coupon if you need an item -- who occasionally crosses over to the other side, as many couponers surely do. Don't be blinded by coupons, she says. Sometimes the store will offer a more aggressive discount, like a buy-one, get-one-free offer, that will make you throw that coupon in the trash.
There are some products you should never buy without a coupon, adds Gary Mulloy, CEO of Money Mailer, a national coupon mailing service. Like pizza, for example. "Pizza is one of the most-couponed foods, with specials like 'buy one, get one free'," he says. Other frequently-couponed items include dry cleaning, car washes, nail salons and oil changes.
So, is the game worth playing? Sometimes it is, sometimes not.
"The bottom line is that with skillful preparation in budgeting and flexibility in purchases, consumers can save a lot of money using coupons and feel like they win each time they see the minus signs flash on the screen in the grocery store checkout line," says Mike Catania, founder of PromotionCode, a coupon site.
But play the game carefully. If you don't, you could end up buying something you don't need, which only benefits the retailer.
Calling all HuffPost superfans!
Sign up for membership to become a founding member and help shape HuffPost's next chapter
This post was published on the now-closed HuffPost Contributor platform. Contributors control their own work and posted freely to our site. If you need to flag this entry as abusive,
send us an email
.