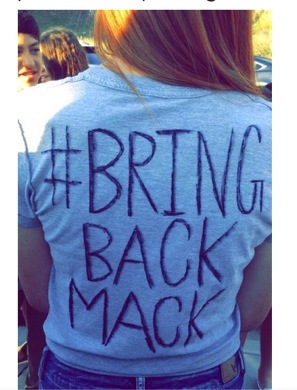 Last week the students at Aliso Niguel High School in Aliso Viejo, Cal. were rightly euphoric.
They learned that their school won the Chegg + Macklemore & Ryan Lewis voting contest on Chegg.com. The hip-hop superstars -- whose song "Downtown" is the duo's fifth Top 20 hit on the Billboard Hot 100 List -- would come to Aliso Niguel High to lecture on the entertainment and music industry. And that wasn't all. Along with the celebrity appearances, the school's meager music budget would receive a needed boost with a $10,000 David B. Goldberg Music Grant. Chegg.com is an educational website whose mission is to ensure that all student have access to higher education and low-cost tutoring and books. The music grant was named for the beloved late CEO of Survey Monkey, who passed away earlier this year.
If you're Aliso Niguel High, this sounds great, right?
Well, you would think. The student body excitement came to an abrupt halt when the principal, Deni Christensen, cancelled the event and declined the donation after several parents complained that Macklemore and Lewis promote "alcohol and drug use and misogyny in their music."
While the duo does, indeed, have songs that aren't exactly clean, they're best known for the powerful song "Same Love" about marriage equality.
The students and community rallied on Instagram, Twitter (#bringmackback), and created a Change.org petition to put pressure on the administration. In less than 24 hours, 8,713 people signed petition. After careful consideration of the various points of view, Christensen--to her credit--reversed her decision and will accept the donation and hold the lecture (permission slips from parents will be required).
Problem solved, case closed. Right?
There's a problem here. A big one. And it's not specific to Aliso Niguel High, or Seattle-based hip-hop artists. In the culture of Tiger moms and helicopter parenting, mothers and fathers and even educators have taken the concept of protecting children to a whole new level by trying to shield kids from any perceived inappropriateness. The problem is that censoring doesn't protect children. It often has the opposite affect.
When people, especially teens, are told they can't see a disturbing picture or shouldn't read a particular book, their desire only intensifies. That's why my friends and I ran to the library in the 1980s to secretly check out Judy Blume's book Forever and why Harper Lee's To Kill A Mockingbird has sold more than 30 million copies.
It's noble for parents to care to control the media messages with which children are bombarded on a daily basis. But they can't shield them from every objectionable phrase and song and film. It's impossible. Not only do 95 percent of American teens have Internet access, but their online access is no longer tied to a desktop in the family room. Smart phones are ubiquitous. If your daughter doesn't have one, her best friend does.
Once kids know their parents are strictly trying to censor information from them it becomes clear that those topics are off limits for discussion. Without the ability to discuss what they find on the Internet with their parents teens are left to decipher all sorts of confusing information sans supervision.
Lastly, freedom of speech isn't some tired old cliché. It is an essential amendment of the constitution that resonates with young people. If not for the ability to speak out we might still have segregation. Women probably wouldn't be able to vote. And the gay and lesbian couples would still be relegated to partnerships without the legal benefits of marriage. Limiting knowledge, even if one disagrees with it, leads to ignorance. And ignorance leads to racism and disapproval of difference. Furthermore, critical and analytical thinking are key outcomes of the new common core standards being adopted in school districts across the country. Students can't think critically without being exposed to both sides of an argument.
Schools are prime grounds for debate about what kids should learn. Some parents would prefer evolution and climate change be omitted from the curriculum. Sexual education is prohibited in certain schools, too. But without the ability to create a dialog about controversial issues and without exposing children to that dialog we risk raising children who are devoid of opinions.
Last week I took my tween daughter and her friend to the opening of the movie He Named Me Malala. It is the story of a Pakistani girl who publically spoke out against the Taliban policy that banned girls in schools. Being threatened, shot, and nearly dying didn't stop her. She is now the face of a movement to provide access to education for girls and the youngest winner of the Nobel Peace Prize. Malala learned to advocate after countless discussions with her educator father. Those discussions fueled her passion to make the world a better place for herself and girls around the globe.
Let's not take that passion from our children in the vane of protecting them from distasteful messages. Instead when controversial topics arise parents should talk to their teens about the family's viewpoint and values. Parents should be open to the discussion and allow for a variety of opinions. That process, the one where young people have a voice based on all the information available, is the only way to protect our kids and community.
Related