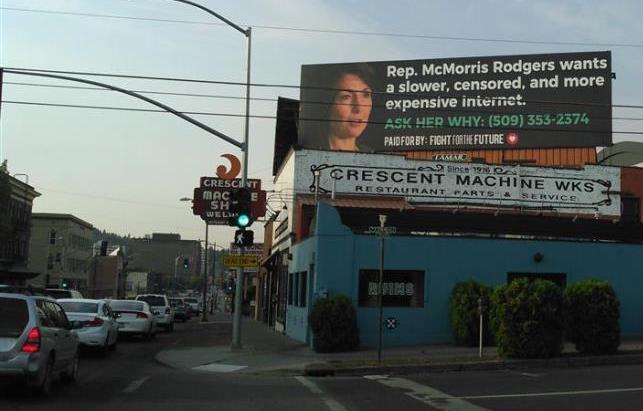 Earlier this month, Spokane Spokesman-Review columnist Shawn Vestal made an interesting claim about a crowdfunded billboard put up in Spokane to educate residents about Cathy McMorris Rodgers' stance on net neutrality, the basic rules of the road that stop big cable companies like Comcast, Verizon, and CenturyLink from charging extra fees, censoring websites or slowing down online content.
Vestal says that there's "no way for voters to be sure" who paid for the billboard, or why.
But perhaps Mr. Vestal should have looked at the billboard itself before writing his piece, since it prominently contains the words "Paid for by Fight for the Future." Fight for the Future is the grassroots activist group that I work for. We're a nonpartisan nonprofit with nearly 2 million supporters nationwide, including 45,000 in Washington State.
Our small team, spread out across the U.S., works on a wide range of internet freedom issues, from opposing invasive corporate and government surveillance, to challenging non-transparent trade deals like the TPP, to opposing censorship and attacks on freedom of speech. Over the years we've organized protests online and off, coordinated letters from small businesses and crowdfunded billboards targeting both Democrats and Republicans.
Vestal's piece carefully avoids making direct claims about our organization's funding, but it seems that he's confused about basic laws and reporting requirements surrounding nonprofit political organizations. As a registered nonprofit, Fight for the Future's yearly financial documents and 990 tax filings are public record. We also publish them on our website to make it even easier for anyone to learn about our funding sources, and we proudly display a list of our major supporters on our homepage.
Saying that our billboard represents "dark money" is simply inaccurate. The billboard was paid for by hundreds of small donations ― with an average size of $18 ― through a crowdfunding campaign. Ordinary people on the Internet chipping in small amounts to make something cool happen is about as far from "dark money" as you can get.
We chose to target Cathy McMorris Rodgers not because of her party affiliation or an upcoming election but because she has sided with giant corporate monopolies against the interests of her constituents, and people deserve to know that. McMorris Rodgers has taken more than $440,000 in campaign contributions from big telecom companies over the course of her career, and now she's supporting those same companies' attempt to gut basic consumer and free speech protections at the FCC. If the Spokesman-Review is looking to expose the corrupting role of dirty money in our democracy, perhaps they should start there.
Evan Greer is the campaign director of Fight for the Future, a nonpartisan nonprofit dedicated to defending the Internet as an open platform for freedom of expression.
Calling all HuffPost superfans!
Sign up for membership to become a founding member and help shape HuffPost's next chapter