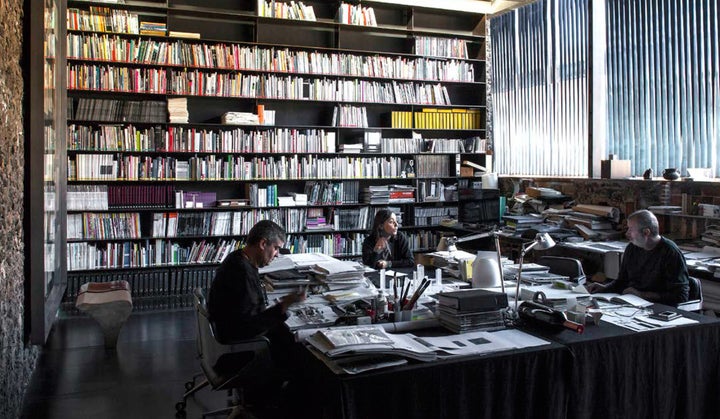 "I alone can fix this" Trump promised during the 2016 Republican convention, but his first 100 days may have taught him that governing is a collaborative project and even a president cannot fix things alone.
Trump joins a long western tradition that idealizes the genius who works alone in business, science and art. Architects have embraced this Romantic archetype of the lone, most likely male, creator. But on May 20th the Pritzker Prize, which is considered the highest award in architecture, will be given for the first time to a team of three architects, Rafael Aranda, Carme Pigemand Ramon Vilaltato - the 2017 laureates. Only twice since the prize inception in 1979 was it given jointly- in 2001 to Jacques Herzog & Pierre de Meuron and in 2010 to Kazuyo Sejima & Ryue Nishizawa.
Publicly rewarding collaborative work is new to the field of architecture and Denise Scott Brown is a good example of why denying the creative power of collaboration is wrong and unjust. In 1991 Robert Venturi received the coveted Pritzker. Venturi built, wrote and taught with his work partner and wife, Denise Scott Brown, but his request to add her as a prize recipient was denied because the prize was restricted to an individual recipient at that time. Scott Brown was rightfully furious and refused to attend the prize ceremony to protest her exclusion. Now in her eighties, she is still outspoken about the need to expand our understanding of creativity. "They owe me not a Pritzker Prize but a Pritzker inclusion ceremony. Let's salute the notion of joint creativity." she said in 2013. Her words became an online petition which gathers over 20,000 signatures and numerous news stories. This finally persuaded the American Institute of Architects to give their Gold Medal award in 2016 to Denise Scott Brown and Robert Venturi, the first to jointly receive the medal.
Working in a team may seem like a necessary compromise due to our current complex global economy. However, research suggests that working collaboratively often fosters innovation crucial to many creative endeavors. The cutting edge design group IDEO (inventors of the first computer mouse) have found that "complex problems are best solved collaboratively," and the Stanford Law professor Lemley, describes in "The Myth of the Sole Inventor" how many inventions including the Edison's bulb and Bell's phone were actually discovered collaboratively (see here) in what psychologist Keith Sawyer calls "Group Genius".
Women have long suffered from the myth of the lone creative genius. Whether by nature or necessity, women have developed more varied ways of working. A number of studies have shown that women prefer, and excel in collaborative environments, even choosing team based compensation.
Recognizing and rewarding collaborative creative process is therefore important in order to achieve greater gender Equity and new opportunities for women, and it acknowledges that architecture has always been a joint process. Scott Brown understood this back in 1989 when she wrote about "Sexism and the Star System," pointing out that star do not create themselves, they receive this recognition from others. To fight the skewed Gender and Genius history we need to accept and reward the diverse ways people work. You only have to look at the list of Pritzker Prize recipients to see how recognizing collaboration dramatically increased the number of female recipients. So far, three teams received the prize and two of them included women. Or put differently - 44 men and three women received the prize, and two of those women were part of collaborative practice.

But while we celebrate the prize committee's new appreciation for joint creativity, they have yet again failed to acknowledge that did not arrive at this insight on their own. Not only have they continued to refuse to recognize Denise Scott Brown as a recipient of the prize awarded to Robert Venturi, they also deny her the credit she deserves for championing the idea of "joint creativity", yet again, erasing her profound contribution to the field of architecture.
The Pritzker Prize team should finally give Denise Scott Brown the recognition she deserves, and we should all realize that we are more creative when we work together.
Esther Sperber is an architects, founder of Studio ST Architects. in New York. She writes and lectures on architecture and psychoanalysis, two fields that strive to reduce distress and widen the range of human experiences. Her work was published in the New York Times, Lilith Magazine, The Jewish Week as well as in books and academic journals. Born and raised in Jerusalem, she studied architecture at the Technion in Haifa and Columbia University in New York. Contact: esther@studio-st.com
Popular in the Community