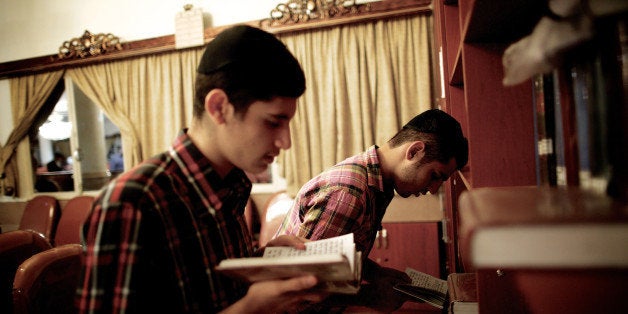 The Torah portion for this week raises a critically important existential question, a query that writers, psychologists and seekers have asked for many, many years: Can we ever really go home again?
Hayyei Sarah, or The Life of Sarah, encompasses death and birth, ends and beginnings and continuity. It offers a story about the polarity of mortal existence. It also highlights the cyclical, and sometimes paradoxical, nature of the human journey.
The portion gets its name from the opening two verses of the narrative, which recount the life and describe the death of the first matriarch of the Jewish people. Immediately after Sarah dies, the aged Abraham purchases the cave of Machpelah from its Hittite owner, Ephron. From that point forward, the cave and the land around it will serve as the burial site, not only for Abraham's wife, but for Abraham himself, as well as his progeny.
The cave also serves as a symbol. After the patriarch's horrific trial on Mount Moriah (the binding and near sacrifice of his son Isaac), and following the loss of his beloved wife and lifelong partner, Abraham is in dire need of something tangible -- something concrete -- that he can possess and "control." Tested by God and bowed by the irresistible power of mortality, the gravesite becomes Abraham's foothold in the land of Canaan, but it also represents an anchor of security in the midst of forces that are beyond his ability to fathom or resist.
The first chapter in the life of the Jewish people has come to a close. The "mother" who gave birth to the people of Israel has died. But a new chapter has begun.
As T.S. Eliot writes in his poem, "Little Gidding":
What we call the beginning is often the end
And to make and end is to make a beginning.
The end is where we start from.
In Hayyei Sarah, Abraham stands at a threshold, a shadow place between ends and beginnings, death and new life. When we, like the patriarch, stand at a threshold, we often feel as if we are neither here nor there: We teeter in liminal space, unsure of our footing and uncertain about our next steps. A threshold can usher in change, but it can also trigger feelings of panic. Yet Abraham does not panic. Instead, he acts quickly and with resolve.
After his purchase of the gravesite and Sarah's burial in it, the narrative tells us that Abraham is now "old, advanced in years. (Gen. 24:1)" The juxtaposition of this information with Sarah's interment implies that the patriarch's life is nearing its end as well, and that Abraham will soon join his wife in the cave of Machpelah. In the next verse, Abraham orders his senior servant to travel to the land of the patriarch's birth in order to find a wife for his son Isaac -- and to swear an oath that he will not choose a woman from among the Canaanites. When the servant asks whether Isaac should meet him there in the event the prospective bride is unwilling to follow him, Abraham replies, "On no account must you take my son back there! (Gen. 24:6)"
Abraham is adamant about this point. He reaffirms and reinforces it two verses later, when we hear his very last words: "Do not take my son back there! (Gen. 24:8)" Yet while the patriarch is (notably) resolute and passionate about his son never setting foot in his homeland, Abraham seems just as determined in his desire to find Isaac a wife from his homeland.
The story presents us with a paradox. On one hand, Abraham's words and directive convey the idea that we cannot, and should not, try to go home again. Many years earlier, Abraham heeded God's call, left his father's house and began a covenantal relationship between God and his future progeny. There is no going back -- not for Abraham, nor for his son and all those to follow.
The past must remain in the past. On the other hand, if we view the woman who will eventually become Isaac's wife (Rebekah) as a metaphor for "home," then the narrative -- and the teaching behind it -- gets more complicated. While we can't go home again, we can retrieve and reclaim aspects of our heritage. Where we have come from informs and shapes who we will be. Tribal continuity is something we should strive for with all of our heart and soul.
Abraham dies and is buried with Sarah in the cave of Machpelah. The servant finds Rebekah and brings her back to Canaan to marry Isaac. And the cycle of life continues.
T.S. Eliot goes on in his poem:
We shall not cease from exploration
And the end of all our exploring
Will be to arrive where we started
And know the place for the first time.
Through the unknown, unremembered gate
When the last of earth left to discover
Is that which was the beginning.
Living at the threshold, as Abraham does in this week's Torah portion -- living at all, really -- means that our perceptions of time and self will always be in a state of flux: Ends will give birth to new beginnings, and beginnings will eventually transform into ends. Like the patriarch's clan, we have little choice but to embark and embark again and again, on the ever-cyclical journey.
Yet our souls crave rest. And completion. When our exploration comes to a close, our focus will shift from perception to recognition. We will see, and we will be wise enough to finally understand that the end we longed for was actually just another beginning.
ON Scripture -- The Torah is a weekly Jewish scriptural commentary, produced in collaboration with Odyssey Networks and Hebrew College. Thought leaders from the United States and beyond offer their insights into the weekly Torah portion and contemporary social, political and spiritual life.
Calling all HuffPost superfans!
Sign up for membership to become a founding member and help shape HuffPost's next chapter