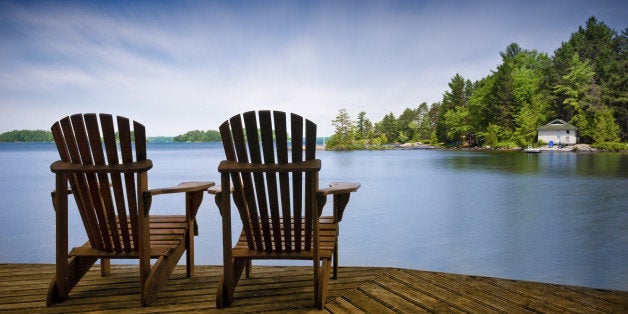 I grew up spending my summers on a lake in New Hampshire. Being at our cottage was the high point of my sister's and my year. Naturally, I want to share the experience with my husband and two girls, who are 4 and 6. But every time we visit, there's tension. My husband never did water sports as a kid. He complains about the bugs. The girls love it, but they don't like to see us argue. The biggest problem, though, is my hyper-vigilant stepmother. I resent that she's constantly telling us what to do. I lived here all my life! Even worse, my father, who married her two years ago after my mother died, always takes her side.

Dear Disappointed Daughter,
You are not alone. With grandparents staying active and healthy longer, many families are trying to figure out how to have stress-free three-generation gatherings. It's a little easier when you meet on neutral ground. But when you visit a childhood home, as Thomas Wolfe famously put it, "You can't go home again, back home to your childhood..." Here's what you can do:
Let go of the fantasy. It might help to think of the old summer cottage as a stage on which members of your childhood family appeared and interacted. You can still hear the lines and cherish the very real and precious memories of that old script. But a new play is unfolding now, with different characters in new roles.
Be sensitive to what "the stage" might evoke for the other adults. You're not the only one reacting to this situation. Your stepmother might feel like she's living in another woman's home. Your father might feel guilty, sensing your mother's presence in every room. Your husband might feel jealous, remembering the stories of your summer loves.
Notice your feelings, grieve for what was and move on. In varying degrees, most of us experience a kind of emotional regression in our childhood homes. As grown up as we are, a small part of us still wants Mommy or Daddy. Tell yourself the truth: You've shifted seats at the generational table, from child to adult to parent.

Remember that the changes in your father's life are not about you. Your mother is gone; your father is aging; your stepmother is lady of the house. And whether you come for a week or a month every summer, she is your father's year-round partner. Technically, you will always be his child, but it's time to "parent" yourself. To deepen your relationship with your dad, start to see him as a man, not a father, and act like the mature woman and mother you are.
Be a good guest. If your stepmother acts like she owns the place, it's because she does! Also, remember that you're bringing children to a house without kids. Before you arrive, ask what she needs. Ask about house rules. For example, should we always use the back door after swimming? Depending on how long you're there and what needs to be done, make sure you all (not just you -- kids and hubby, too) pitch in with laundry and other household chores. Offer to make a few dinners or to take everyone out. Let them know your schedule and make it clear that they don't have to take care of you.

Don't be a tour guide. By all means, reminisce with your husband and daughters. Show them the dock where you first learned to dive, the local movie theater and burger joint. But also let them take the lead. The area has undoubtedly changed since you were a kid. Act like tourists; do things you've never done. Your husband won't mind watching you and the girls kayak, if you also plan activities he enjoys, like hiking, antiquing or a trip to the driving range.
Make new family memories and traditions. Get out of your own head long enough to remind yourself how lucky you are to have a free lakeside summer vacation. Open yourself to the opportunities. Even the familiar can become new again.
Have a family question for Melinda Blau? Tweet #DearFamilyWhisperer or email DearFamilyWhisperer@familywhispering.com. Check back next week to see if your question is featured! Real names will not be used, no topics off limits. Adults and children welcome. These columns are brief. You'll find more on this topic in FAMILY WHISPERING, co authored by Melinda and (the late) Tracy Hogg. Also check out the website: FamilyWhispering.com and follow @MelindaBlau.