My baby nephew is pretty much always happy. If he falls, he cries for a minute and then it is all smiles. I always say it is like he has "You Can't Stop the Beat" playing on loop in his head. Because when I think of joyous songs of this century's musicals, I always think of that one by Marc Shaiman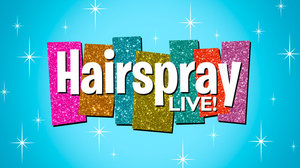 and Scott Wittman. That is why I'm so excited about Hairspray Live! and the upcoming Hairspray revival.

The initial run of Hairspray recouped, it was a hit, but it didn't run as long as I thought it should. One thing Scott Rudin has done so brilliantly for his shows is master buzz. You couldn't buy a ticket to Book of Mormon after it opened, but yet I was still bombarded by constant advertisements for it. The Hairspray producers didn't do television advertisements until late in the run presumably thinking they didn't need to spend the money. But I firmly believe (and there are those that disagree) that the problem with that strategy is you need to constantly be reminding people you are a sold out hit. Years later it already becomes: "Oh, that is still running?"

And I love Hairspray. The upcoming NBC event, Hairspray Live!, brought to you by executive producers Craig Zadan and Neil Meron, is my most highly anticipated of all the television musical movies. First, it's Hairspray. Second, this is basically a dream cast. When they did: Who would you want to see play Penny Pingleton? My top choices were Ariana Grande and Sarah Hyland. Also, Harvey Fierstein. I've written many, many times that my mother raised me to believe Harvey Fierstein was the best actor. She was thrilled to see him onstage in Hairspray. I think she got through 20 minutes of the movie at home before calling me and saying: "Why didn't they cast Harvey?" So not only am I personally very excited to see him don the house dress again, but I'm very excited to avoid the related phone call which would have resulted from him not. All down the line this cast is just so strong. Like many, I sometimes have wondered why "Miss Baltimore Crabs" wasn't cut from the show. (It was cut for the Vegas version with Shaiman admitting to me in an interview at that time: "'Baltimore Crabs' always plagued us because the response to it has never been like the response to the rest of the score." However it was back for the big screen.) But in this version Kristin Chenoweth is playing Velma so I'm looking forward to it. Andrea Martin will be an ideal Prudy. I sort of wanted Matthew Morrison (who went from understudy to star during rehearsals for the original production) to play Corny Collins, but you can't win them all. Of course the whole endeavor will rise and fall with how good Maddie Baillio is, which is the big TBD. What musical theater fan doesn't want to see this?

This brings me to the revival. Though seemingly not affiliated, this is presumably timed to feed off the buzz from the small screen version. (Still waiting for the truly affiliated The Wiz by the way.) Hairspray was always a show I could send anyone to see. People's parents were in town, Hairspray. My friends wanted a fun show, Hairspray. I went back a ton of times to see new cast members. As far as I'm concerned, the spring is already pretty packed aimed squarely in my sweet spot--including two musical revivals and another Marc Shaiman/Scott Wittman musical--so I'd be okay if the Hairspray revival is bumped to the summer. I'll be happy whenever it comes though because, well, you can't stop the beat. (And, either way, I doubt Fierstein will be in it, so I'm mentally prepared for that chat.)

In an odd way, this is the best time ever for any version of Hairspray. It's goofy fun. However its message is one of tolerance. Fifteen years ago that message seemed almost quaint. Now it's needed. I live an avenue from this weekend's explosion. We went through many immediate sirens obviously but they died down at some point, only to begin again at around 3am. I went to Twitter to see what was happening as NY1 didn't seem to have any information. What did I see when I searched for the Chelsea explosion? Horribly offensive tweets about Muslims and Hillary Clinton. Hairspray is at its core about embracing people different from you--people who might be heavier than you, people who have darker skin, people who believe differently than you about what is right. Now that is putting a super serious gloss on Hairspray, which is mostly just good ol' fun. But I've always believed, in my super dorky way, that people absorb more from subtle stuff in feel good shows than they do from being hit over the head. Good morning, Baltimore.
Read the first installment in my new monthly series on behind-the-scenes Broadway folk on BroadwayWorld here.
If you want to contact me, you can find me on Twitter @CaraJoyDavid. I also welcome emails at carajoy@gmail.com. Please do not send me a Facebook message if we are not friends on Facebook. I will not see it.
Related
Popular in the Community