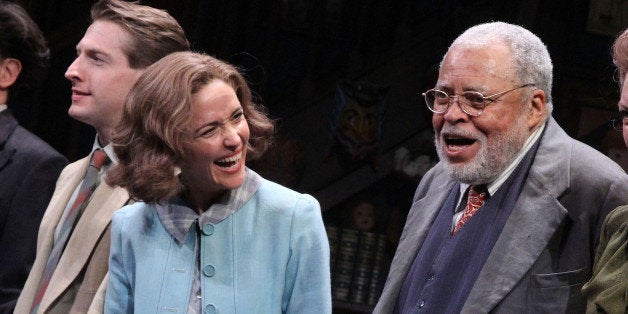 It's hard to beat kittens and fireworks as sure-fire crowd pleasers and the new Broadway revival of You Can't Take It With You has both along with the venerable James Earl Jones at center stage to give the 1936 Kaufman and Hart comedy enough zing to shake off any cobwebs that might have attached to it.
One would be hard-pressed to find a more eccentric -- let's not mince words, screwball -- family than the one that resides at Martin Vanderhof's house in New York anywhere in the American theater.
Vanderhof is the patriarch of this assorted collection of misfits and in Jones's expert hands becomes the moral core of a play that has become an iconic comedy celebrating American individualism. You Can't Take It With You won the Pulitzer Prize in 1937 and the film version by Frank Capra collected Oscars for Best Picture and Best Director. It has been adapted for TV twice and was last revived on Broadway in 1983.
For this staging, the director Scott Ellis has assembled a strong cast of 19 and everyone in it works overtime at being zany. Ellis's smooth and energetic direction keeps everyone moving at double time, so that the play almost takes on the aspect of a three-ring circus, with something to watch at any given moment.
The play opens with Penny Sycamore, Vanderhof's daughter and the wife of Paul Sycamore, sitting at a typewriter writing a play. A pile of blank paper is next to her, the kitten sitting on top of it as a paper weight. Penny has been writing plays for the past eight years, ever since the typewriter was delivered to the house by mistake. Before that she was a painter and there is an unfinished canvas that will figure in the action later.
The rest of the first act is spent introducing the rest of the cast of characters. Paul makes fireworks in the basement with Mr. DePinna and tests them from time to time. Essie, their daughter, has been taking dancing lessons to no avail for years and her every move and gesture is balletic. She also makes candy that she sells locally. Her husband, Ed, plays Beethoven on a xylophone and prints thoughts for the day, often taken from Marx or Trotsky, that he puts in Essie's candy boxes.
Others in the house include Rheba, the maid, and her live-in boyfriend, Donald. And then there's Boris Kolenkhov, a Russian exile who is Essie's dance teacher. He arrives with news about Stalin's latest purges and brings Olga, a royal Russian refugee now waitressing at a diner, to get a square meal.
Vanderhof himself hasn't worked a day since he decided a couple of decades ago that he didn't want to spend the rest of his life going into an office and walked out. He now spends his days attending commencement ceremonies, going to the zoo, and collecting snakes. It also turns out that he has never filed an income tax return and the I.R.S. wants to know why.
The one breath of normalcy in the house is Alice, Penny and Paul's other daughter, who announces she is going out with Tony Kirby, her boss's son, and pleads with her family to try to act like ordinary people when he arrives to pick her up.
All of this builds to the inevitable and disastrous meeting between Kirby's socialite parents and Alice's crazy family, exacerbated by the fact Mr. and Mrs. Kirby show up on the wrong night and meet the Vanderhof household in full madcap throttle. It's one of the funniest dinner parties in the American theater and ends with the arrival of some G-men.
Jones is superb as Vanderhof, a walking testament to the philosophical adage of the title, taking life as it comes with a constant smile and the unshakable confidence that everything will work out one way or another. His monologue trying to persuade the elder Kirby that he should relax and learn to enjoy life, even if it meant never setting foot on Wall Street again, is so convincing it could undermine the capitalist economic system.
Rose Byrne, an Australian actress making her Broadway debut, is excellent as Alice, an attractive yet frail young woman torn between her love for her idiosyncratic family and her young suitor.
There is not a weak link in the rest of the cast. Kristine Nielsen is admirably befuddled as Penny and Fran Kranz is ardent as young Kirby. Byron Jennings makes a credibly stuffy Wall Street broker and Reg Rogers and Elizabeth Ashley are appropriately Slavic as the Russian émigrés.
REAL LIFE. REAL NEWS. REAL VOICES.
Help us tell more of the stories that matter from voices that too often remain unheard.