I always say the day my baby died is my second birthday. That day, April 14, 2012, I began a journey to find a reason, happiness again, and a purpose for my heartbreak-changed life. That day, my second son Leo Blue was born still.
I had a month off of work to heal and to be with my first son, Kingston, which was very important to my healing. During that time I realized how precious life is and how quickly it can change. I needed a break from all that was happening to sit back and think. My second son, Leo Blue, gave me that time. That was my first indication that even in his death -- even in the sadness that overcame me -- something else was going on.
I truly believe there are no coincidences in life. Only genuine experiences. Knowing that saved me on what was the saddest day of my life. I knew in an instant that even though Leo died, he would fill me with much purpose. What I did not realize were the ways he would show me he was still with me.
In August 2012, I set up a session with a photographer to come to our farm and take photos of our family. I went to the store and got fourteen balloons in the colors of the rainbow to have in our photos. I got a call at five o'clock from the photographer saying she could not come; lightning had struck the house next to her parents' home and she could not get down her street with all of the cars blocking the road. I was sad because we had been waiting for this session and I was already anxious about how the first photo of our family without one of our family members would be. I had gotten all made up and it was not going to happen. The photographer explained she would be back in town in a few months and promised us we would get first pick on another session.
We rescheduled for November 10. I was eight weeks pregnant. I shared with our photographer, Emily, when she pulled up to the house that I wanted to capture "announcement" photos of our new baby expected in July of 2013. I found a blue oven on our farm. I painted a sign. I wanted to use them in these photos to announce we were expecting.
Emily started shooting and abruptly stopped. She said, "You don't know what you are having do you?" I said, "No, I'm not far enough along. We should find out sometime in January."
"Well," she said, ''when you find out you will have to let me know. Look at this photo, I have never seen a pink light like this in a photo." She showed me the back of her camera... and this is what she found.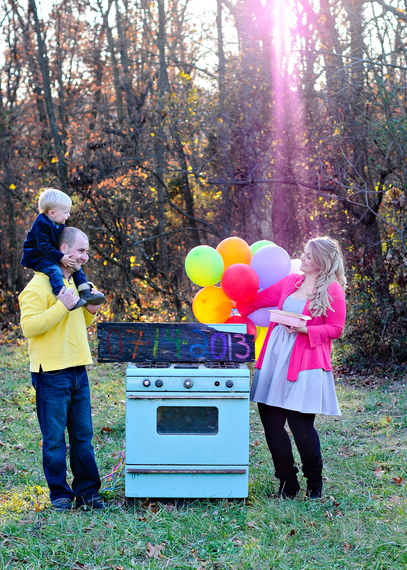 A few months later we found out we were expecting a sweet baby girl. What a gift. I know Leo was showing us in that photo three months before that he was with us and showing us what a gift we would be getting in our little girl. The photo gives me chills to this day.
Even though I was overjoyed to be pregnant again, days were still hard. I still missed Leo. The day he died, I insisted my husband drive me to school, where I was finishing my Bachelors of Science in nursing, to turn in one of my assignments. I still do not know how I was in a state to remember to turn in an assignment. My family and friends thought I should take a break from school but the promise to my family to further my education was something I could not give up on. I felt staying in school and pursing my dream would honor the baby that I carried.

One winter night, I was driving home from classes and I was having an exceptionally hard time. I was crying and missing my baby, pregnant with his sister, and the night was dark. The streetlights off of our exit kept shining on the back of my car after an eleven-mile expressway drive. I kept glancing in my rear view mirror and at the first gas station I hopped out. Could it be? I snapped this photo.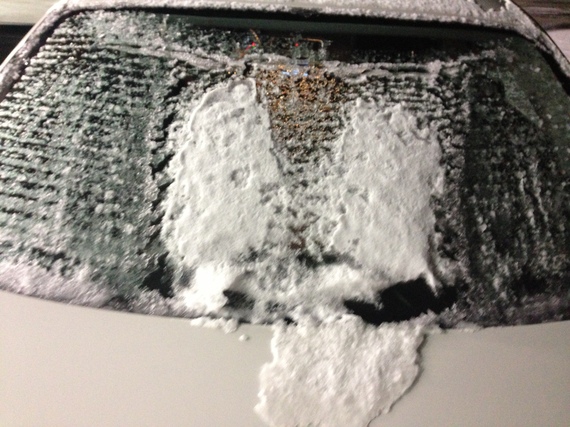 I felt like this was the push from Leo telling me that I was on the right path. That he was with me, leading me on my way to what was my destiny.
A baby girl meant a revision of our house. We spent so many days after doctor appointments in a home goods store trying to find perfect paint, perfect lighting, everything had to be just right. Our baby girl's room would be built into our bedroom and that meant drywall, new floors, and lots and lots of construction.
I was having a rough morning getting ready for work in May 2013, just two months before our little girl would be here. The days were especially intense because I just wanted to hold my little girl in my arms, safe and sound, alive and well.
As I got out of bed and walked down the tiny hallway from our bedroom past our expecting baby's room, I saw this on the ground. It stopped me in my tracks and filled my heart up with so much hope. Drywall mud on the carpet we were tearing up. I told my husband to hurry. When I looked at him I said "I think she is going to be okay. I think Leo is telling us she is okay."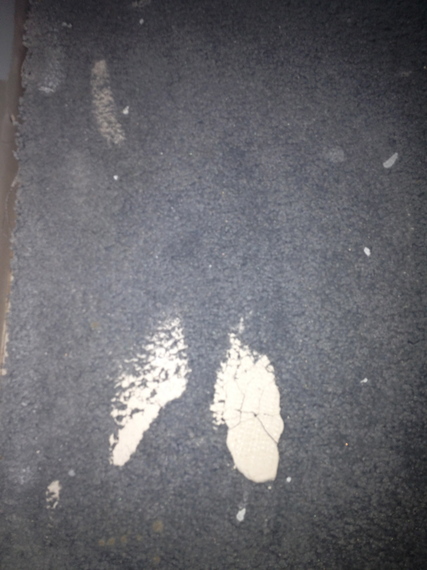 When our daughter came on July 10, 2013, all of our family took a guess on her weight. I guessed her weight at 8 pounds 2 ounces. Everyone took a guess. There was never a time more intense than going to the hospital to have our daughter. We were so close to the dream of holding our third baby. When she was born I could not speak and I could not believe she was here to hold. She was ours. I could not stop touching her and looking at her. Lola Franklin and I had our time to bond and the nurse placed her on the scale. "How big is she," I asked. "Eight pounds, two ounces," shouted over the nurse. I looked at my husband and just smiled. Then tears. We were meant for one another. In that moment I felt my second son telling me, "Here she is Momma. Just as you wished and not one ounce more or less. Take her."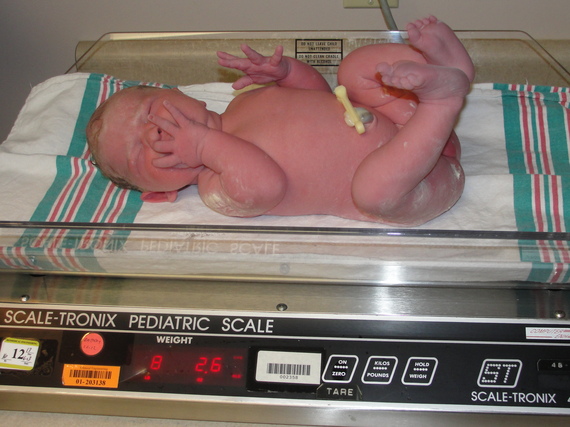 You see, I believe that the gift of mothering a child that is no longer wrapped in your arms is that they show us a greater purpose and that if you give yourself time to open your broken heart and tear-soaked eyes you will see that your baby never left you. It makes my life more meaningful and special and because of that I realize with each year that passes that this baby, my second son, is just as much a part of our lives as Kingston and Lola. The days my arms long to hug him I make it a point to find the sign he shows me. Some days the sign is small. Other days it stops me in my tracks and takes my breath away.
Last year after winding down from an event on my husband's birthday, I took Kingston and Lola to their favorite train park, determined to get a photo of them together. Family birthdays are always a little tricky for me as I long for baby Leo a little more.
I posted this photo that night on Facebook telling all my friends that while their daddy got to spend some time doing farm work at home, I took the kids out for a mommy-and-me fun day.
It wasn't until I posted the photo of my kiddos that I saw my baby Leo. Right there, smack dab in the middle, looking like little angel wings, surely telling us that he is always with them and will always be a part of their lives.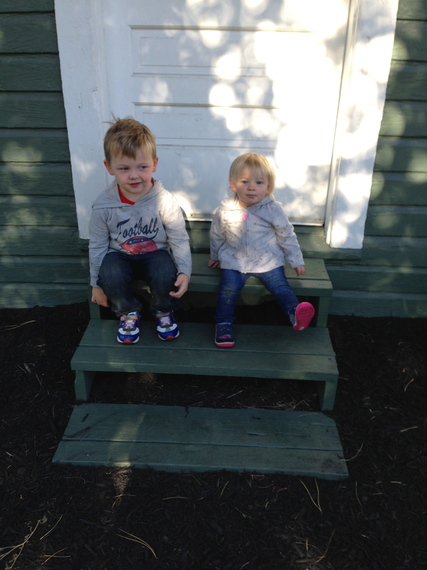 To anyone who has lost a child, you may have felt you lost everything the day your baby died. What I want to tell you is that you did not lose a thing. I believe these signs are here for all of us to see. We just have to be able to see it. And when we do see it, to know our loved ones are comforting us. The path to healing is in knowing that you held an angel and that they will always be with you. Knowing that my baby is always with me has given me my new life, a new birthday, and in knowing that, I have been set free. Set free from shame, or guilt, fear, or disappointment. And brought to a place of comfort, purpose, and a life that holds new meaning for my family and me.
I hope today you find comfort in knowing that just because your baby died it does not mean that your relationship stops there. I know I'm only three years into my relationship with Leo and I do not have all the answers. But I promise you that if you venture out in search of your baby, he or she will show you they are never truly that far away. You arms are still yearning to hold them but your heart knows right where your baby will always be. And I hope in that you start to realize you did not lose one single thing and see the beautiful life that you gained.
Stacey Gripshover is a registered nurse who lives on her family's farm in Verona, Kentucky. Stacey has been married to her husband, also a registered nurse, Leo, for six years. Together they have three children, Kingston, Leo Blue, and Lola. Stacey is the Kentucky Ambassador for Healthy Birth Day, a 501(c)3 non-profit organization that created the public awareness campaign Count the Kicks aimed at preventing stillbirths.
Count the Kicks teaches expectant parents the importance of monitoring their unborn babies' movements during the third trimester of pregnancy with the goal of improving the chances of delivering a healthy baby and can prevent unexpected birth complications and even late-term stillbirth. Scientific studies indicate kick counting, a daily record of a baby's movements (kicks, rolls, punches, jabs) during the third trimester, is an easy, free and reliable way to monitor a baby's well-being in addition to regular prenatal visits.
Available for free in the Android and Apple online stores, the Count The Kicks! app helps pregnant women track their baby's movements. Moms can use the app each day, while the app logs their kick-counting history. Moms can then see what is normal for their baby and will know if their baby's movement pattern is changing. Count the Kicks urges expectant moms to contact their healthcare provider immediately if they see significant changes in their baby's movement patterns. The app comes with a helpful daily reminder that expectant moms can set to their convenience.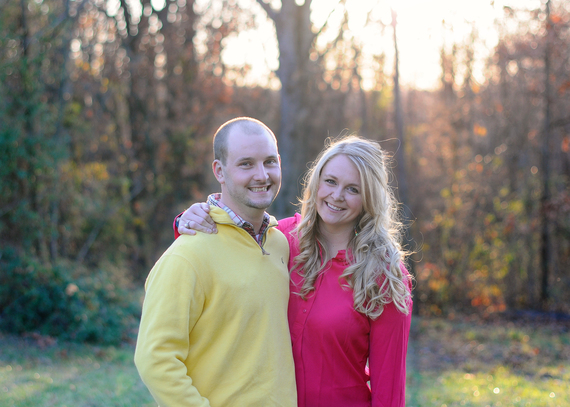 Stacey is also is the founder of Raising BLUE, a 501(c)3 non-profit to help support bereaved parents with funeral costs of their stillborn baby in her community. Stacey teaches families that "just because your baby died it does not mean you have to stop raising them." As demonstrating that if you open your eyes you can see that your baby is really never too far. Her relationship with her second son changes and evolves each year.