"Do any of us know beforehand that something extraordinary is waiting to arrive?" asks Jumana Manna's A Sketch of Manners (Alfred Roch's Last Masquerade). The award-winning film is based on a World War II era photograph of pierrot-clad revelers at a Palestinian businessman's Jaffa home.
Mid-November, I viewed Manna's film in Ramallah. I had travelled to the West Bank to photograph two stories, both put on hold as persistent rocket fire and airstrikes erupted between Gaza and Israel. With time on my hands, I set out to explore new developments in Palestinian contemporary art. At least in this respect, my timing was much improved.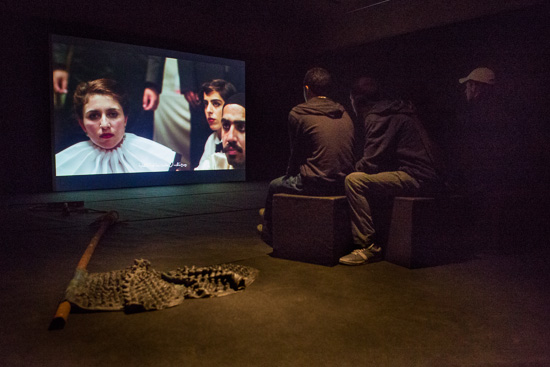 Ramallah teens view Jumana Manna's Imagined Cities film and installation. All images © Ruthie Abel 2013
Two days remained of the inaugural Qalandiya International, a collaboration of seven organizations that pooled resources to showcase Palestinian contemporary art and culture via two weeks of exhibitions, performances, screenings, tours and other happenings stretched across Palestinian towns and villages.
The title itself, Qalandiya International, invites questions. "Qalandiya" refers to: a refugee camp, one of Israel's largest West Bank checkpoints, a village (bisected in recent years by Israel's construction of a 25-foot high concrete separation wall), and a defunct airport (the first under the British Mandate for Palestine, currently occupied by Israeli military and closed to air traffic since 2000).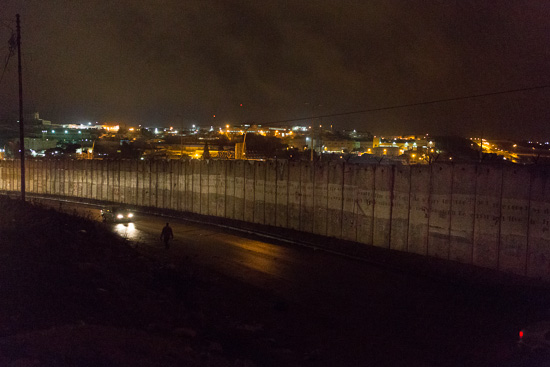 View of separation wall between Qalandiya and Ram checkpoints © Ruthie Abel 2013
Once a vortex of connectivity, today "Qalandiya" typically connotes segregation, fragmentation and isolation. In choosing this name for an art biennial, the organizers illuminate both a multitude of obstacles and a fabric of unity. For example, the program includes organizations from different cities, such as the Al Hoash Gallery in Jerusalem and the Sakakini Cultural Center in Ramallah. Both are within five miles of the Qalandiya checkpoint, yet many Palestinian organizers and visitors were unable to visit both without permits from Israel. Even with a permit, crossing can take hours, turning a journey between two exhibitions less than eight miles apart into a day-long ordeal.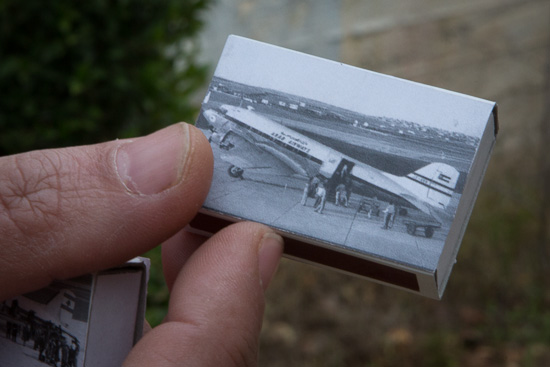 Archival image of the Qalandiya airport © Ruthie Abel 2013
The first stop on my abridged tour was the A.M. Qattan Foundation, one of five Ramallah venues exhibiting finalists for the Foundation's Young Artist of the Year Award (YAYA). On view was Omarivs Ioseph Filivs Danae's Ceremonial Vniform [MMXII], inspired by traditional Palestinian costumes, fabrics and craftsmanship.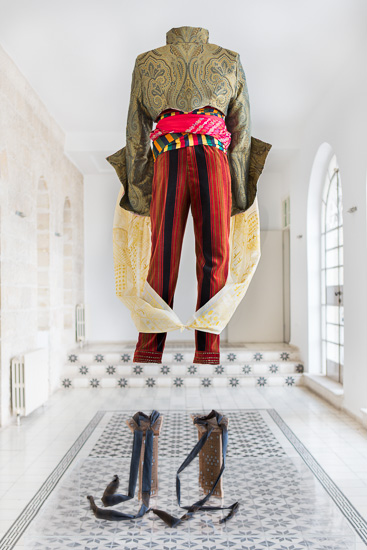 Ceremonial Vniform at the A.M. Qattan Foundation © Ruthie Abel 2013
The Jerusalem-based 24-year old artist and designer writes,
Through uniform, the individual loses their individuality and simultaneously becomes super-human; exempt of accountability, licensed to disrupt, disempower, dictate and destroy, within an indisputable system of superiors and subordinates.

This new work comes on the heels of the artist's first fashion collection, Silk Thread Martyrs, launched at London Fashion Week 2011 and recently exhibited in part at the British Museum.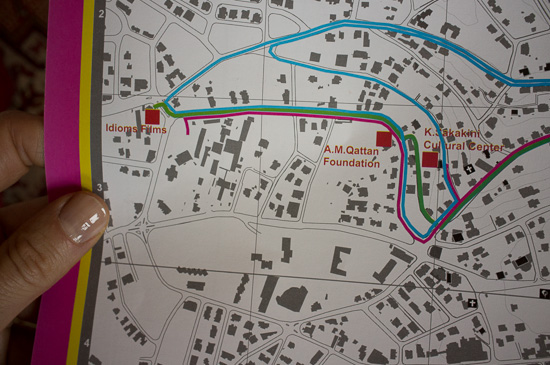 Detail from Young Artist of the Year Award guide © Ruthie Abel 2013
Ramallah maps are tough to come by and I was grateful for A.M. Qattan's guide to YAYA venues. The city's winding streets are peppered with construction sites, while piles of rubble remain from Israeli tank incursions in years past. There are few street signs and Google Maps and other GPS services are virtually useless, as they do not contain location data in the West Bank, except within Israeli settlements.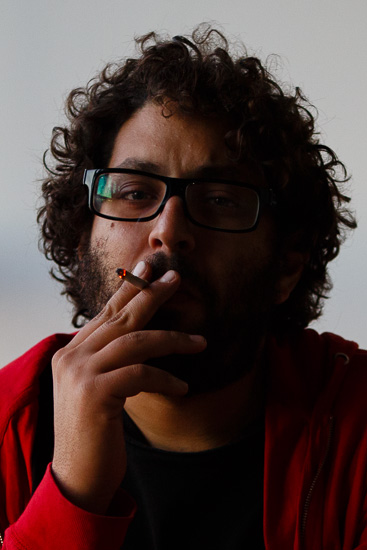 Mohanad Yaqubi, film director and Idioms Film co-founder © Ruthie Abel 2013
Down the road, Mohanad Yaqubi, a co-founder of Idioms Film, took a few minutes to speak about contemporary art.
The art scene is changing, from classical forms, such as painting and sculpture, to street art and more provocative art; a lot of people are working with video and Internet. Even the older generation is doing installations using videos, photographs and collages.
As part of Qalandiya International, Idioms Film exhibited YAYA winner Jumana Manna's short film and sculpture, the first component of her "Imagined Cities" work in progress. Filmed at the historic American Colony Hotel in East Jerusalem, Manna views the project as "a personal attempt at finding a fresh affiliation with Jerusalem." It harkens back to a spirited café culture that existed among the Palestinian bourgeois in the historic city during the early 20th century.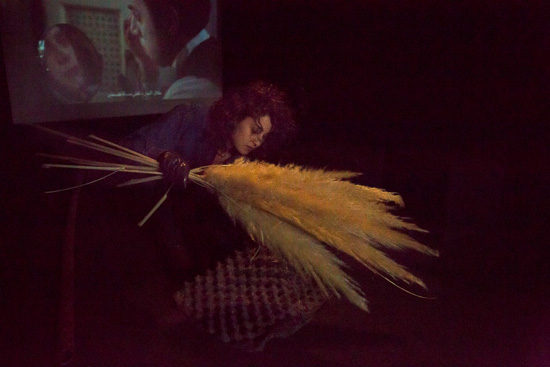 Artist Jumana Manna with her "Imagined Cities" film and installation © Ruthie Abel 2013
Yaqubi recently produced Infiltrators, a documentary directed by Khaled Jarrar, a Ramallah artist who spent years filming people attempting to sneak past Israeli checkpoints and separation barriers in order to reach Jerusalem. The film premiered last month at the 2012 Dubai International Film Festival, garnering two awards.
While filming, Jarrar collected bits of the separation wall, certain that he would repurpose the material but without a clear vision in mind.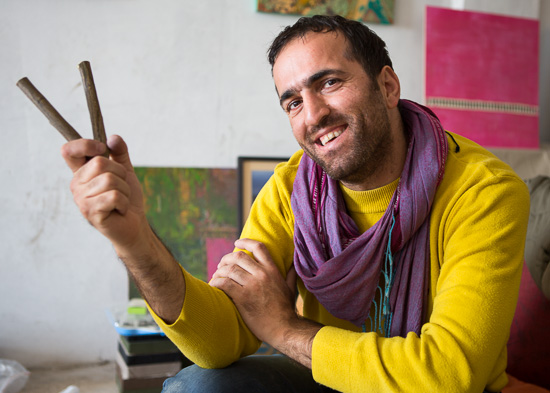 Khaled Jarrar, in his studio © Ruthie Abel 2013
The artist recounted a story of a group of children unable to retrieve an errant ball that flew over the wall, the construction of which swallowed most of their playground. When Jarrar's Parisian gallerist suggested last fall that he create a sculpture for FIAC, the annual contemporary art fair, an idea for a repurposed concrete soccer ball was actualized.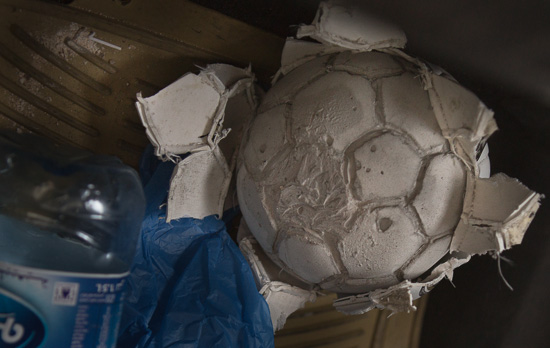 Work in progress, part of Jarrar's Upcycle project © Ruthie Abel 2013
Jarrar's Concrete, 2012 was on view during Qalandiya International. The work in progress, which I discovered in his car, is a volleyball. Both objects are part of an ongoing project entitled Upcycle. "Now I'm going to make other objects to [show] how we can transform the wall, to maybe build houses or schools."
Khaled Hourani, an artist as well as the director of the International Academy of Art Palestine (a Qalandiya International partner) brewed a strong Turkish coffee and made time to chat. He had just returned from a mission with Jordanian and Egyptian artists to deliver art supplies, activities and music to Syrian children living in refugee camps on the Turkish border.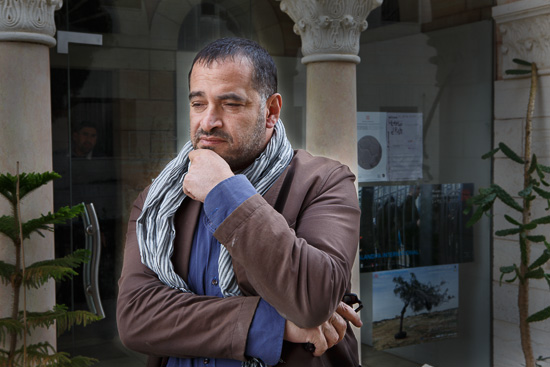 Khaled Hourani, at the International Academy of Art Palestine © Ruthie Abel 2013
Hourani touted the strength of work by young female Palestinian artists.
If you want to talk about the art scene, women are doing well. The art scene is representative of the political, social, economic situation... and [female] artists are not only representing women's issues, but general issues.
Despite an equal number of male and female applicants, this year's graduating class from the Academy is all women, and of the top four YAYA finalists, Jumana Manna, Mirna Bamieh, Ines Halabi and Darah Khalesh, three (all but Khalesh) are women.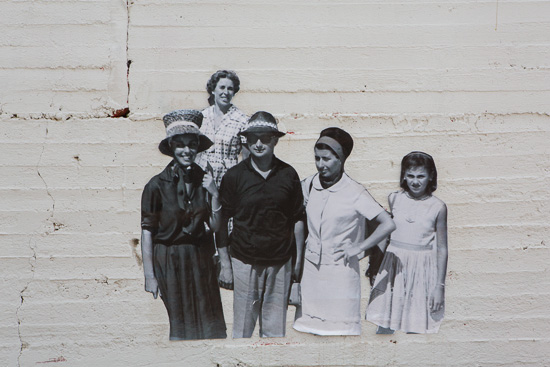 Passengers from a flight to the Qalandiya Airport, pasted near the entrance of the International Academy of Art in Palestine © Ruthie Abel 2013
Eager to learn more but with a flight of my own to catch, I noted the following upcoming events:
★ Jumana Manna's A Sketch of Manners screens at the International Film Festival Rotterdam at the end of this month.
★ Ramallah artist Khalil Rabah's exhibition Pages 7, 8, 9 opens at NYC's e-flux on February 2nd.
★ Khaled Hourani and Rashid Masharawi's documentary Picasso in Palestine screens at Toronto's Reel Artists Film Festival on February 21st.
★ Points of Departure, a collaboration between Palestinian and British artists, is on view now at Al Mahatta Gallery in Ramallah and will travel to the Institute of Contemporary Arts, London in June.
★ A second Qalandiya International is slated for October, 2014.
★ The Palestinian Museum is scheduled to open in 2015.
Related
Popular in the Community