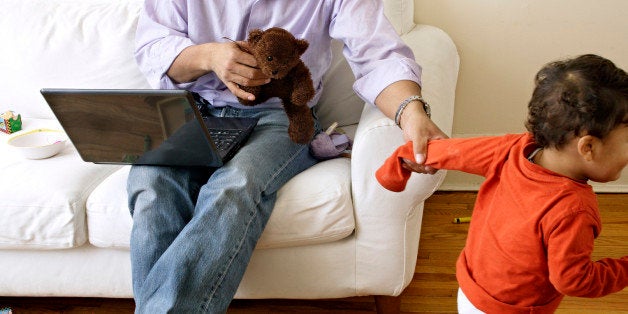 As a business owner working from home, I'm constantly going back and forth with my own self-conscious. Did my daughter backtalk today because I didn't pay enough attention to her? Was I on the computer too long? Would the world outside judge me if they knew my kids probably have sat in front of the television a smidge too long today? We have become more focused on how the outside world perceives our parenting than how our own children do. I'm here to tell you, you don't always have to be "on point."
I used to be that judgmental person, looking down on parents "who didn't have it together." It probably accounts for the reason I'm critical on myself now. I write this a day after laying on my bedroom floor; weeping that I felt tugged in multiple directions. I'm a mother, student, business owner, wife, friend, daughter, homemaker ... why do I have to be "on point" with everything?! I had this urge to grab my bag and just leave for a while. I had this feeling that I was doing all of this without any help. Then it hit me. No one is expecting any of this from me. I'm expecting it from myself. How high of a standard am I putting on myself, here? Clearly an unattainable one.
No one is telling me to be "on point," every second of the day. No one is peeking in through my window and Instagramming my shortcomings. I'm the one Instagramming what I think is perfection and trying to hold myself to that level.
Here's the deal. I'm a working mom. I am going to have days where I need to be in front of the computer before braiding the hair of my daughter's dolls. I am going to have moments I need a babysitter simply so I can sit in a coffee shop alone. Yes, there will be people who outcry that I am not spending every waking moment with my children, or that I'm letting them "grow up without me". I'm comfortable in knowing that isn't the truth.
Every single detail will never be "on point" at the same time. It is about understanding what your priorities are. It is understanding what works for your family. I understand that there will be days the dishes have to wait, the phone calls will go to voicemail and my daughter needs that extra time to have her doll's hair braided. There is also an understanding that there will be days I have to call in the sitter to focus on what I need to get done for work or school.
Trust yourself and not the social media world telling you different. That "little voice inside of you" is there for a reason. It will help you understand when your focus needs to be on something and it isn't. Do not feel like you have to be perfect for the world. Don't ever let that voice become so loud that you break yourself down.
It is okay to ask for help. Don't expect people to read your mind. Truly ask for it. It is okay to juggle a lot, so long as you understand that there will be times the ball drops. When the ball does drop, it might be time to evaluate if it is worth continuing to juggle. Most of all, never feel like you have to be "on point" all the time. There's a much higher standard out there than that of social media and the world around us. Our family. If they are proud and behind you 100%, who else matters?
Related