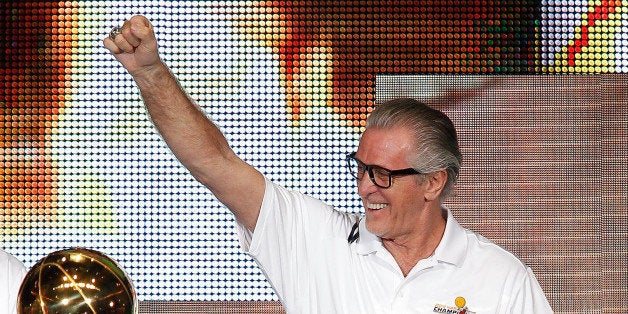 During the ten days of free agency after LeBron James opted out of his contract, new details are emerging. According to ESPN, Pat Riley "sent several emails and text messages directly to James that weren't returned." Really? Whoa. Mr. James simply ignored the president of the team that took him to the Finals four years in a row.
Imagine President Obama texted you and you ignored him just because you're a libertarian. You don't do that, it's practically treason, in the least it's disrespectful.
In addition, Pat Riley was recruiting players using Mr. James as a selling point. "I went into it (free agency) with the notion he was coming back, so I was selling that to players," Riley said Wednesday. "I let him know that. He never said, 'Don't do that.' "
Wow. So Mr. LeBron James basically allowed his championship mentor to walk into a whipped cream pie in the face, like a two-bit clown at a kid's party. Smh.
Not to mention Mr. James dragged a 69-year-old Pat Riley to Las Vegas for basically a game of charades. Plus LeBron met with the Cavs owner Dan Gilbert in Miami. Plus Mike Miller posted that image of LeBron's Cleveland jersey foreshadowing the news. Mike Miller knew LeBron was going back to Cleveland before Pat Riley.
There's no way around this.
LeBron James disrespected Pat Riley worse than anyone ever and that ain't cool. This isn't Riley's naivety thinking LeBron would return. This isn't Riley miscalculating. This is straight up LeBron and his entourage's ego disrespecting Pat Riley in-his-face.
All Pat Riley did was teach Mr. James the championship spirit. Even if we look at LeBron's tenure in Miami like a graduate school experience, you don't disrespect your professor. When I finished graduate school, I didn't stab my professor in the heart and set fire to his office -- I bought him a bottle of Johnny Walker Blue.
My immediate reaction to LeBron leaving was peace out, meaning thanks for the memories, it was an awesome ride, but it seemed stupid to walk away from a dynasty yet we'll be just fine, either way. I still feel the Heat will make it deep into the playoffs next year. The chemistry is still there as is the championship mindset, plus now there's an extra chip on the franchise's shoulder. I still think there's reason to be grateful for Mr. James's tenure in Miami, but a lot of goodwill should be canceled by the blatantly disrespectful way he exited Miami, especially how he treated Pat Riley.
Calling all HuffPost superfans!
Sign up for membership to become a founding member and help shape HuffPost's next chapter